The only Resume Builder Endorsed by Hiring Managers
Make a remarkable first impression with a professional resume template. Our online resume builder helps job seekers create a resume that impresses hiring managers and recruiters.
Build My Resume
I look at hundreds of resumes and Standard Resume's templates are some of the easiest to read. "

Mike Clapson
Hiring Manager at Slack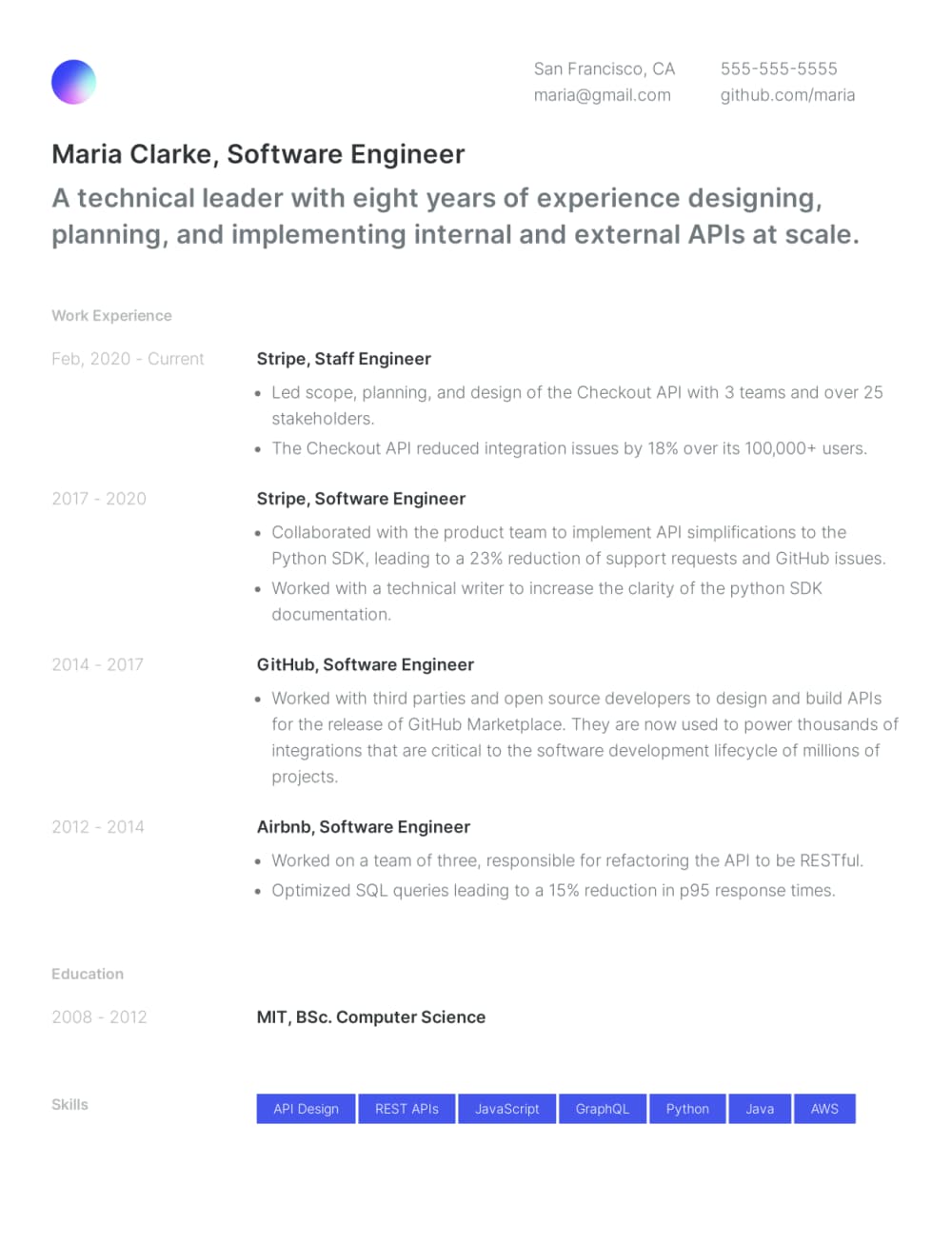 100,000+ resumes built by job seekers from the world's best companies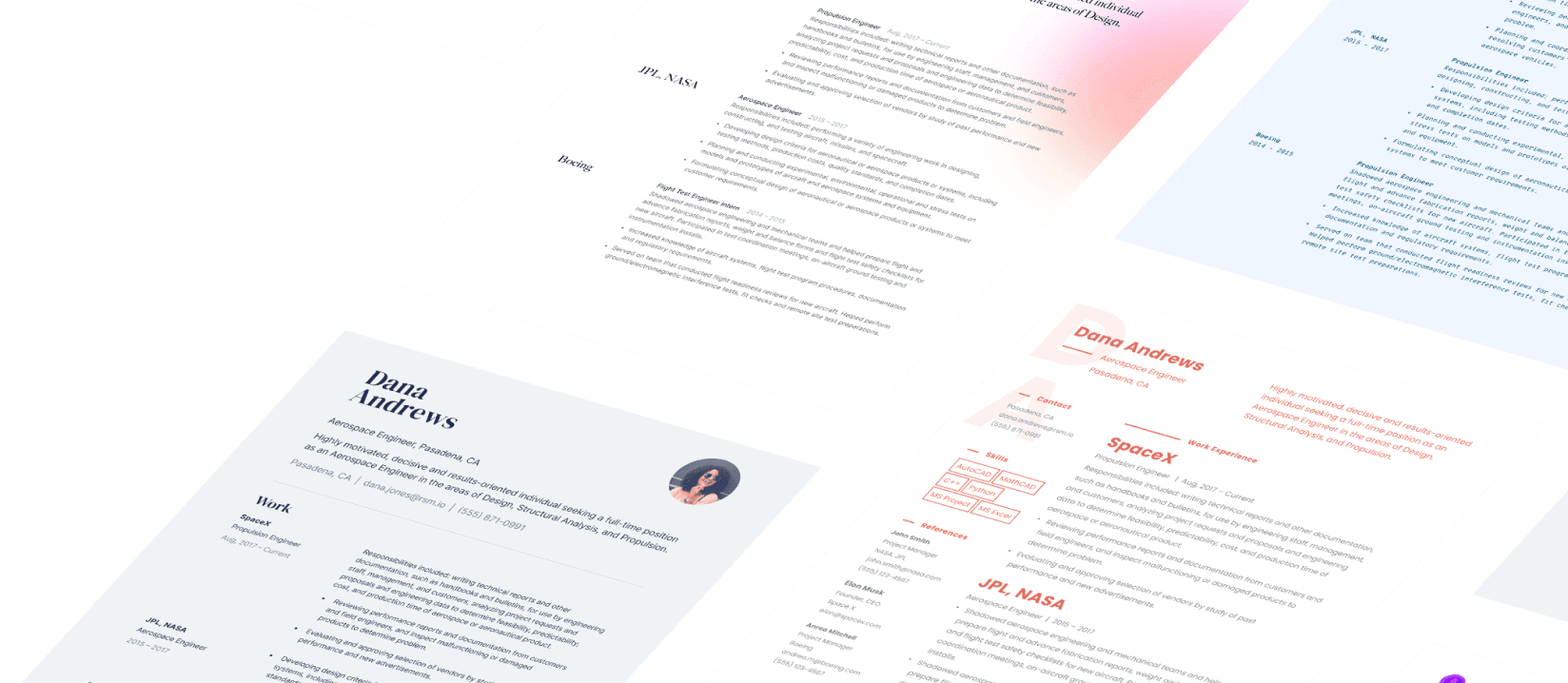 How to Make a Job-Winning Resume in 15 Minutes
In a few minutes you can make a resume that's better designed than 99% of the resumes out there. "

Martin Pedrick
Head of Design at Capsule
Create your resume
1. Import your work history from LinkedIn
Speed through resume writing with one-click LinkedIn import.
2. Pick a professional resume template
Choose from 12 professionally designed and hiring manager approved resume templates.
3. Customize your resume
Stand out by customizing the contents and formatting of your resume for each job application.
4. Apply for your dream job
Download a print-ready PDF resume, or share a link to your automatically generated web resume.
Online Resume Builder Features
LinkedIn Import
Save time typing. Import work history and education from your LinkedIn profile in one click. Its secure and doesn't require access to your account.
Job-specific resumes
Duplicate your resume in one click and customize the new resume for a specific application. This is the easiest way to increase your odds of getting the job interview.
Focused writing experience
Add the sections you need and fill in the blanks. The simple step-by-step process turns you into a professional resume writer.
Web resume analytics
Share your web resume link and see when and how often it is viewed. Create a web resume for each application and know when the recruiter views your resume.
Automatic Formatting
Update the contents of your resume or change templates and your resume formatting will be updated in real-time. No more manually changing margins or font sizes.
Easy Customization
Our online resume builder makes it easy to customize the layout, style, and formatting of your resume. Stand out with the perfect resume.
Resume Examples
Not sure how to write a resume? Use our pre-written resume samples as inspiration to write your perfect resume and accelerate your job search.
View resume examples
Why choose
Standard Resume?
Other resume builders
MS Word / Google Docs
Hiring manager approved templates
Traditional resume templates
Doesn't share your personal data
No 7 day trial pricing tricks
Resume Sections
Contact Info
Everything a recruiter needs to schedule an interview: email address, phone number, city, state, and website link (LinkedIn profile, GitHub, personal website, etc).
Professional Summary
Highlight your work experience and skills with this easy to read and enticing paragraph.
Work Experience
List your previous job titles, job descriptions, the company name, the dates you worked there, and add bullet points for your achievements.
Education section
Include your GPA, Certifications, awards, etc.
Skills section
Reinforce your hard and soft skills in an easy to scan section.
Custom sections
Support for projects, patents, publications, languages, references, hobbies, internships, volunteering, or anything else you need.
Import From LinkedIn
We are the only resume builder that offers a one-click LinkedIn import. Save 20 minutes of copying and pasting your work experience and education.
LinkedIn resume builder
Frequently Asked Questions
Is Standard Resume a free resume builder?
Standard Resume is free to write your resume and publish a web resume, but a Pro subscription is required to download a PDF. There are free resume creators, but be sure to check their privacy policy. Many of them make money by sharing or selling your personal data with third parties.
Can I create a different resume for different jobs?
Yes! We recommend that you duplicate your existing resume for different jobs and customize the contents and design. A perfect resume should align with the company and job posting requirements.
Where can I get expert resume advice?
We have an extensive collection of expert resume writing advice. The ideal resume looks different for each profession, so weve created a resume writing guide with expert tips for many professions.
What resume formats does Standard Resume support?
Our resume maker supports all of the major resume formats: functional resumes, combination resumes, and chronological resumes (with the option for reverse-chronological order).
Which resume sections are supported?
You can add contact information, professional summary, work experience, education, and skills, as well as custom sections like certifications, patents, publications, references, projects, and volunteering.
Do I need a cover letter?
Most recruiters don't read cover letters unless they were explicitly requested. If you need a cover letter, use Google Docs. It's easier than most cover letter builders and its free!
Get More Interviews
Make the right first impression. Apply with a professionally designed resume and get more interviews. It only takes 15 minutes.
Build your resume