Resume Templates
Professionally designed resume templates that will impress recruiters and hiring managers. Trusted by over 100,000 job seekers.
Minimalist, clean, and professional.
This is our most popular resume template. Recruiters love the one-column layout with generous whitespace because it's easy to scan and identify relevant information.
Customize the one-column resume format to create a chronological resume or a functional resume, depending on your years of experience.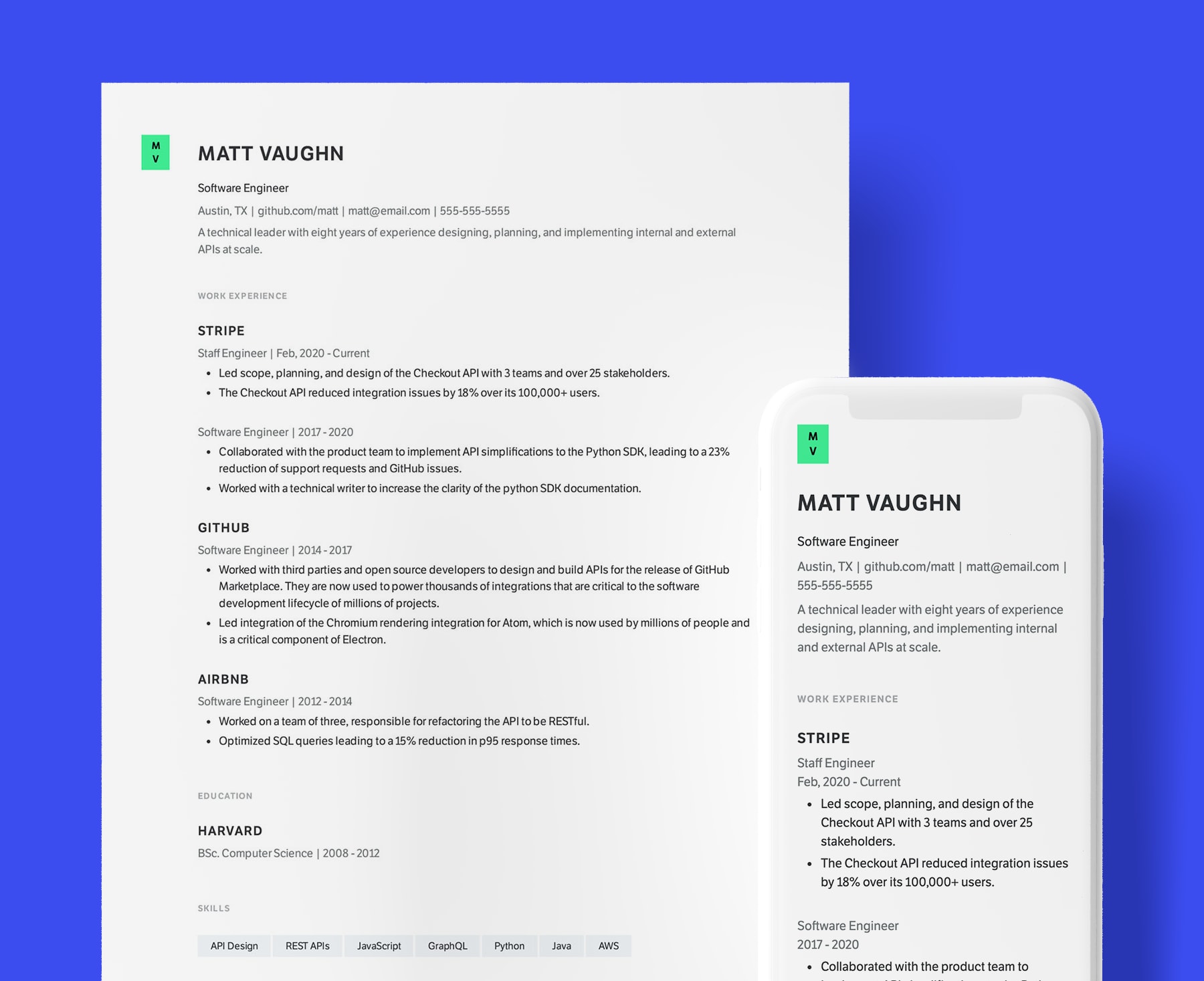 Modern, simple, and clean.
Capture the attention of the reader with an oversized summary statement section, then draw them into your neatly formatted work experience. Hiring managers love the minimalistic style of this modern resume template.
All of our resume templates support adding contact information, professional experience, an education section, and custom sections.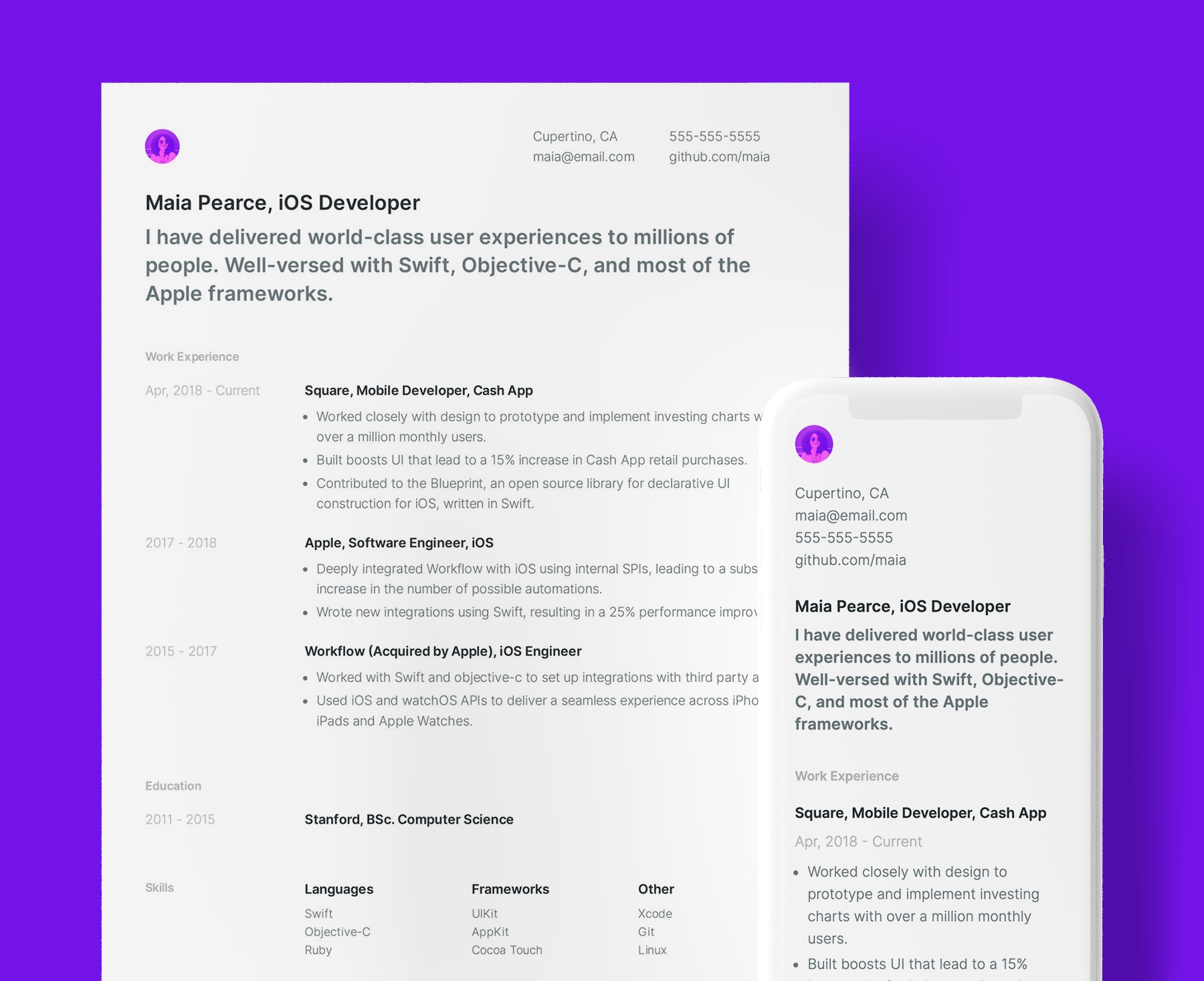 Bold, modern, and eye-catching.
The two-column layout with a sidebar is an effective use of space. It's easy to read, but also easy to build a one-page resume.
This friendly resume template is as eye-catching as an infographic resume and as easy to read as a traditional resume. It's a great way to stand out without annoying recruiters or breaking applicant tracking systems.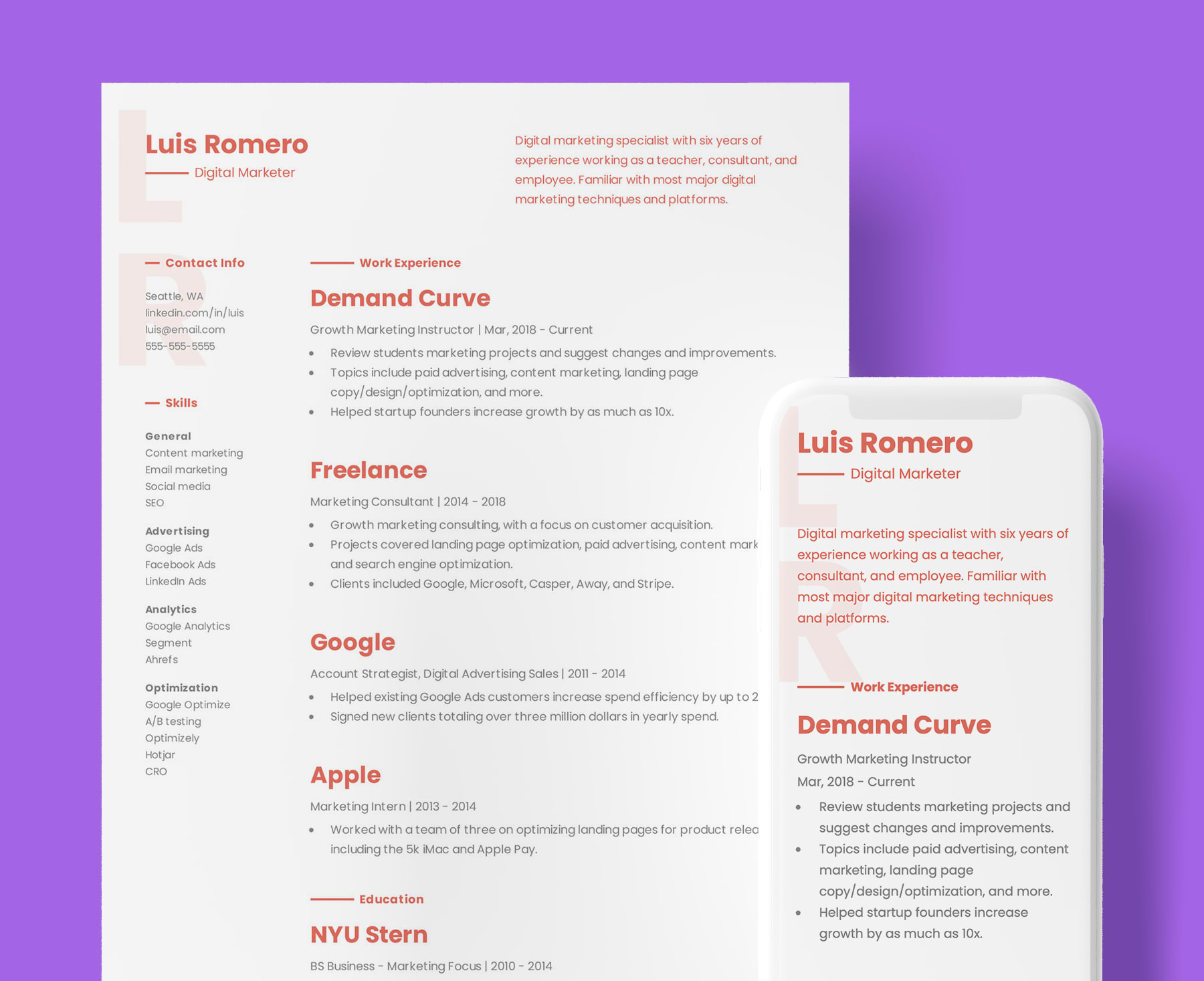 Standard Resume vs
Free Resume Templates
Google Docs
Microsoft Word
Automatic resume formatting
Hiring manager approved templates
One-click LinkedIn import
The best option for professionals looking to invest in their career with the perfect resume. Everything needed to land your dream job.
MS Word & Google Docs
Free resume templates for job seekers on a budget. Basic resume templates with manual formatting. Useful for creating simple cover letters.
Crisp, clear, and to the point.
A modern take on a classic resume template, created in collaboration with Gergely Orosz, author of
The Tech Resume Inside Out
. It's is the perfect choice if you are looking for a one-page resume.
This simple resume template is perfect for entry-level job searches. Our resume builder will help you create a winning resume that gets job interviews.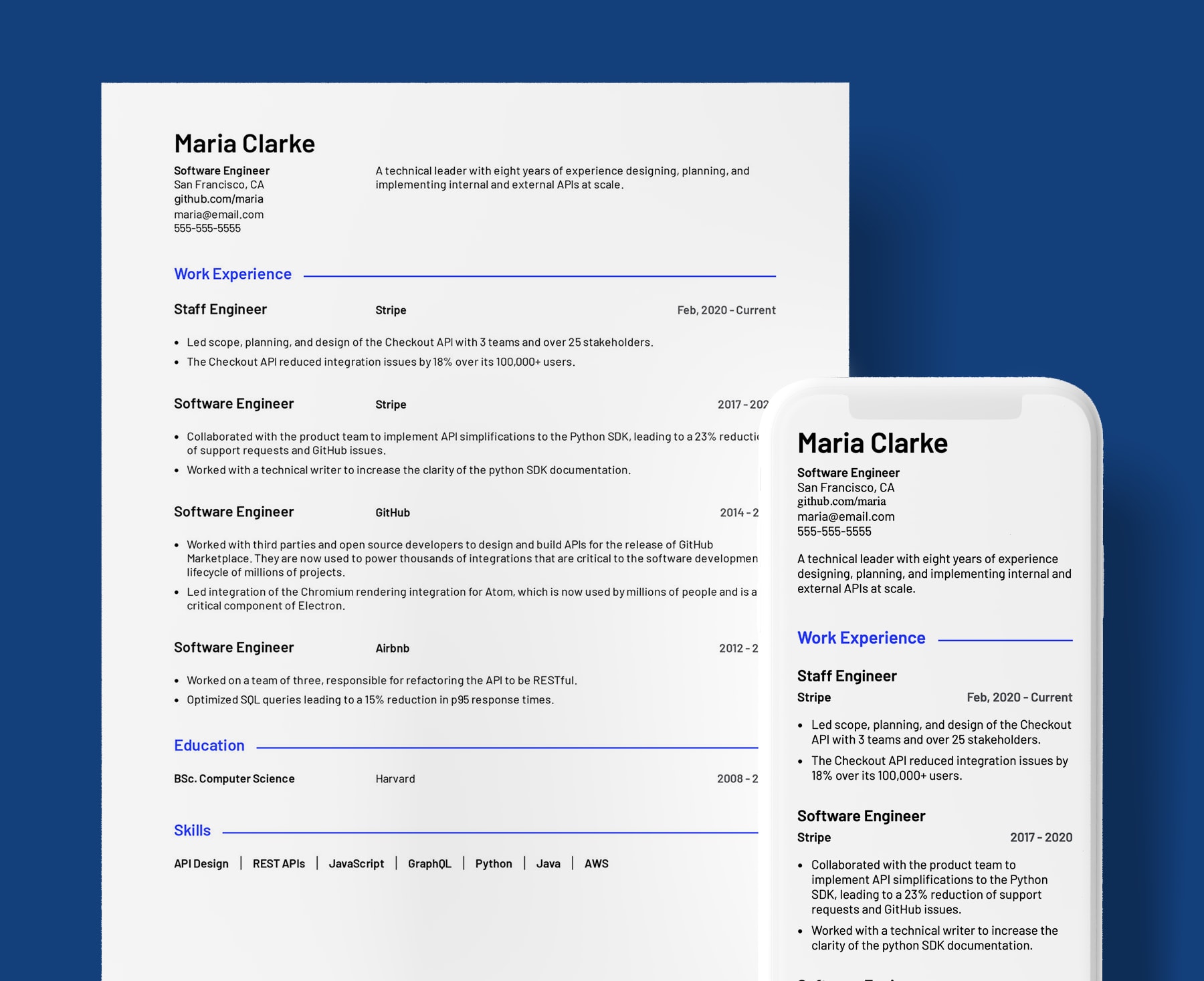 Perfect for the modern professional.
Recruiters love the one-column-split layout of this modern resume template. It's easy to scan quickly or read top to bottom.
The large name and header photo makes a bold statement and lets you stand out from other job seekers.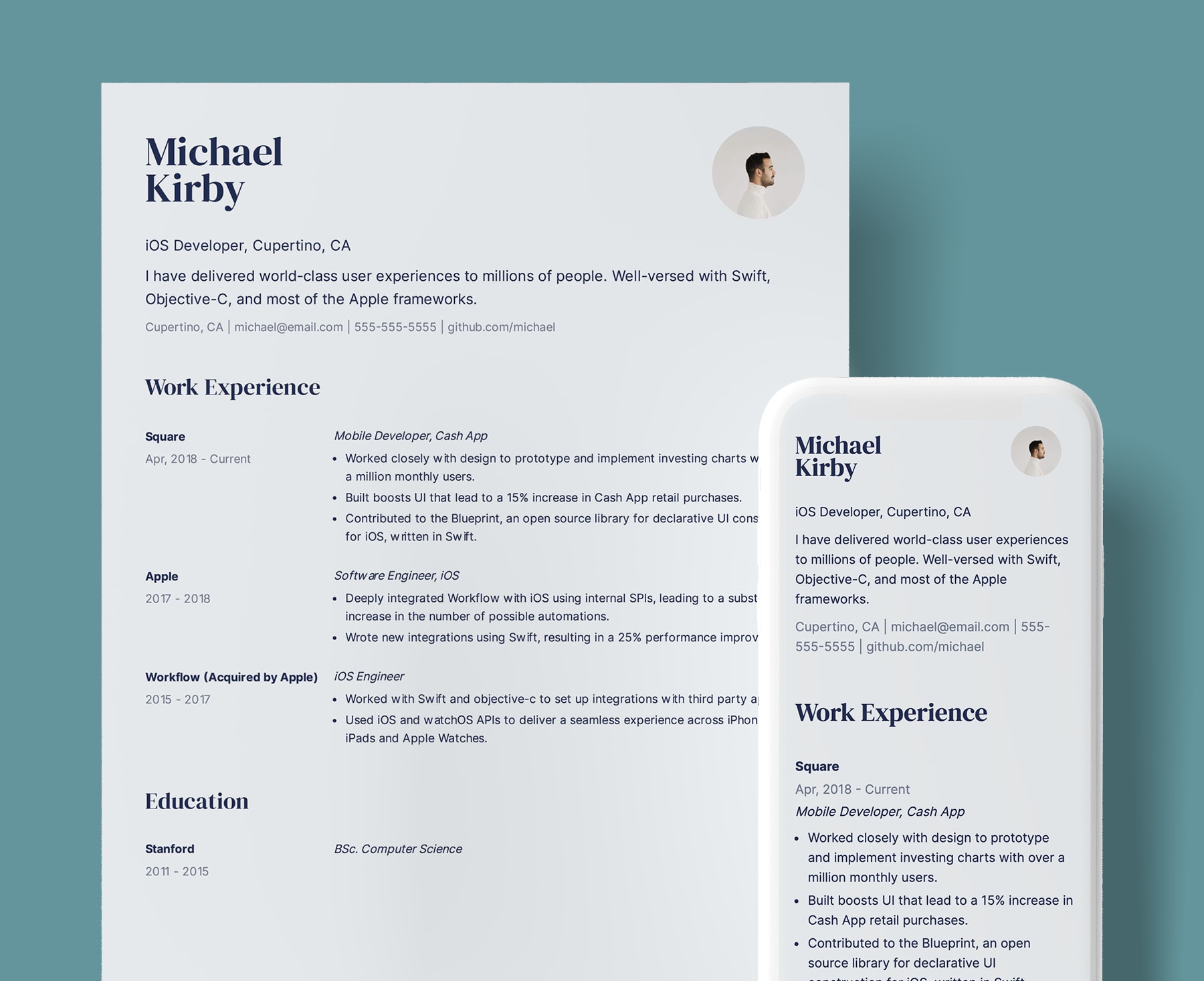 Technical, minimal, and unique.
The use of a monospace font provides the opportunity to stand out, without compromising the simplicity of this template's layout.
Make a good first impression when applying for technical jobs like iOS Developer, Software Engineer, or Web Developer.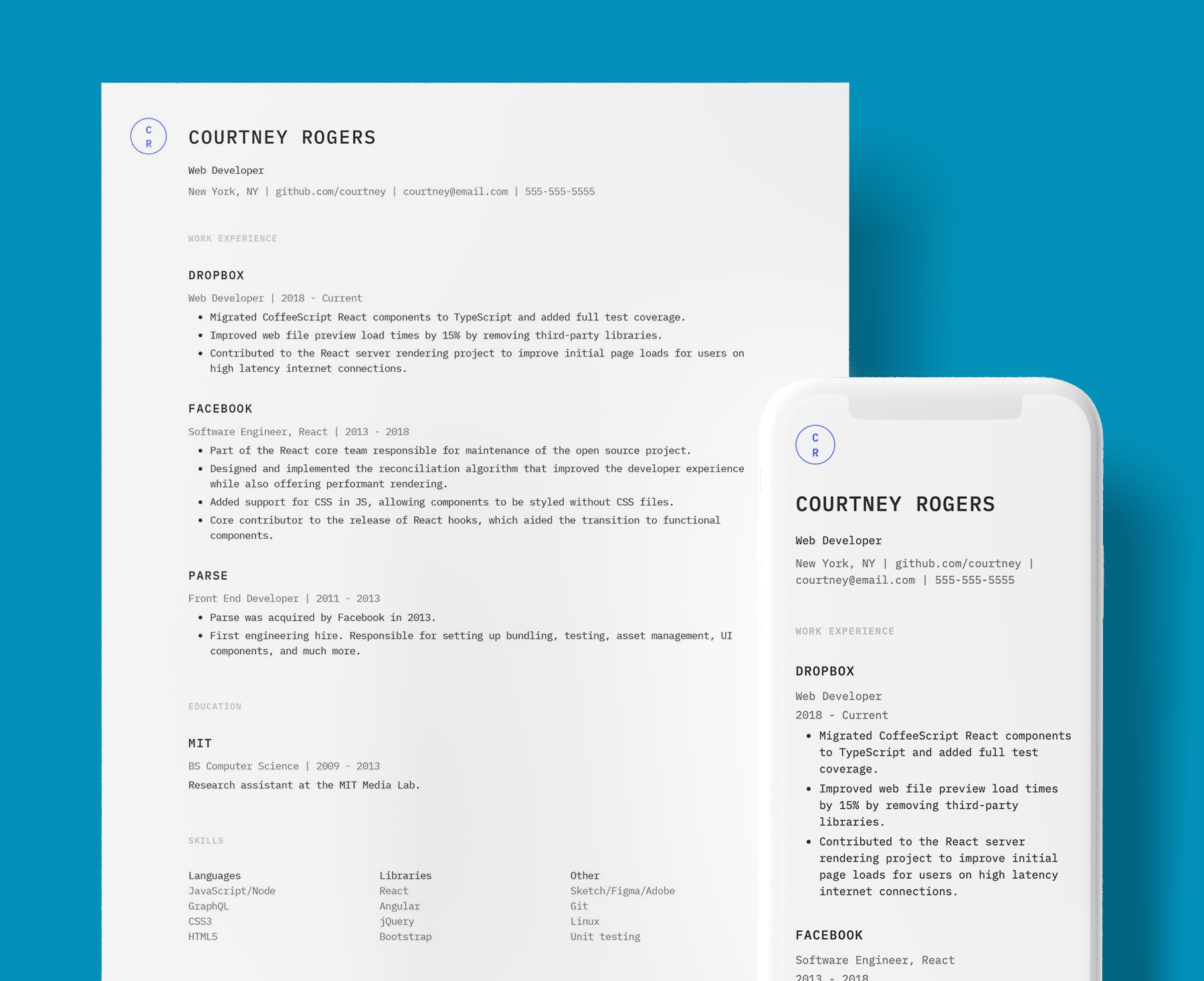 Modern, elegant, and creative.
The unique design elements make this the right resume template for designers and creative industries where applying with a boring resume won't cut it.
Don't bother with Adobe Illustrator, Photoshop, or InDesign, the graphic design of this creative resume template is everything you need and you'll be done in a fraction of the time.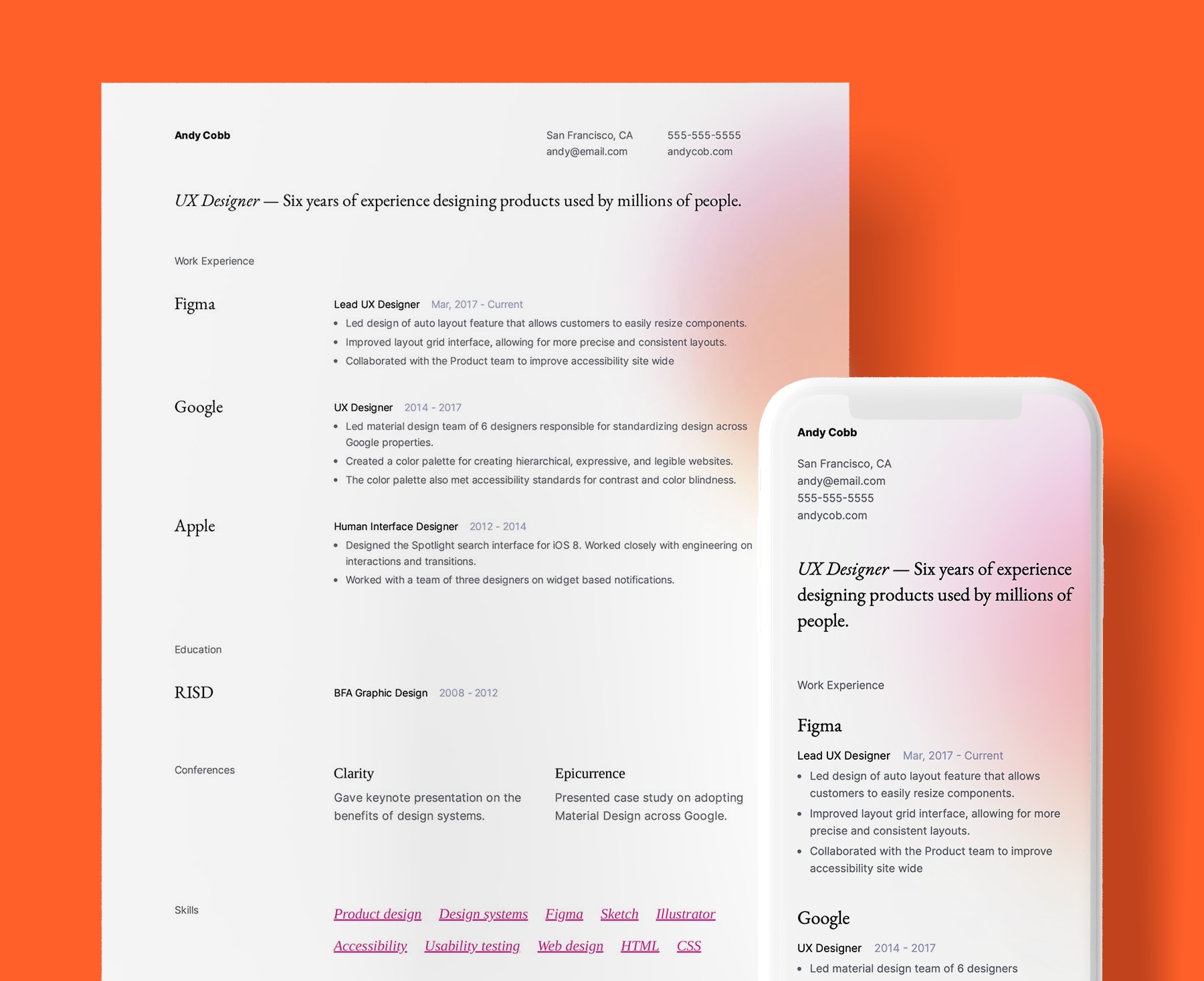 Professional, experienced, and established.
Let your work experience speak for itself with large company names and job titles. This professional resume template is preferred by executives, managers, and other experienced professionals.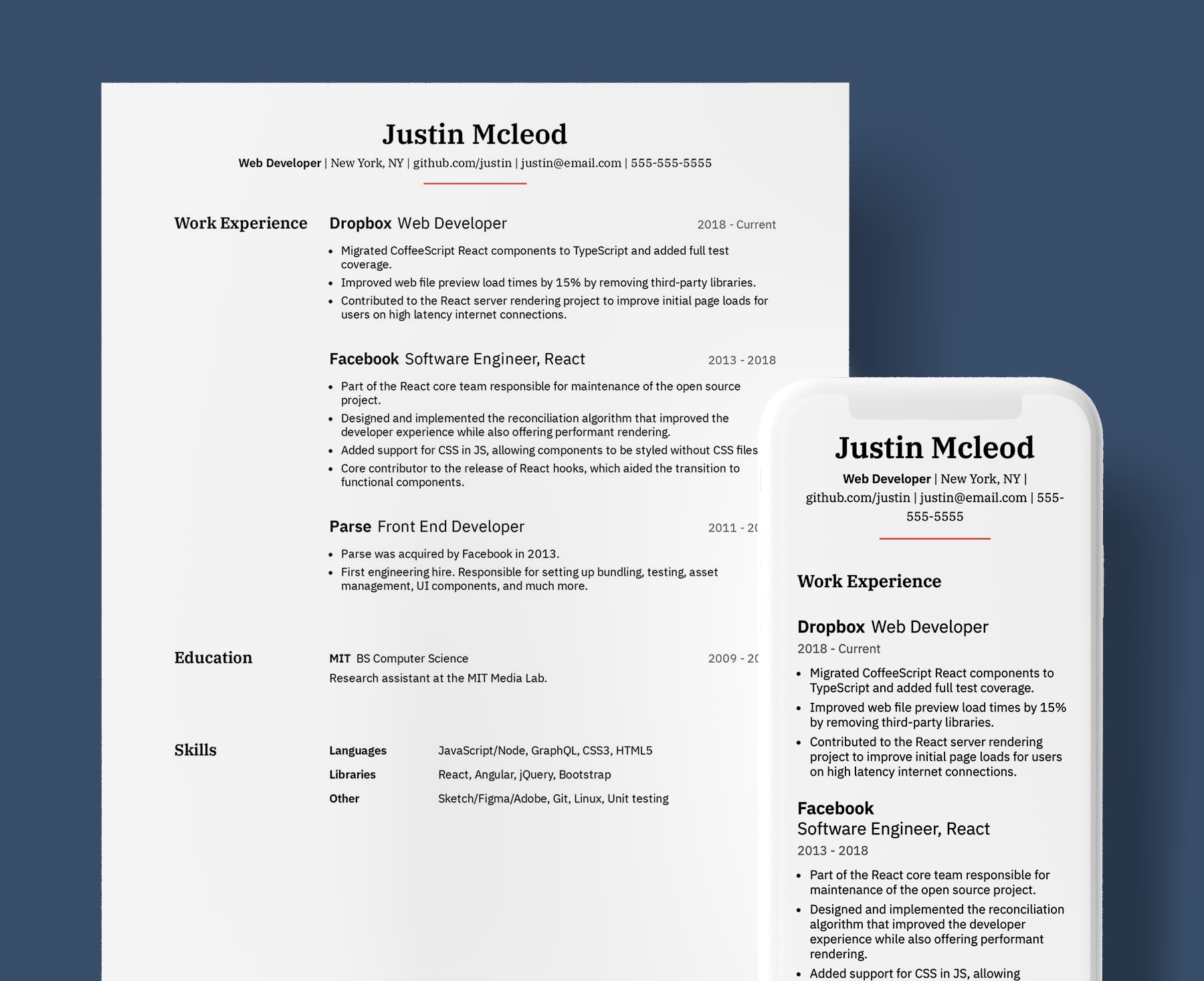 Templates by Style
Find the right type of resume template for every job application. Browse the best resume templates online.
As described by
UC Davis
, the primary differences between a resume and a CV are length, section order, and emphasis on experience or academic achievements.
Our resume templates can also be used as CV templates because every template supports patents, publications, and fully custom sections, as well as reordering sections.

Profession Specific
Resume Examples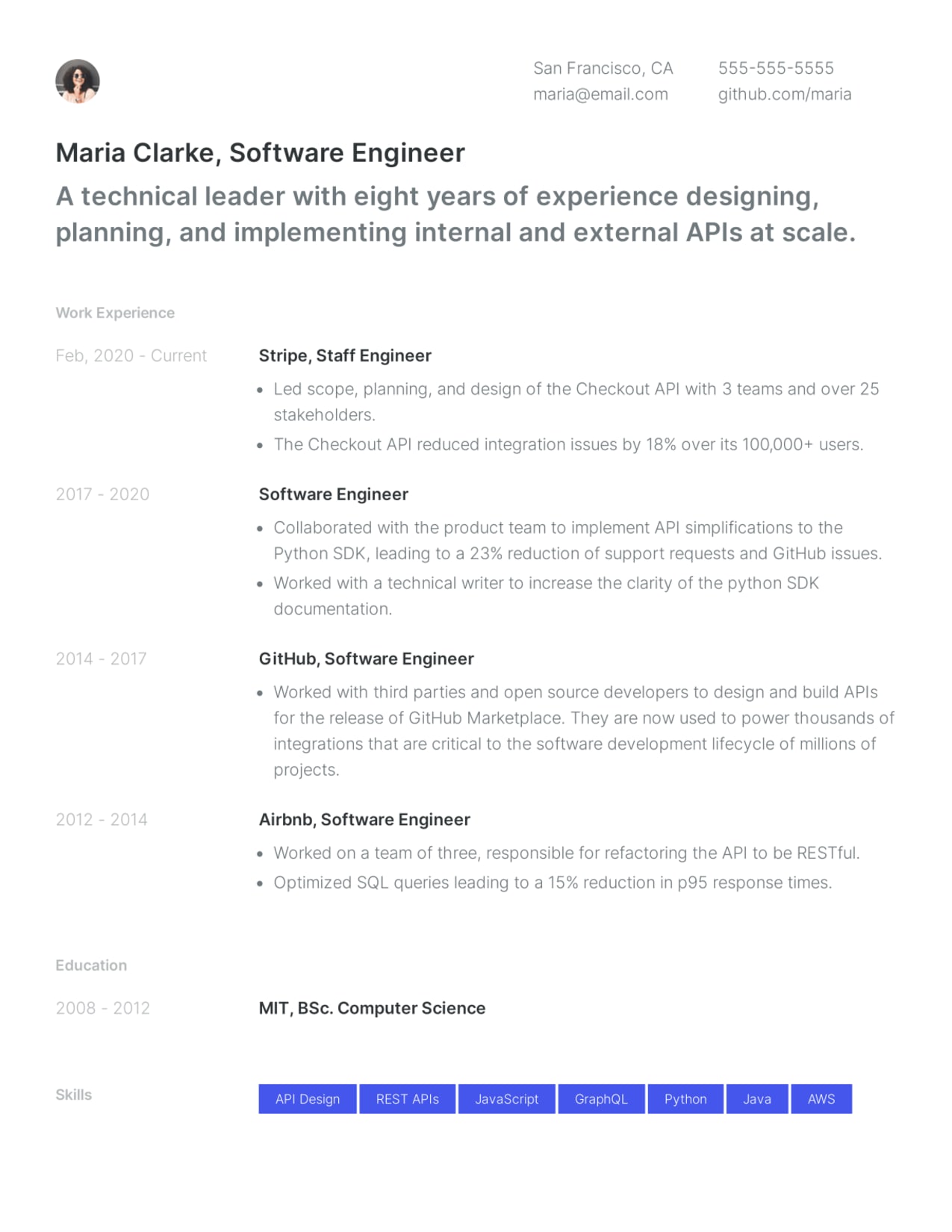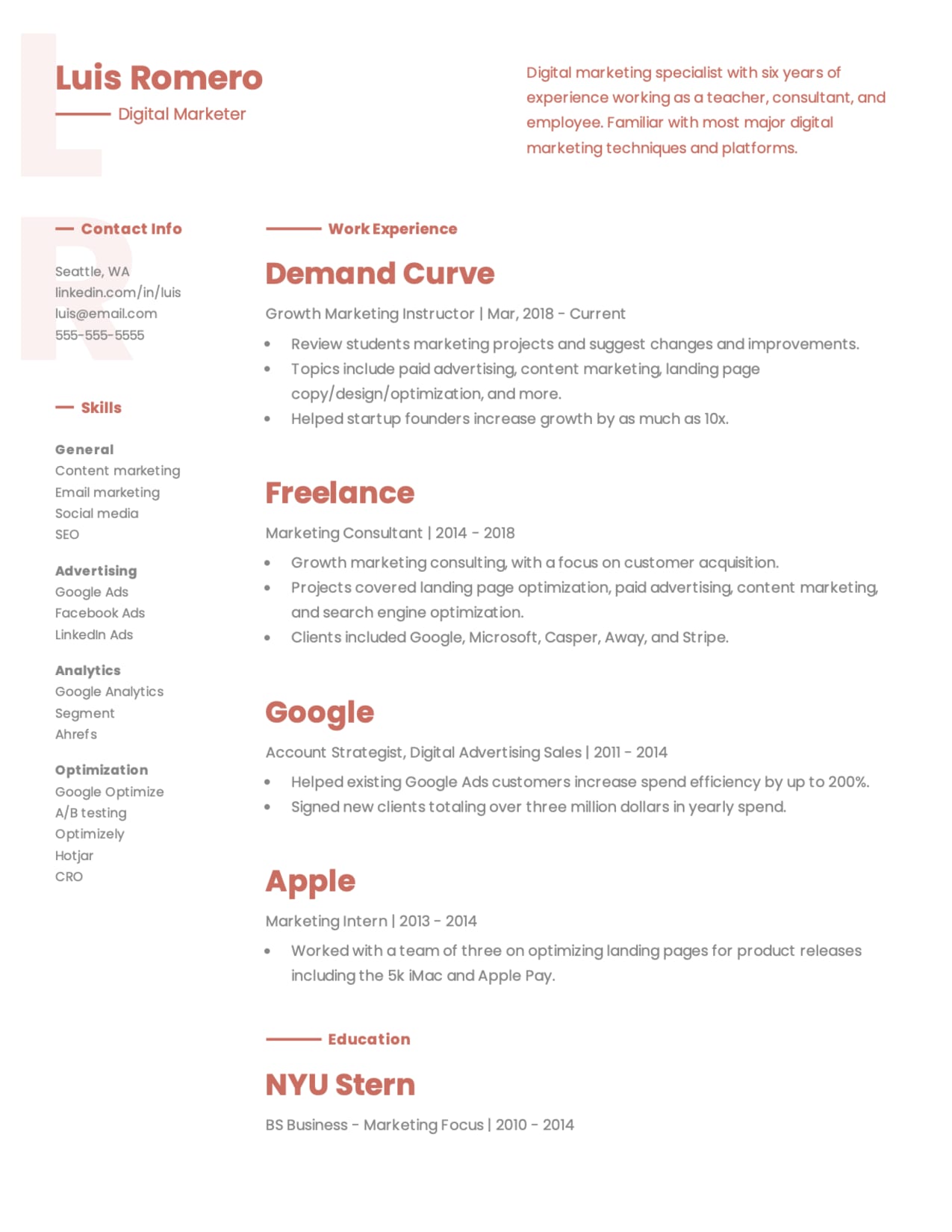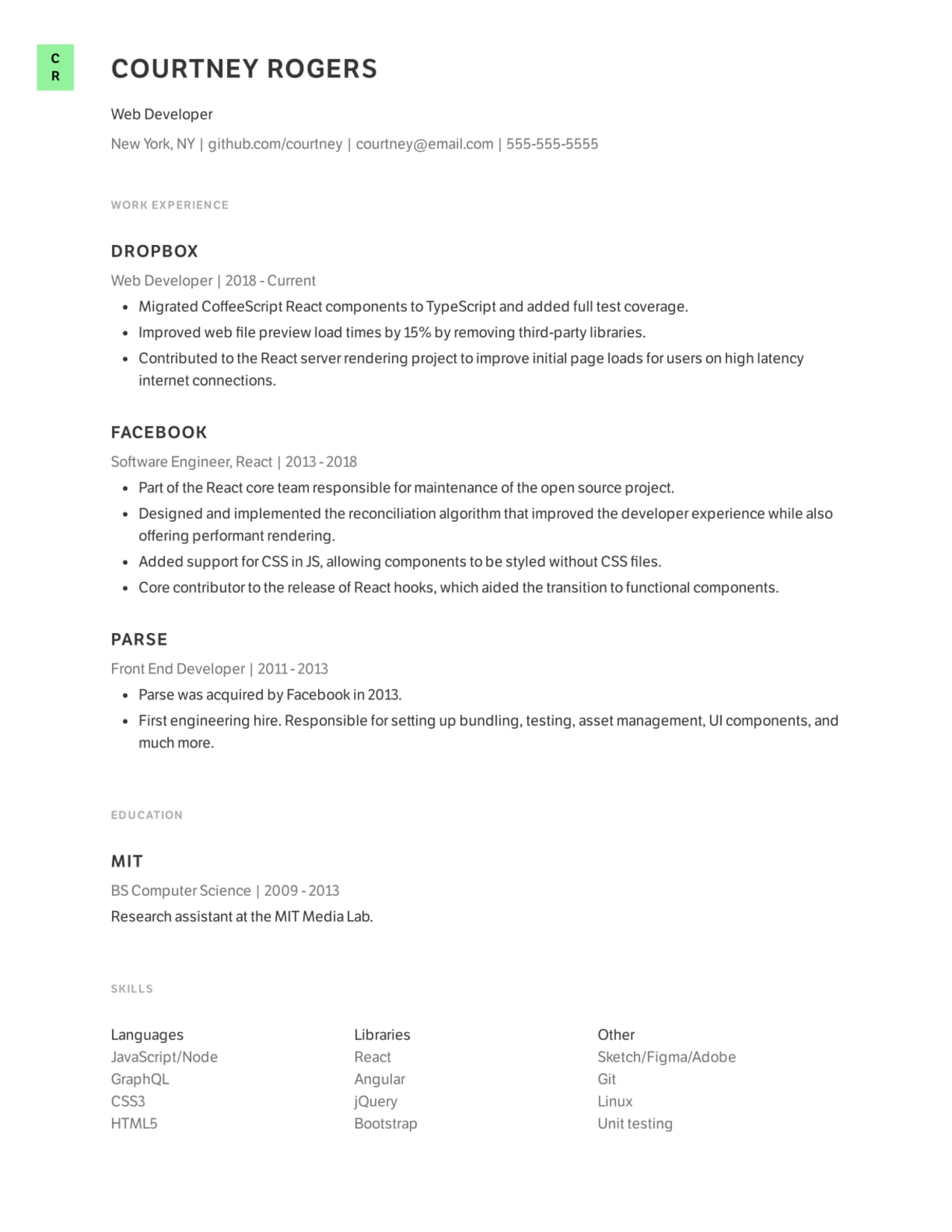 Online Resume Builder
A modern app built specifically to help you create a resume that gets interviews.
Why use our resume builder?
Automatic formatting
Enter the contents of your resume and our smart templates will automatically format it for you. No more fiddling with margins and page breaks.
Easily change templates
Have you ever tried changing templates in Word? It's not easy. Standard Resume lets you try new templates in one click.
LinkedIn Import
Import your work experience and education from LinkedIn in one click.
Built in best practices
We work with recruiters and hiring managers to help you build a resume that follows the resume rules they are looking for.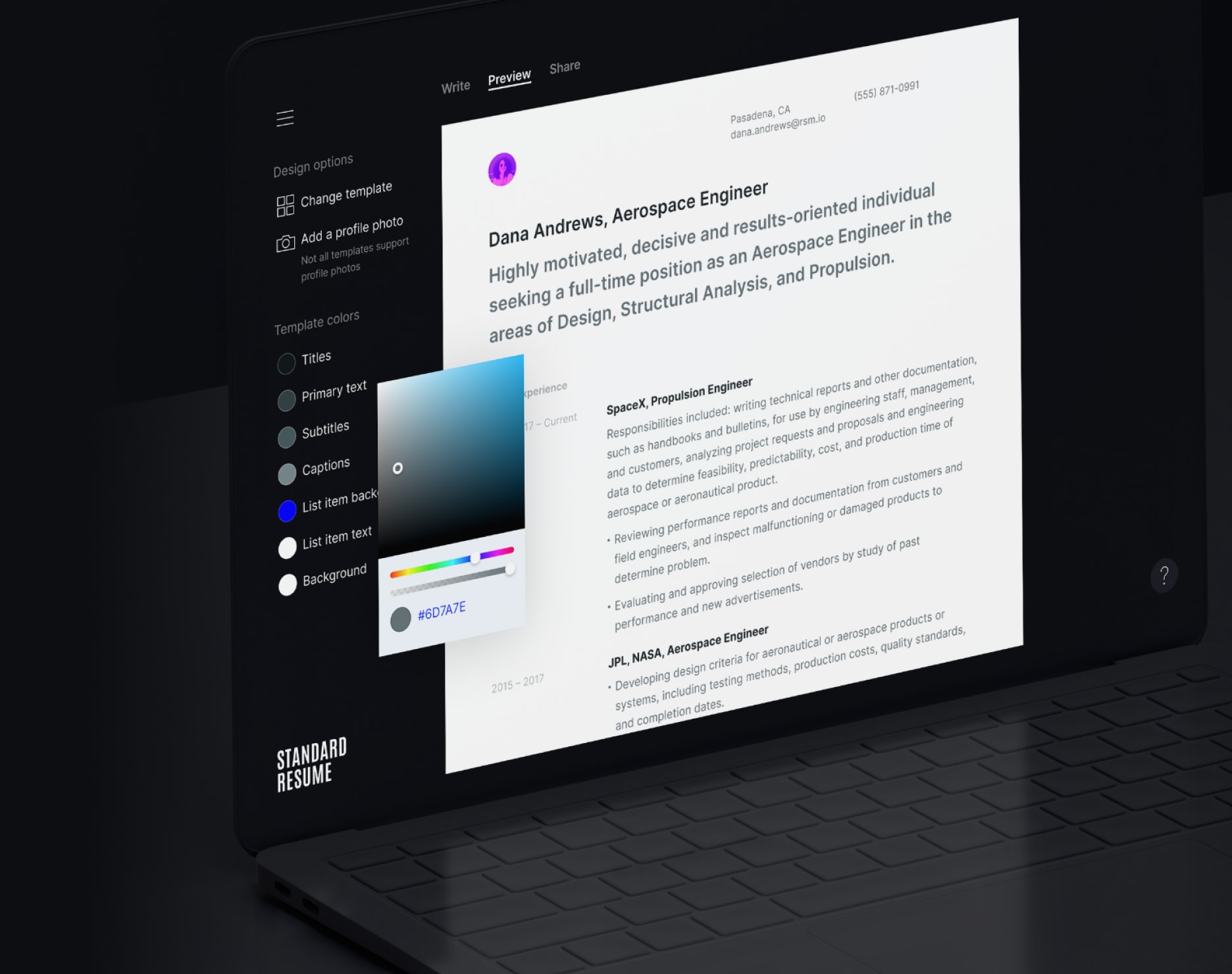 Import from LinkedIn in One Click
Don't waste time retyping what's already on your LinkedIn profile. Import your work history and education in one click.
LinkedIn Resume Builder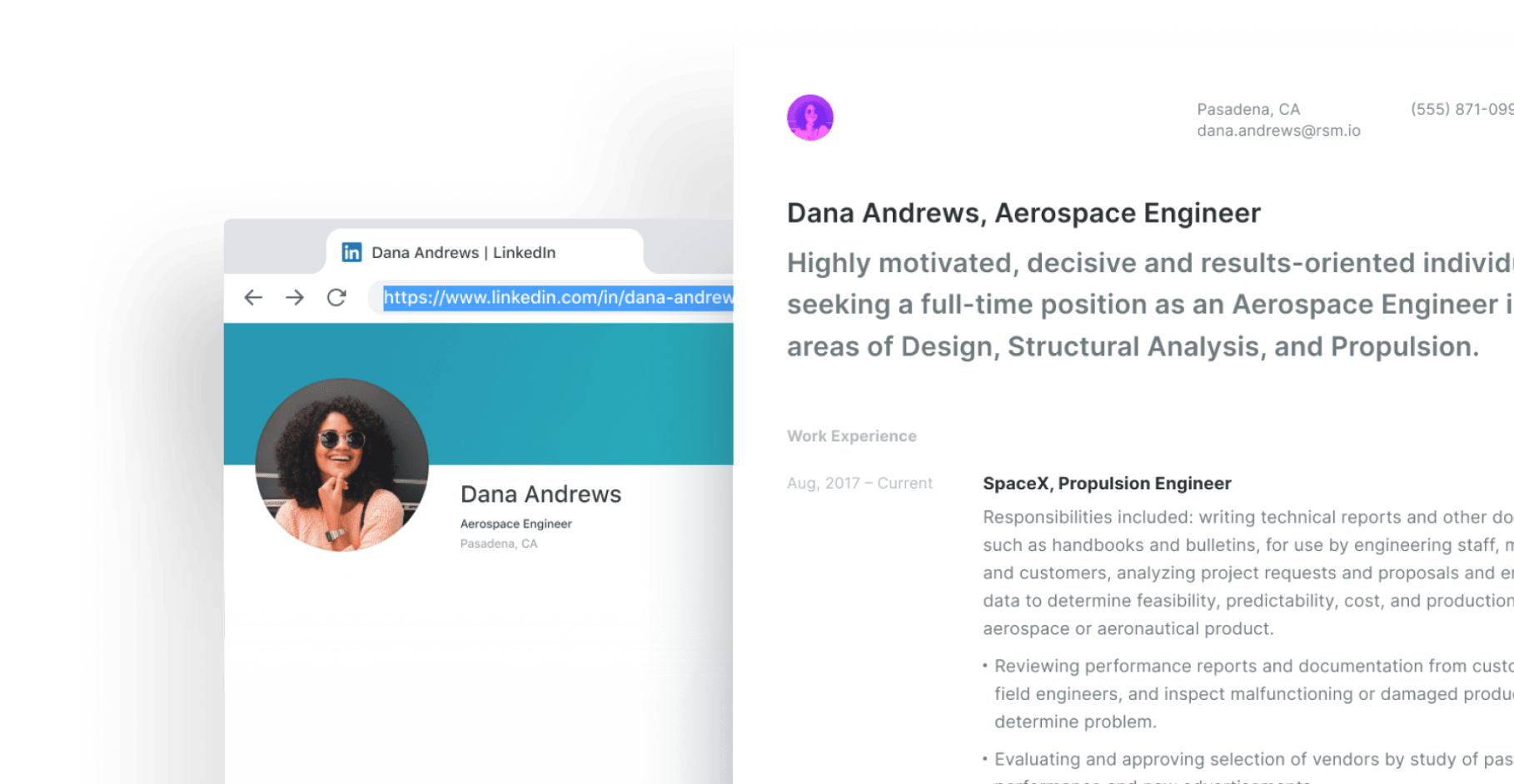 Share as a PDF or Website
Download a pixel perfect PDF resume to apply with. Sending your resume to a colleague as a referral? Send them a link to your web resume. No files required.
Online Resume Builder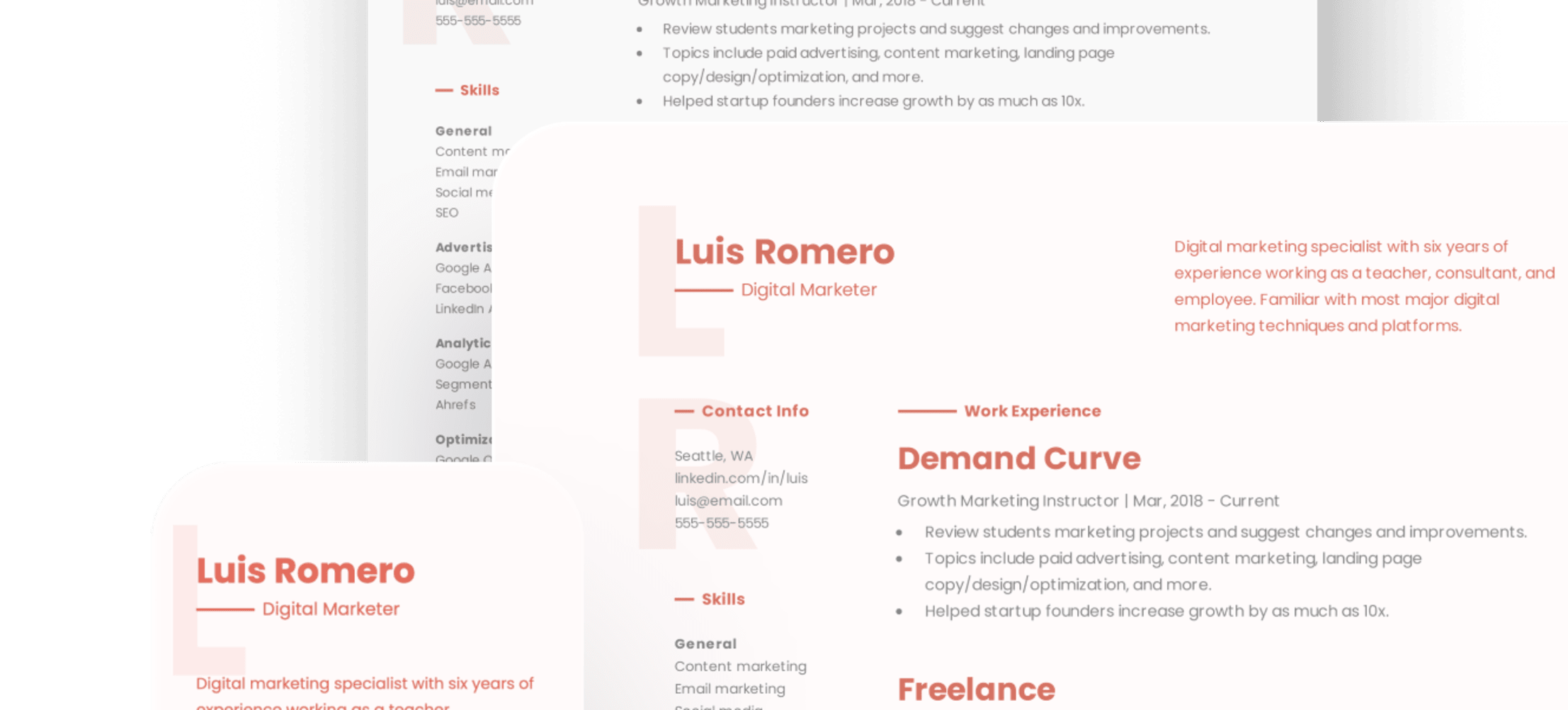 Impress potential employers with a professionally designed modern resume. It only takes 15 minutes and you'll get more interviews.
Create your resume