Content Coordinator at SimpleTiger LLC
This job posting is over 30 days old, but the application is still open.
Role Overview:SimpleTiger is looking for a new Content Marketer to join the team and fill our "Content Coordinator" position! This role is one of the first touch-points with our clients in the SEO and content marketing process and is responsible for performing Keyword Research (determining the best keywords a client should use for structural site pages), Content Keyword Research (determining the best keyword targets for content production purposes), Keyword Mapping (aligning our keyword recommendations with specific page-level actions), and assisting our Head of Content and Content Production Managers with Content Strategy work such as our Content Pruning Reports, pulling data on content KPIs, and other site metrics that help push our strategies forward.
As a member of a small but growing Content Marketing team at a boutique agency you're going to help us provide the best service to our clients while also helping us scale out our team and build / refine processes (most of which are already in-place). 
It's vitally important for this role to be a good communicator, both via text and on calls - as this role will have many consistent touch points with our clients and require a lot of information pass-through both internally within our team and externally with our clients.
Attention to detail is an essential part of this role, and an ability to pick up on the intent behind keywords that a user might search looking for a certain type of information on a client's site - whether that be a structural "solution" or "service" page, or an educational piece of content. There is a lot of nuance to this role so it is helpful to be a "self-starter" and be able to think outside of the box on a regular basis.While this is a creative role, it's also a very analytical role, dissecting keyword data in aggregate and making sense of these search volume numbers and difficulty scores to clients so that they can understand what to expect with every recommendation we make.
Unless expressly indicated, this role is not open in the state of Colorado.
Responsibilities & expectations of this role:
Pulling site metrics at the beginning of projects to assist our content strategies
Performing Keyword Research for our clients to find the best keyword targets for structural pages on a client's site
Creating a Keyword Map which applies our Keyword Research findings to specific page-level optimization and creation actions

Recommending updates to client's site navigation based on the keyword research
Recommending new pages to be built, or current pages to be updated

Performing Content Keyword Research to find the best keywords a client should be targeting with their content production budget that we will be managing in our projects

Working with our content strategist to determine the best content categories for client's blogs and other resources
Determining the best keyword targets for blog content production, or larger opportunities for bigger guides

Creating Content Pruning Reports to clean up old content on clients sites that are outdated or underperforming - and recommending actions to repurpose this content to perform better against current keyword targets.

This will primarily just be pulling the data itself and the content strategist will help add analysis to this data for the client

Analysing Content Opportunities in an on-going fashion for our clients

Assisting our content strategist by gathering data on a list of content targets each month using a suite of tools and providing high level notes which our content strategist will deliver a strategy around to our clients

Consistently analysing Content KPIs to see how our content is performing for our clients and providing context to our Client Coach to share with our clients
Must-haves for this role:
We are a service-based company, so interpersonal skills and quality communication are incredibly important - especially in this role
Self-motivated, proactive, and organized
Ability to self-edit content, and quality writing skills
Fast at learning new tools and systems
A strength in data-analysis and discernment of clear recommendations, clear critical thinking and problem-solving skills
A process-driven mindset, with the ability to be creative and think outside of the box
US-based, even though we're a remote company this role involves being on consistent calls with our primarily US-based clientele, and thus being compliant with west-east time zones for client calls and internal chats
An ability to quickly research and understand client's businesses through a process of Q&A with clients as well as deep personal research into their community and business solutions - all to empathize with their would-be customers which we're trying to attract through search
An ability to adhere to deadlines and move quickly through work while maintaining a high level of output quality - we perform a lot of these types of research pieces each month so it's important to be able to perform them quickly but accurately and be able to move on to the next client
An ability to work as a cohesive member of a team of individuals all working toward a central goal of making our client's sites and content perform better consistently
A positive outlook on your work and an eagerness to learn and better yourself - we want work to be fun and joyous, and we want our clients to be able to sense our joy when we help them succeed
Nice-to-haves for this role:
Deep copywriting experience
Experience working with SaaS companies / B2B companies in either an agency, freelance, or in-house capacity
Content editing experience is really helpful, but isn't 100% required
SEO experience is a really nice thing to have but as this is somewhat of an entry-level position it isn't entirely expected, and we have clear processes to run from for the majority of the responsibilities listed above
An ability to use a system and consistently think of improvements to make systems more efficient and consistent in their quality of output - this isn't required but it would really help as we refine our systems within this role even further over time
A hunger to learn as much as you can about our industry and master your role within the company
An ability to switch from a data-centric mindset to a creative, organizational mindset to adapt the data we pull to the creative solutions a client should use to put that data into action
A mind for data visualization, organization, and communication
Experience with Slack, Basecamp, Toggl, Google Analytics, Google Sheets, Ahrefs and other tools used by our team for project management or data collection / organization
Compensation & Benefits:
Competitive Base Salary: $45,000-55,000/year (Full-time)
100% Remote Work Environment
Results-oriented Work Environment
Flexible working hours / vacations
Computer provided for all team members
All typical US holidays observed with full paid time off
Health reimbursement using QSEHRA
401(k) through Guideline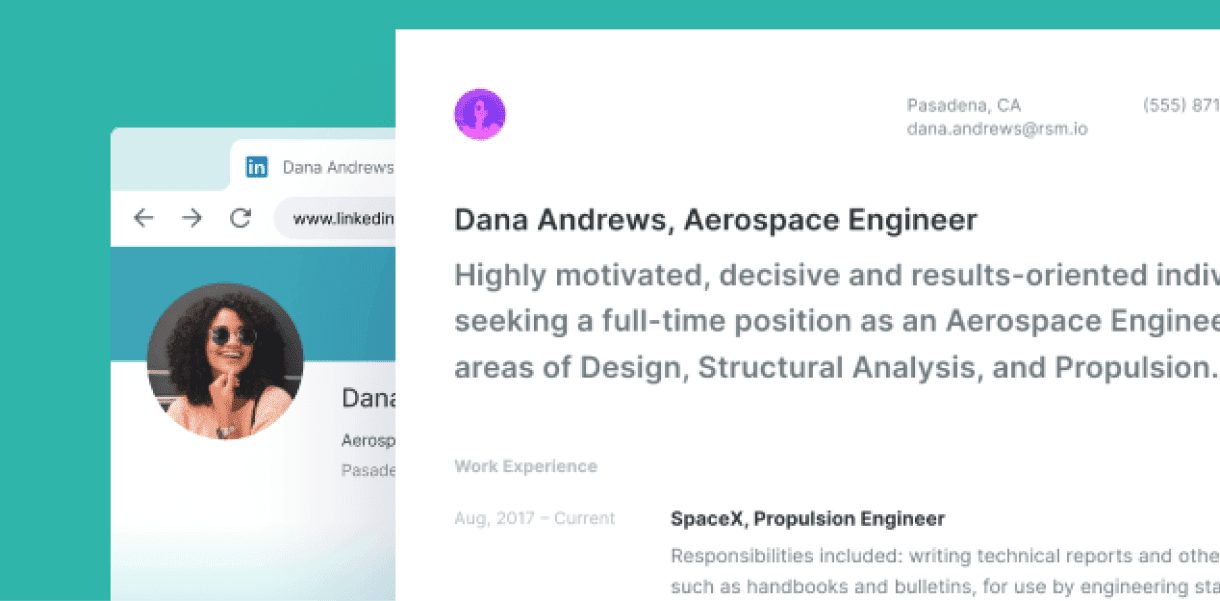 Content Strategist Resume Examples
A showcase of the best resumes built with Standard Resume. Use these diverse, real-world resume examples for inspiration and to help you write a great resume.