A showcase of some of the best content strategist resume samples and examples on Standard Resume. Use these diverse, real-world resume examples for inspiration and to help you write a great resume that highlights your experience and qualifications.
Writer & Content Strategist
Start with this template
Amy Thibodeau
Writer and content strategist
I'm a product-focused writer and content strategist with years of experience helping organizations create content that's designed for humans to understand and use .
Education
University of Northern British Columbia
English and Women Studies
The University of Regina - Luther College Campus
English & Women Studies
Projects
Writer and Editor
Developed a Medium publication that features tactical advice for people who weren't hired to write product content but find themselves doing it anyway.
Co-founder and co-organizer
|
Aug, 2009 - Apr, 2010
Co-chaired and coordinated the first two Ignite events to happen in London, UK, which both sold-out in minutes. My responsibilities includes establishing the Ignite London website and social media accounts, planning and promoting the events and wrangling speakers ranging from Ben Hammersley of Wired Magazine to Cory Doctorow of Boing Boing and Russell Davies of the Interesting Conference.
Skills
Content strategy & analysis
UX and interaction content
Writing & editing
Developing voice and tone style guides
Simplifying the complex
Building a highly effective team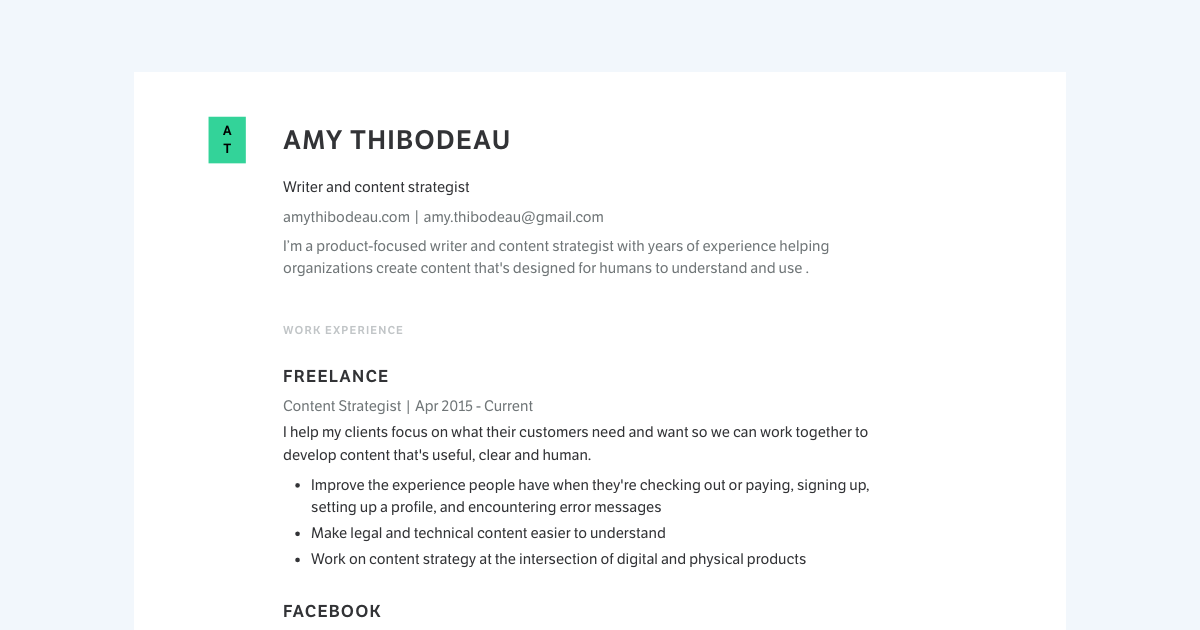 Start with this template
Benjamin Noyes
Content Strategist
Goal-oriented and results-focused Content Strategist with 3 years of experience building distinct content environments, incorporating: thought leadership, websites and apps, and social channels.
Education
University of Richmond
Bachelors of Science Chinese Studies and Business Administration (Marketing)
|
Aug, 2011 - May, 2015
Double major in Chinese Studies and Business Admin, with a concentration in Marketing. Involved on campus as an Orientation Advisor, Sigma Chi Fraternity Social Chair, and member of the Club Soccer team.
Peking University
Certificate Chinese Language and Culture
|
Jun, 2013 - Aug, 2013
Achieved conversational fluency in Mandarin Chinese through a 10-week accelerated study abroad program. Completed Chinese Language CH 400 (401 + 402) and Chinese Cinema as Cultural Translation and Self Representation.
Skills
Google Analytics
Microsoft Suite
Content Management Systems
On-page SEO
UX Writing
Adobe Illustrator
HTML, CSS, JavaScript
Social Media Management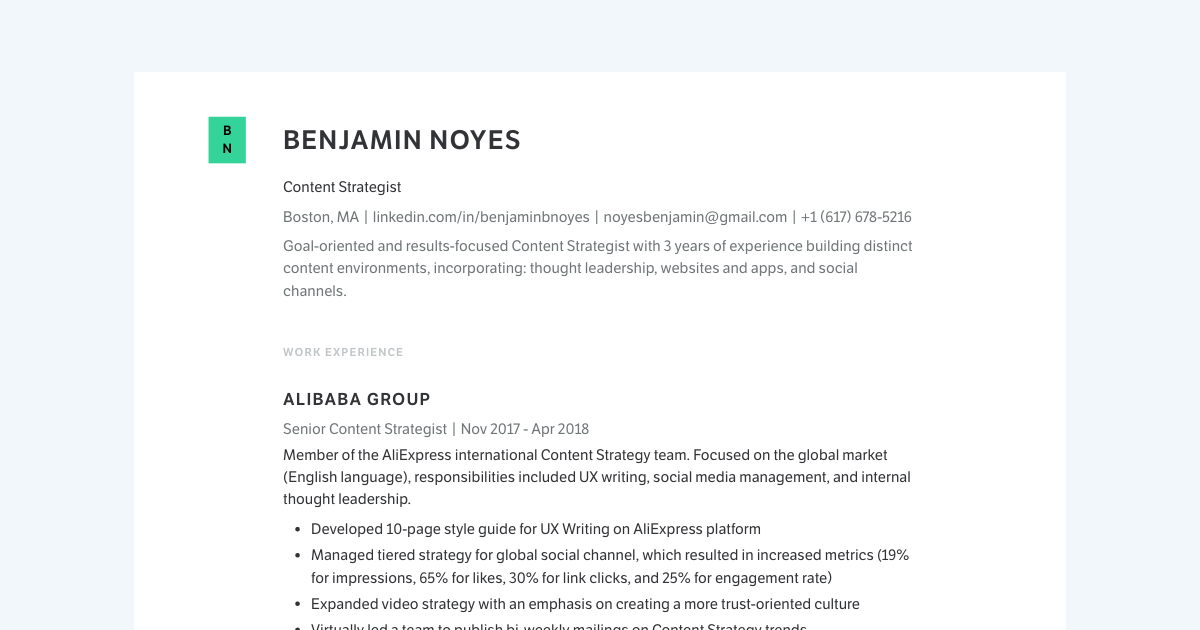 Start with this template
John Moore Williams
Content Strategist
I design voices, systems, and content that spur action, inspire trust, and create fans.
Education
University of California at Berkeley
English
Skills
Content strategy
Content modeling
Copywriting
Blogging
Editing
User experience
Wireframing
Design
Associated Press Style
Chicago Manual of Style