Content Marketer at AgencyAnalytics
This job posting is over 30 days old, but the application is still open.
Are you an amazing writer and marketing professional looking to work in in a collaborative content marketing environment with growth opportunities? Have a bit of social media marketing experience? Willing to learn and execute on highly sales-aligned content marketing across blogs, social media, and partners? Motivated to see how your efforts add directly to revenue?This is the perfect opportunity for a talented, highly motivated, self-disciplined, marketing and communications specialist who has at least 3 years of marketing experience in b2b SaaS.We are looking for an individual with outstanding writing skills, strong work ethic, solid customer service skills, as well as attention to detail who must be able to work both in a team and independently.🇨🇦 This position is 100% remote and only eligible for those who are authorized to work in Canada.
Key Responsibilities
Content creation, content distribution, and content wrangling. All things content is your core skill set, in this role.
You will work with our content marketing manager, freelance writers, internal stakeholders, subject matter experts, graphic designers, and partners to create compelling and story-rich narratives in the form of blog posts, case studies, infographics, emails, social media content, web videos, web content, webinars, podcasts, and anything else 'content' that moves the needle on our sales and marketing goals.
Your ease and familiarity with social media will help you develop and deliver concise call to actions, distribute content, drive engagement with the AgencyAnalytics brand, and build relationships with target audiences.
You are comfortable being on video and on social media.
As an exceptional writer yourself, you will consistently write high-quality blog posts. Your background—as a natural storyteller, writer, manual of writing style/style guide expert—will help ensure consistency in AgencyAnalytics brand positioning across all online and offline modalities.
Job Benefits
Profit-sharing, distributed quarterly
Growth opportunities that come with a rapidly scaling business
3 weeks vacation and paid sick days
Happy Hour every Friday
Extended health benefits
Continued education allowance
Annual fitness allowance
Work from anywhere in the world
Join a bootstrapped, profitable company and a product-focused & customer-oriented team
Job requirements
Expert level English writing skills with formal education to back you up – such as a Masters in English Literature, Degree in journalism, or similar. Did we mention that you need to be an exceptional writer?
A portfolio of work that demonstrates the above. Please provide links to your blog, articles, and public facing social media channels.
Demonstrated advanced copywriting and editing skills. 
Blog content creation. 
Very comfortable working in a metrics-driven culture where you are accountable for specific content-related KPIs.
Familiarity with one or more CMS platforms such as HubSpot, WordPress, etc. Your recent employment history should demonstrate the use of one or more of these platforms.
Comfortable with professional yet casual and friendly social media interactions on platforms like LinkedIn, Twitter, Facebook.
Advanced knowledge of Microsoft Office (Word, Excel, PowerPoint).
Market research, interviewing, and PR experience.
Customer service skills.
Good To Have
Familiarity with Adobe Creative Cloud products.
Familiarity with web analytics software.
Graphic design, image editing, and video editing.
Web design and development. HTML, CSS.
SEO/SEM principles. Familiarity with SemRush, Moz, etc
A/B testing.
Marketing agency experience.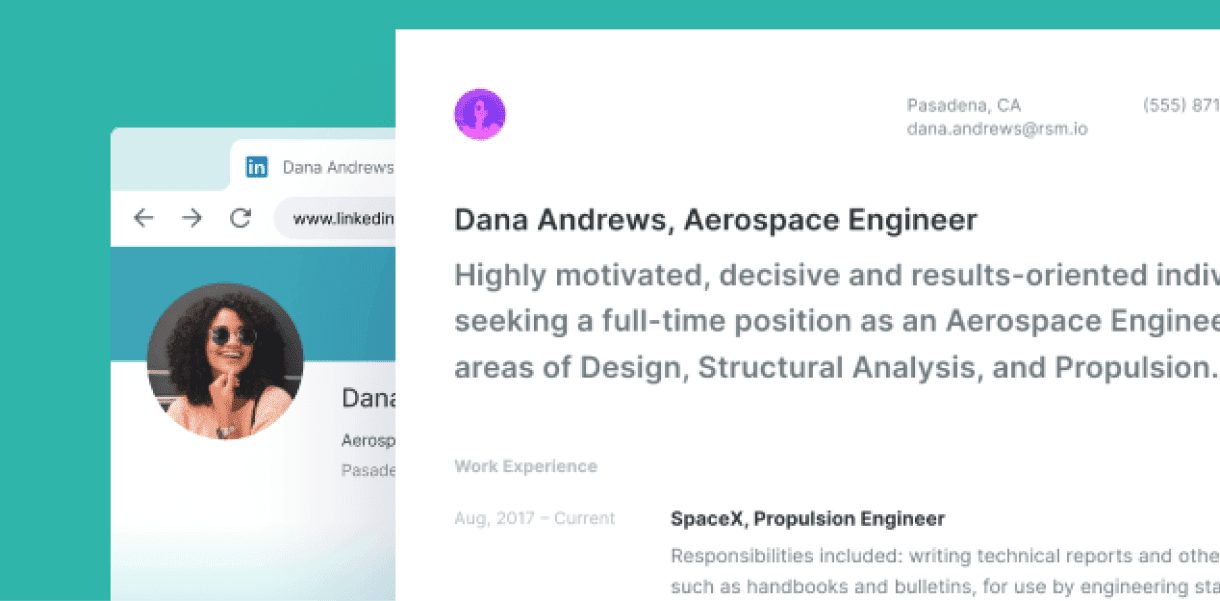 Content Strategist Resume Examples
A showcase of the best resumes built with Standard Resume. Use these diverse, real-world resume examples for inspiration and to help you write a great resume.