Marketing Content Producer at Aiven
This job posting is over 30 days old, but the application is still open.
Marketing Content Producer
Remote
Aiven is a hypergrowth Platform-as-a-Service company offering the best in open-source and data technologies on multiple cloud platforms.
Headquartered in Helsinki with hubs in Berlin, Boston, Paris, Sydney, Singapore, Tokyo and Toronto, Aiven provides managed open-source data technologies, such as PostgreSQL, Apache Kafka and M3, on all major clouds.
In 2022, we raised Series D funding of $210M to fuel our global expansion, the comprehensiveness of our platform and to focus on new programs in sustainability and diversity in tech.
Open source is at our core. We compensate our employees who contribute to open source outside of their daily work with Aiven and we have set up an Open Source Program Office (OSPO), to actively focus on giving back to the open-source community.
Our Mission and Values
Aiven's mission is to enable customers to drive business results from open source, transforming their businesses. We love to operate our favorite tools at scale and empower our customers, in over 60 countries, to do great work.
We live our values of courage, openness and ownership every day, and continually strive to ensure that every Aivener is empowered to contribute creatively and meaningfully, in a work environment where they have the tools to succeed and the comfort and support to be themselves.
We are looking for a bright and audacious Content Producer to join our Marketing team. You will work alongside copywriters, graphic designers and video specialists; and you will manage the content production process. In short, you will use data to understand the needs of our audience, generate content plans and processes, manage the content roadmap and coordinate the writing, design, publishing and recycling tasks for our creative team. You will not be expected to write or design yourself, but having an understanding of those tasks will definitely help you communicate effectively with our creatives.
The content will be targeted towards developers, data practitioners and decision-makers working in digital-native organizations across the globe.
For example, if our data tells us that developers are comparing us to Competitor A, you could work on a creative brief with the team and decide to produce a blog post and a webinar using our key messages for that segment. Then, you would schedule those assets, define targets for each and ensure our writers and designers have clear specifications and deadlines for them. Afterwards, you could define how these will be promoted, and plan how to turn the webinar into 3-5 shorter pieces of content.
Our ideal candidate is a creative thinker, organized and comfortable with basic project management, and with a certain understanding of technical target audiences. A strong sense of ownership is important, as you will manage content projects involving a variety of stakeholders across Aiven, and we expect you to drive those to completion.
The vision of our Content team is to shine a light on the true value of Aiven. We own and maintain an advanced tech stack, have deep expertise in our domain and are proud to advance a culture where fairness, trust and transparency are front and center.
What you'll be doing
Coordinate the production of blog posts, reports, case studies, videos, articles, website and social media content
Manage the content production process and maintain existing process documentations and task templates
Distribute the production workload across the team and proactively ensure that it remains reasonable and healthy
Foster a culture of data-based decision and content recycling in the Content team
Work with the wider marketing team at Aiven in creating kick-ass technical marketing content for different key initiatives
Requirements
Strong communication skills in English
Project management skills, particularly valuable if familiar with creative projects
A basic degree of numeracy, feeling comfortable around numbers and code
Ability to empathize with our main target audience, developers using open source technologies
Ability to manage your own workload and that of others, and prioritize tasks based on the value-to-effort ratio
Interest in B2B content marketing
Basic understanding of SEO and digital marketing
Clear, effective communication skills to articulate and present your research and design decisions
Benefits:
An agile working environment with short decision paths
Compensation for open-source contributions made in your free time
Flexible working hours, including remote work
Choose the devices and tools that make you work the best
Participation in employee stock option plan
Office snacks, soft drinks, treats and fruits
Please note that benefits and perks may slightly differ depending on location.
You will be part of a highly-skilled, tight-knit team, making your contribution essential to what is becoming a great success story. If you are interested, please send us your application!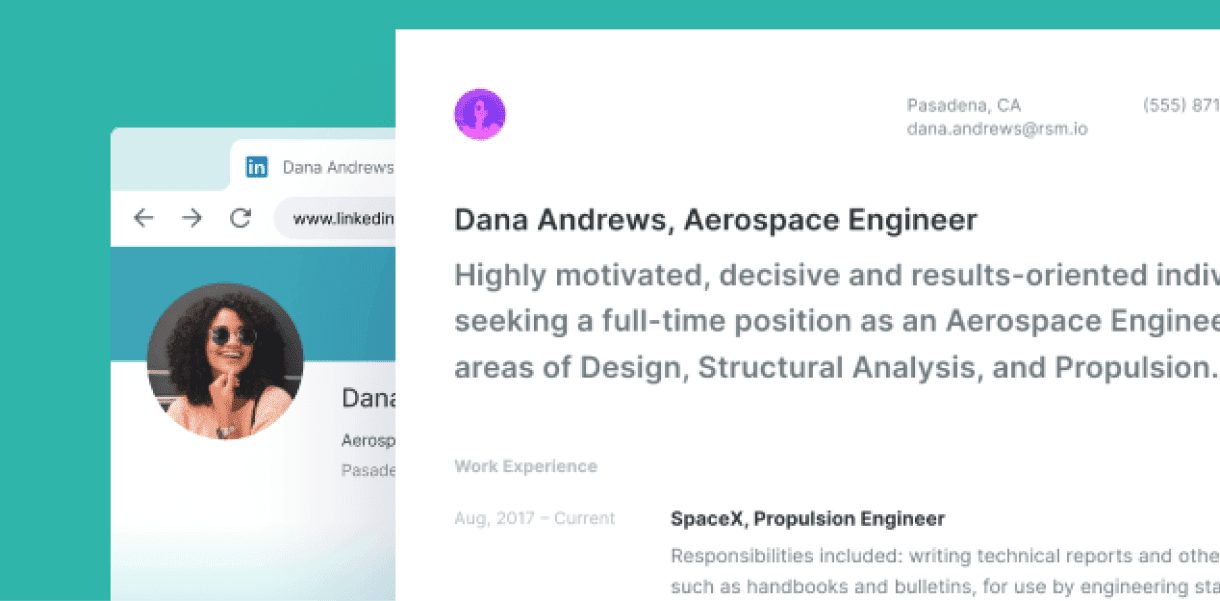 Content Strategist Resume Examples
A showcase of the best resumes built with Standard Resume. Use these diverse, real-world resume examples for inspiration and to help you write a great resume.