Senior Cloud Database Administrator at Help Scout
This job posting is over 30 days old, but the application is still open.
This is a full-time, remote position.At this time, we are only able to hire in the following: United States, Canada, Denmark, Finland, Germany, Ireland, Netherlands, Norway, Poland, United Kingdom. We're working on expanding this list!
Help Scout is looking for our first Senior Cloud Database Administrator to join our Foundations team. Your work on this team will power the critical data that our customers depend on every day. You will manage large, frequently changing data-sets with thousands of transactions per second!
Our ideal candidate takes pride in designing scalable database architectures and choosing the right technologies to meet customer needs. You excel at building scalable, reliable and easy to manage databases. Your work as an experienced DBA will empower over 12,000 businesses around the world to provide excellent customer service and will support the other senior engineers on your team. 
We leverage Aurora MySQL, PostgresSQL and MongoDB for several tools at Help Scout, knowledge or even expertise in these tools is a plus. Relevant experience in other DB technologies will be considered.
Technologies we use:
We develop in Java, Kotlin, JavaScript and PHP.
We leverage AWS, Aurora MySQL, PostgreSQL, MongoDB, Solr, Lucene, Ignite, Redis, RabbitMQ, and Kafka.
We also use Slack, Jira, Github, Ansible, Docker and Drone.
About the role:
You'll be a part of the Foundation team managing our current databases and lead the design of our future data architecture which will enable autonomous teams to build solutions that delight our customers.
You'll be responsible to plan, design, implement and support our databases, manage their health, performance, availability and security.
You'll assist software engineers with database definition, query optimization, creating indexes and data structures related to application-specific design.
You'll work autonomously for the most part and we trust you to get work done when/where you can be productive.
Everything is secondary to the customer experience. We expect you to have a keen sense of how your solutions will impact the experience in terms of performance, security and usability.
You'll be working with product people that challenge you to get better every day. The founders are technical and committed to creating a magical experience for customers. You'll deploy work that moves the needle for businesses around the world.
You will periodically partner with our Talent team to help us hire our future team members.
At this time, we are only able to hire in the following: United States, Canada, Denmark, Finland, Germany, Ireland, Netherlands, Norway, Poland, United Kingdom. We're working on expanding this list!
In order to ensure enough team overlap, you're located anywhere between Pacific Time(UTC-8) and Central European Time(UTC+1) zones.
Salary: We have an internal transparent salary matrix for each team. For this role, our bands are between $156,000 to 193,000 USD. Read more about how we approach compensation here!
About you:
You have a growth mindset, a passion for learning, and are willing to lean into discomfort for the good of our customers and product. 
You bring a level of database and data architecture expertise that will help us deliver an outstanding experience for customers and fellow developers.
You're a great communicator and have an excellent command of written and spoken English. As a remote company, we rely on clear communication for collaboration and execution. 
You believe remote teams are the future of work, or are at least excited about the idea. You have experience working with remote teams or can adjust your work and time-management style to be remote-friendly.
You have experience collaborating with engineers, product, and design folks to craft relevant, customer-focused solutions, that serve high volumes of traffic.
You consider how your work impacts others, and demonstrate thoughtful, flexible approaches to mentoring and guiding technical decisions.
You value giving and receiving feedback just as much as we do. You see it as an opportunity for personal and career growth.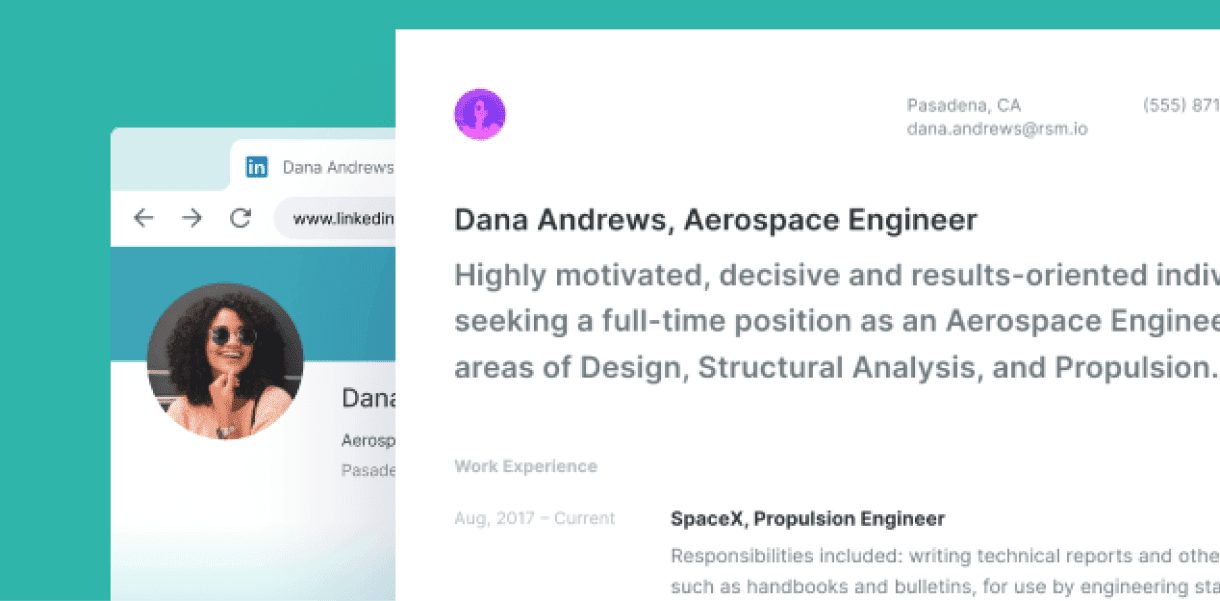 Data Scientist Resume: How To Show Off Your Analytical Skills
You can write an effective data scientist resume with these valuable writing tips, resume sections to include, and formatting guidelines.

Data Scientist Resume Examples
A showcase of the best resumes built with Standard Resume. Use these diverse, real-world resume examples for inspiration and to help you write a great resume.