A showcase of some of the best data scientist resume samples and examples on Standard Resume. Use these diverse, real-world resume examples for inspiration and to help you write a great resume that highlights your experience and qualifications.
Machine Learning Engineer
Start with this template
Philip Spanoudes
Machine Learning Engineer
San Francisco, California
Data Scientist with a specialization in the design and implementation of deep/machine learning algorithms. Industry experience in: predictive modeling, optimization problems and simulations.
Education
Lancaster University (UK)
Master of Science in Data Science Distinction
|
Sep, 2014 - Nov, 2015
Best Overall Student Performance Award: Prestigious award in recognition for best student performance across all degree modules.
University of Portsmouth (UK)
Bachelor of Science in Software Engineering First Class Honours
|
Sep, 2010 - May, 2014
Projects
Researcher
|
Jun, 2018 - Nov, 2018
Research conducted at Square Capital for the purpose of automatically suggesting solutions to customer email inquiries. The research yielded a novel deep learning architecture that combines two disparate data sources when estimating its predictions.
Researcher
|
Jun, 2015 - Aug, 2015
Initial research performed for Framed Data as part of the MSc Data Science Degree dissertation at Lancaster University. The research work conducted proved that Deep Learning can be successfully applied in the field of customer churn prediction by yielding better prediction results while also bypassing the tedious feature engineering phase in a traditional machine learning pipeline.
Skills
Machine Learning
Deep Learning
Feature Engineering
Python
Java
C++
Apache Spark
C#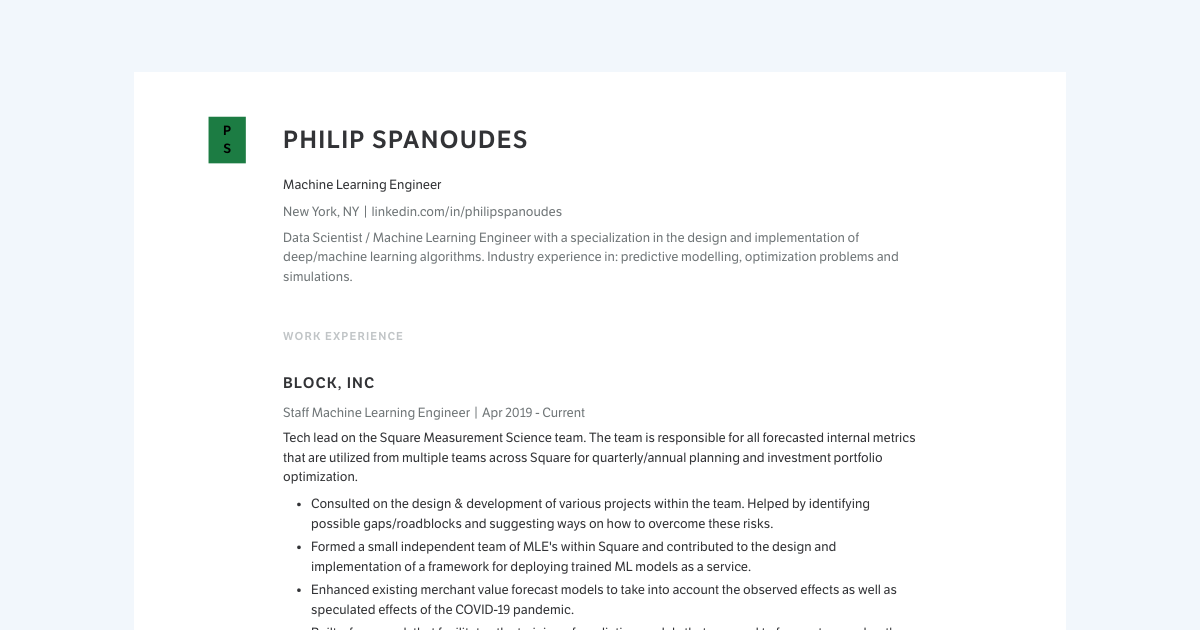 Software Developer & Data Scientist
Start with this template
Alexis Mattos-Vabre
Software Developer & Data Scientist
I've always been a builder and analyst of systems, abstract or concrete. I currently am advancing my education in the direction of machine learning and artificial intelligence. With a solid basis in web programming and software architecture, I'm also a highly motivated, curious, innovative and results-oriented individual seeking a full-time position in a company where hybrid career types are valued.
Work Experience
Data Science & Data Visualization Consultant
|
Feb, 2016 - Current
Used Caffe, Theano (Keras), Lasagne, scikit-learn, TensorFlow and custom algorithms to complete projects.
Used libraries/tools such as D3 and Processing to create data visualizations
Research in current social problems using public data (Basic Income & Poverty in the San Francisco Bay Area, Time-Banking)
Policy development through data analysis and predictive analytics
Data Product Architect & Software Engineer
|
Jan, 2016 - Current
Created new rental reservation system in Django/Python with a fully integrated CMS, analytics and data visualization.
Implemented the use of Docker and MicroServices.
Managed and created sprints in SCRUM methodology.
Created migration plan for legacy PHP system to new Django stack.
Creative Technology Consulting
|
Jun, 2008 - Current
Web, marketing, and communications consulting as well as development, design, and UX design.
Clients include: Chanel, LVMH, Au Feminin, Le Manoir de Paris, Barbara Bui, FITC, Circus Automatic, Sensoree
Technical Director
|
Jun, 2014 - Aug, 2016
Networked wall of 45 LCD screens using Raspberry PIs and software in python
Managed and developed code base for robotics development
MediaPilote Paris
Technical Director
|
Mar, 2010 - Mar, 2011
Advise and develop technical strategies for web and HCI projects
Develop custom modules for the branded CMS using php, ajax, and css.
Integrate creative and technical concepts, and advise on technical feasibility and cost.
Logikart
Full-stack web developer
|
Dec, 2007 - Jun, 2008
Created Modules in PHP and AJAX primarily to extend OScommerce.
Maintained the webstore and servers for LOLLIPOPS, a webshop with an international presence (with over 100 physical boutiques worldwide)
Education
University of California, Santa Cruz
BFA Fine Arts
|
Sep, 2000 - May, 2005
General Assembly
Certificate Data Science
|
Feb, 2016 - May, 2016
Udacity
Nanodegree Machine Learning
|
Jul, 2016 - Current
I'm currently pursuing a certificate program in Machine Learning and participating in the Beta version of the Self-driving car programming nanodegree
Skills
predictive analytics
statistical analysis
python
algorithm development
php
data visualisation
splunk
ux design
scikit-learn
keras
caffe
data visualization
data analytics