Senior UX and UI Designer at WebinarNinja
Senior UX/UI Designer
At WebinarNinja, we help small businesses grow with webinars. Join us, and help others win, every day.
Location: Remote / Home BasedA FULL-TIME POSITION- 40 hours a week
The position
Contribute your efforts to a product that empowers independent educators and creators to share what they know and earn a living. WebinarNinja is hiring a Senior UX/UI Designer to evolve our offering and work with our awesome team of ninjas!
WebinarNinja is a distributed global company with a team working around the world across 5 continents.
What will you be doing as our UX/UI designer:
Collaborate closely with product team and founders to map feature requirements and create thoughtful user-centered solutions
Participate in user research to identify user needs, goals, behaviors, and pain points
Use qualitative and quantitative data to drive and inform design decisions
Transfer your ideas from wireframes to pixel-perfect designs and high-fidelity interactive prototypes
Create functional specifications for each feature to ensure that design intent is carried correctly across to development
Present and hand-off final solutions to the development team
Oversee and advocate a positive user experience from concept to launch
Oversee and improve the buyer's journey and onboarding process
Conduct usability testing to validate the design by tracking how real users interact with the product or service
Identify and troubleshoot any UX problems and develop solutions
Expand and help to maintain our design system, brand assets, and graphic library
Why you should apply:
You enjoy creativity and are eager to solve problems in an innovative way
You want to work on a product that offers real humans (digital creators and educators) a way to connect meaningfully with their online community to provide a cutting edge, interactive experience
You want to join a company with a track record that offers stability and provides you with autonomy and flexibility
You want to act as a customer advocate, recognizing them as our #1 stakeholder
You are collaborative, willing to teach and learn from others
You like to have fun and expect to have fun with the work that you do
You don't mind calling yourself a Ninja!
Skills & experience we are looking for:
5+ years of experience in product design, preferably SaaS solutions
A strong body of work demonstrating both your problem-solving abilities and visual design skills
Ability to apply UX/UI design best practices in your daily work to create a functional and positive experience for the users
Proficiency in at least one UI design and one prototyping tool (Figma, Sketch, InVision, etc);
Great understanding of technical constraints and ability to work around them to achieve the best result
Strong self-management skills as well as the ability to work as a contributing member of a multidisciplinary team
Excellent verbal and written English communication skills
Empathy – develop a deep understanding of our end users to truly engage and delight them
Curiosity – practice asking insightful questions and actively listen to engage more deeply with problems
Collaboration – communicate and connect within the team to incorporate ideas and feedback, explore solutions, and include the expertise of everyone involved in a project to create the best product experience possible
Additional skills that would be a bonus…
Experience designing products for growth (e.g., onboarding, conversion optimization, A/B testing)
Previous experience working in a remote team
Experience working with and building design systems
Illustration skills
Comfortable making frontend edits and improvements with WordPress
Who we are:
Launched in April of 2014, WebinarNinja has set out to allow digital educators (coaches, trainers, consultants) and creators (course creators and independent business owners) a way to easily create engaging webinars to share their expertise with the world.
Our USP has been a friendly, easy-to-use interface and fun and personable brand. We make it easy for our educators and creators to get up and running quickly so they and their attendees can focus on content and enjoy the webinar experience.
We help businesses in every niches and today, over a million people attended a WebinarNinja webinar.
WebinarNinja has been self-funded and profitable from day one. We only answer to the needs of our team, collective vision, and users.
Why Work at WebinarNinja:
WebinarNinja has been doing the remote thing since 2014 – well before the world knew what "flexible work" meant.
We strive to give each team member an unmatched level of job satisfaction. We offer a healthy level of autonomy while providing consistent communication so expectations are met and you get the support you need. We believe in learning from each other and fostering personal growth. You can expect to learn a lot while working with us.
As a remote team, we've managed to foster a culture of communication and transparency every day.
When travel is uninterrupted by global events, we take a break from remote work with an annual, in-person team retreat. In 2019 we spent a week in Ubud, Bali working and playing together- taking in the culture, food, and fun.
But the biggest reason why you would love working at WebinarNinja is that we create cool stuff that makes a significant impact on the businesses we serve, every day.
We are an equal opportunity employer and are committed to diversity, equity, and inclusion, and a sustainable future. You can learn more about us on our about page.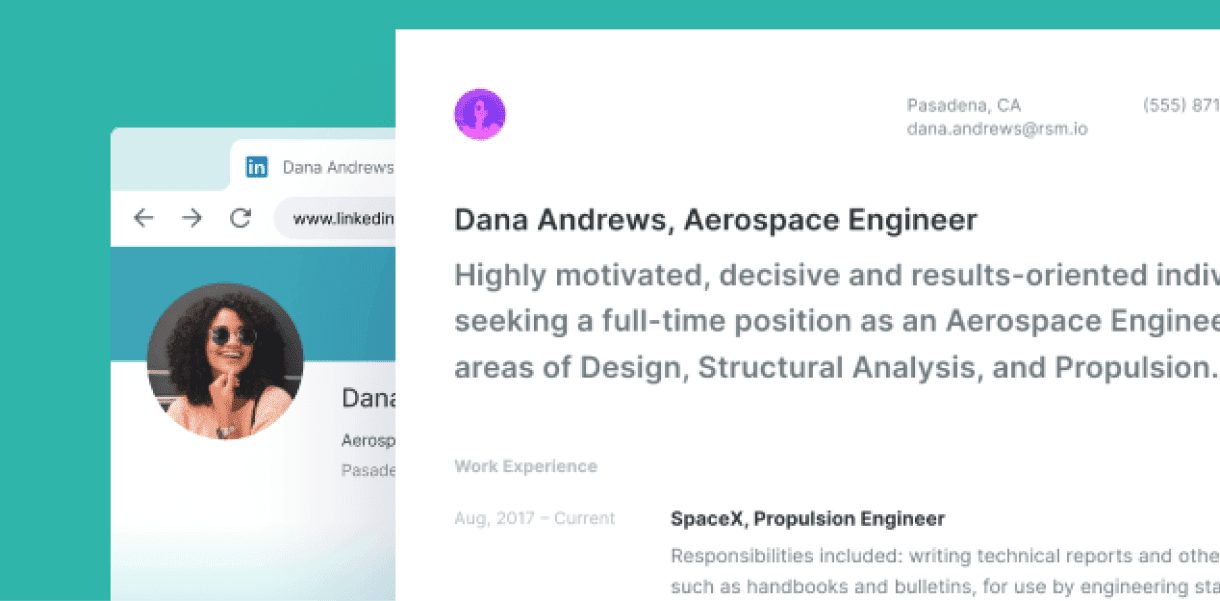 The Wireframe for an Intuitive UX Designer Resume
In this guide, we're going to help you highlight your UX design skills and write a resume that converts.

UX Designer Resume Examples
A showcase of the best resumes built with Standard Resume. Use these diverse, real-world resume examples for inspiration and to help you write a great resume.