It may seem daunting, but writing a UX designer resume is much like creating an intuitive user experience. We're going to tell you exactly what to do to design a resume that shows hiring managers you're the right fit for the job.
We've led more than 100,000 professionals to dream jobs at companies like Google, Square, and Dropbox. Our resume builder has helped professionals streamline the design process and create an effective resume in no time.
In this guide, we're going to help you highlight your UX design skills and write a resume that converts. We'll go over what hiring managers are looking for, which sections to include, and how your resume should be formatted.
What Hiring Managers Expect From a UX Designer Resume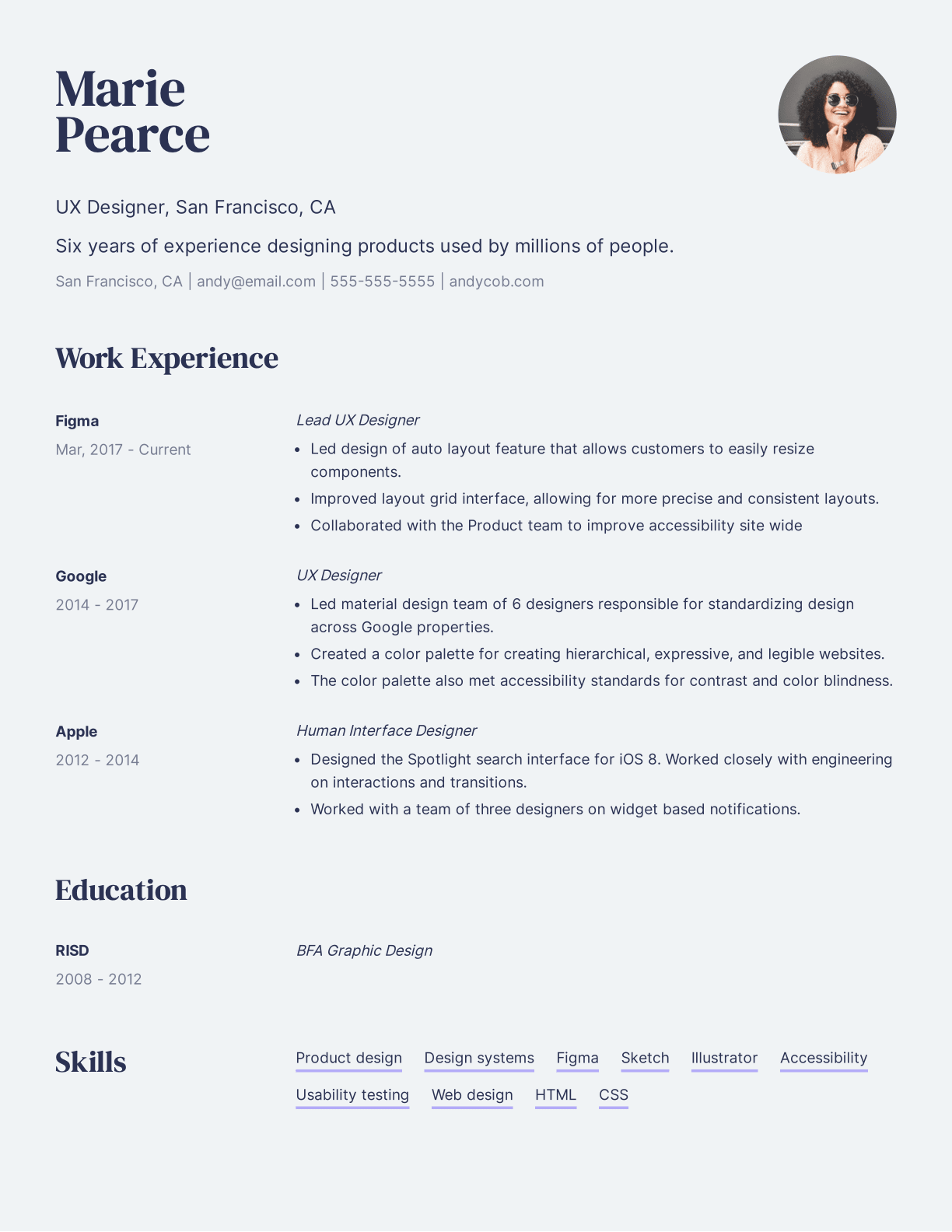 Hiring managers and recruiters want to hire someone who can solve complex design problems and create beautiful user interfaces. Simply put, they want to know if you can actually do the job and make an impact on the company.
Approach resume writing in the same way you would solve a UX design problem. Start by considering who will be reading your resume, what problems they have, and how you can solve them.
Put yourself in the end user's seat. What information do they need to trust that you're the right candidate for the job?
Here are four main areas you need to consider to show a hiring manager you have what it takes to join their team.
Technical UX Skills
Technical experience is one of the most important aspects of a UX designer resume. Hiring managers need to know you have relevant technical expertise that is transferable to their team.
This can include familiarity with design tools, coding, or project management skills. Here are a few examples:
Design tools: Figma, Adobe Illustrator, Photoshop, Sketch, InVision
Coding languages and libraries: HTML, CSS, JavaScript, JQuery
Project management: Scrum, Agile methodologies
Read through the job description and match your resume to what the hiring manager is looking for. The more relevant your resume, the better chance you'll have of landing an interview.
Passion for User-Centered Design
A hiring manager should immediately know if you understand the basic constructs of effective user experience design. Your resume is the first test. It's your first opportunity to show off your design skills.
Give hiring managers a resume that is clean, professional-looking, and easy to read. Leverage the same design principles you would use to create an effective digital experience. Implement adequate white space, a typography hierarchy, and an effective user flow so hiring managers can easily scan your resume.
Results Driven Designer 
It's one thing to be able to create something visually stunning. It's another to create a beautiful user experience that drives results for businesses. Hiring managers prefer the latter.
Including experiences that are supported by hard data will tell hiring managers you can see the bigger picture. It shows that you design effective user experiences with their business goals in mind.
Here is an example of how you should frame your experiences on your resume:
Wrong: Responsible for redesigning signup process
Right: Redesigned signup process and eliminated unnecessary steps to increase registration rate by 25%
The first option is boring and generic. The second option explains the direct impact you had by designing a more effective user experience.
Now, let's take a look at how you should layout your resume.
UX Designer Resume Sections
A UX designer resume should consist of five sections. They include contact information, resume summary, work experience, technical skills, and education.
Contact Information
This section contains basic contact information so a hiring manager can reach out if they want to set up an interview. It's relatively straight-forward, so you don't need to put too much thought into it.
What to include:
Name
Job title
City and state
Email
Phone number
Portfolio
Example:
Andres Salazar | User Experience Designer | San Francisco, California
Asalazar@gmail.com | 888-431-2368 | Portfolio Link
Resume Summary
Your resume summary needs to be engaging and captivate a hiring manager. You need to reel them in and give them proof that you're the right UX designer for the job.
Here are a few pieces of information you should include to impress hiring managers:
Years of experience in UX design
Previous responsibilities
Areas of expertise
Notable achievements
You should avoid using "I" when writing your summary. Also, make sure you make it specific. Don't just say you're experienced or skilled. List how many years of experience and the exact tools and skills you specialize in.
It's important to customize your resume summary to the job description for the role you're applying to. As mentioned above, you should incorporate metrics to show the impact your work had in your previous roles.
Example:
Senior UX designer with 6+ years of experience creating intuitive user experiences that convert. Led a redesign of an e-commerce website that increased monthly revenue by 20%. Well-versed in information architecture, user-centered design, and data analytics.
Work Experience
Your work experience section proves that you can be trusted to make impactful design decisions. Hiring managers will see that other companies entrusted you with their design processes and you drove results for their business.
It's important to list the solutions you implemented to solve complex design problems. Get into the finer details — like what UX tools and coding skills you used, and the impact it had on the company.
You should also incorporate some soft skills in your work experience section. For example, hiring managers will love it if you can effectively communicate that you're a confident designer who has the ability to stand behind your design recommendations. This is especially impactful if you can explain how you pitched your recommendations to peers and C-level employees.
The work experience section is also the perfect place to include keywords from the job description. Try as much as possible to match your experiences with the job description you're applying to. This will also help optimize your resume for an applicant tracking system.
What to include:
Job title
Company
Dates employed
3-5 bullet points highlighting your contributions
Example:
E-commerce Company | Senior UX Designer | April 2018 – May 2020
Created user personas and customized user funnels to increase conversion rates by 20%
Led a team of five UX designers to wireframe, prototype, and launch a new website
Successfully lobbied for a new design process that increased team productivity by 30%
Technical Skills
The technical skills section is where you list your expertise. This section is crucial because it provides hiring managers with an easy way to see if your skills match the job opening.
Read through the job description and match your technical skills with what hiring managers are looking for. Don't worry if you don't possess every skill in the job description. Hiring managers understand that there won't be a candidate who will meet every single one of their requirements.
Focus on skills that are more technical in nature. Soft skills can be left out of this section and instead be inserted in other sections of your resume.
Example:
HTML5, CSS3, JavaScript
Illustrator, Photoshop, InDesign
Figma
InVision
Sketch
Usability testing
User research
Information architecture
Prototyping
Wireframing
A/B testing
Education
Most hiring managers are more concerned with your real-world experience than they are with your education. However, your education is still important as it shows you built a solid foundation before entering the workforce.
What to include:
Name of institution
Degree obtained
Dates attended
Example:
Rhode Island School of Design | Bachelor's of Fine Arts in Graphic Design | 2010 – 2014
Resume Formatting
Formatting your resume should come naturally to you. After all, you design seamless user experiences for a living.
Here are the formatting elements you should consider if you want to create a resume hiring managers love.
Resume style: A reverse chronological resume format walks through your experience starting with your most recent job. We recommend using this format.
Margins: Set your margins so they're big enough for a printer to handle, but small enough that your resume doesn't become unnecessarily long.
Font: A modern, easy-to-read font will make your resume look professional and clean.
​Font size: Font size should be optimized for readability. Make sure it's large enough to read in both a screen and printed version.
Line spacing: Your line spacing should also be optimized for readability. You don't want your resume to feel crowded and hard to read.
White space: Effective use of white space will help hiring managers scan between sections. It also shows you understand basic design principles.
Color: Feel free to use one or two colors to give your resume some flair. Don't overdo it though. You don't want too many colors to distract the reader.
Resume length: Your resume can be one or two pages long. Those with extensive professional experience can extend their resume to two pages.
Take a look at some of these UX designer resume examples to get a better idea of what your resume should look like. Once you've properly formatted your resume, you're ready to apply to your dream job.
Speeding Up the Design Process
Make sure every piece of information you include on your resume has a purpose. Be sure to highlight your relevant technical expertise and show that you have a thorough understanding of user-focused design.
Follow what we covered above and you should have no problem catching the attention of hiring managers. You can also check out our resume builder if you'd like to speed up the design process and start applying for jobs.