Senior UX Designer at Pie Insurance
Senior UX Designer
United States
Customer Experience Full-Time Pie-oneer
Pie Insurance Named a Top Colorado Company 2020
Pie is rated Excellent by our customers on Trustpilot
Check out our great reviews from current and former employees on Glassdoor
Pie raises an additional $127M in funding
Pie Insurance is an insurtech company tackling meaningful problems. At Pie, we work with small businesses using technology and innovation to improve how they access insurance. Like our small business clients, we are a diverse team of builders, dreamers, and entrepreneurs. So, at the heart of every decision we make is the idea that if it doesn't serve our clients, it doesn't serve us.
As a Senior User Experience Designer, you'll help our engineering, underwriting, business, and product teams solve the most important problems getting and using workers' compensation Insurance. Pie is an incredibly collaborative team with constant communication. You will work across teams and collaborate with stakeholders and team members. Great communication and coordination skills are key to your success in any role at Pie. This position will have contact with immediate peers, peers across Pie, their immediate leader, and leaders across Pie. These contacts will be to give status and progress updates, collaboration, organizational check-ins, align deliverables, share data, and to assign and confirm tasks. Pie is moving and growing fast and with that comes potential future leadership opportunities. If you are considering being a team lead or manager this position may be a particularly good career opportunity.
To perform this job successfully, an individual must have the knowledge, skills, and abilities identified below and perform each essential duty and responsibility satisfactorily, either with or without reasonable accommodation. The below is intended to describe the general content of and requirements for the performance of this job and is not to be construed as an exhaustive statement of essential functions, responsibilities, or requirements. Today, all Pie-oneers are working remotely and will continue to do so until it is safe to return to the office. As a remote team member, you will be expected to be available for meetings with team members in other time zones and have access to reliable, high-speed internet.
This role will work remotely or a combination of remote and in person in either our Denver or DC offices.
How You'll Do It
Create wireframes.
Create high-fidelity prototypes
Lead stakeholder designs reviews
Conduct usability testing. In addition, you'll also be
Work closely with and report to the UX Manager to deliver new functionality to our suite of applications, primarily Pie's Partner Portal and Underwriting Rater.
The Right Stuff
5+ years of experience as a UX designer, product designer, or similar role
Successfully owned the design of numerous end-to-end multi-page transaction flows for B2B or B2C
Experience designing enterprise applications
Expert-level capabilities with design tools, particularly Adobe XD
Have used Google Analytics, Mixpanel, MouseFlow or similar data analytics software to generate actionable enhancements to achieve the business's goals
Have led user feedback sessions including the creation of test plans and result readouts
Experience leading design reviews with business stakeholders
Excels in an Agile environment
Go above and beyond the responsibilities of UX when needed by assisting in product planning, testing, and any other area of need.
Confident, humble, collaborative and well organized—with the ability to challenge the status quo and drive innovation
Excellent written and verbal communication skills
Experience working with remote team members in different time zones
Working knowledge of HTML, CSS, and front-end development languages is a plus
Must be able to show a portfolio of past projects
Pie Perks
Competitive salary
A piece of the Pie (in the form of stock options)
Comprehensive health plans
Generous PTO
Paid sick leave
Future focused 401k match
Our core values are more than just a poster on the wall; they're tangibly reflected in our work and recognized with our monthly culture award.
Generous parental leave
Compensation & Benefits
Our goal is to make all aspects of working with us as easy as Pie. That includes our offer process. When we have identified talent that is a good fit for Pie, we work hard to present an equitable and fair offer. We look at your knowledge, skills and experience along with your compensation expectations and align that with our company equity processes to determine our offer ranges. We value and want to support our team members, and are proud to offer a comprehensive compensation package which includes the following:
Compensation Range for position: $114,000 – $156,000
Other Compensation: Each year Pie reviews the Company's performance and may grant discretionary bonuses to eligible team members.
Pie Insurance is an equal opportunity employer. We do not discriminate on the basis of race, color, religion, sex, sexual orientation, gender identity, marital status, age, disability, national or ethnic origin, military service status, citizenship, or other protected characteristic.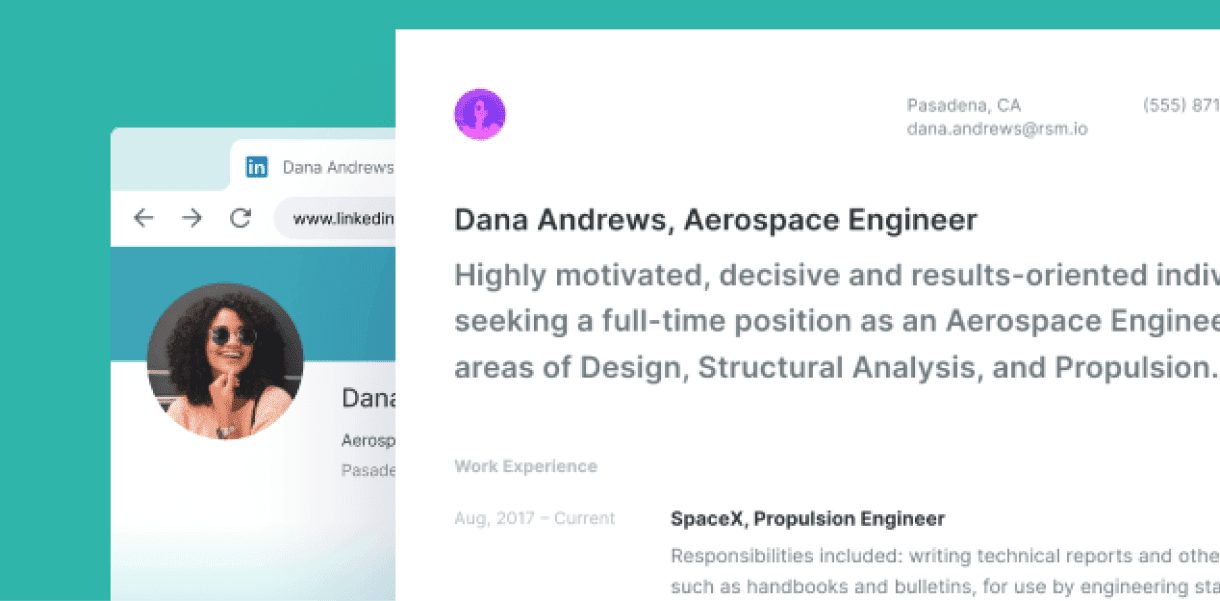 The Wireframe for an Intuitive UX Designer Resume
In this guide, we're going to help you highlight your UX design skills and write a resume that converts.

UX Designer Resume Examples
A showcase of the best resumes built with Standard Resume. Use these diverse, real-world resume examples for inspiration and to help you write a great resume.