Senior UX Designer at Trafilea
Title: Senior UX Designer
Location: Work from Anywhere
Classifications: Remote
About Trafilea
Trafilea is a global company that builds communities and transformative brands. We own the brands and take care of the entire customer journey, to deliver wow-worthy experiences that influence and empower millions of people globally.
Our culture is fast-paced and dynamic. We are data-driven enthusiasts, passionate about marketing, exponential technologies, and innovation.
We have over 300 hundred employees working around the world, connected by the same purpose and core values. Our support for this new way of working has led to being featured in Forbes and FlexJobs as one of the Top 25 Companies for Remote Workers.
We are looking for dynamic, dedicated, and committed individuals with a strong desire to grow, that can drive the brand forward on its truly exciting journey.
You want to know more about our Brands? Shapermint,Truekind & Empetua
We are looking a Senior Product Designer to join our UX Team! This person is going to be responsible to build world-class e-commerce experiences impossible to ignore. Measure and optimize experiences by improving ease of use and user satisfaction by exploring different approaches to solve end-users' problems.
Expected Outcomes & Responsibilities
Gather and evaluate user stories or requirements in collaboration with product managers and developers.
Unify design language across platforms.
Design and Create the design system for Shapermint & TrueKind using atomic design.
Promote the continuous improvements of atoms, molecules, organisms and templates.
Define the Design and conciliation framework of work for the design & IT department.
Evangelize the DesignOps culture across the company by communicating new achievements.
Sketch design ideas using user flows, wine flows and wireframes.
Design and deliver outstanding prototypes that clearly illustrate how users can navigate different user flows.
Propose information architecture enhancements for Shapermint & Truekind.
Prepare and present rough sketches to internal teams and key stakeholders.
Identify and troubleshoot UX problems by utilizing UX best practices.
Create Moderated or unmoderated User Tests.
Continuously Gather qualitative & quantitative data from different teams.
Iterate prototypes according to user pain points, frustrations and goals.
Requirements:
3+ Years of experience as a product designer with a proven record of delivering consumer-grade Applications.
Excellent communication and teamwork skills.
Solid understanding of the user-centered design and interaction design principles.
Experience creating word-class prototypes from low to high fidelity prototypes.
Expertise working closely with the development team and marketing team.
Experience working as part of a product team in an agile environment.
A portfolio demonstrating exceptional design work and the process that led to your decisions.
Experience defining the DesignOps process inside a company.
Expertise with design and prototyping software and the facility to learn new tools and methodologies as needed.
Solid understanding of UX methodologies and how to use them and why.
What We Have to Offer:
Proximity doesn't influence productivity. As a globally distributed team, you can live and work wherever you want.
A rich experience including the opportunity to collaborate with world-class talents. Encouraging transparency and open communication to all.
A data-driven, dynamic, energetic work environment, full of talented, goal-oriented, and empathetic people working together to grow and develop both as professionals and human beings.
A safe space to be who you truly are. We embrace and support diversity, equity and work hard every day to keep becoming more inclusive.
Openness to new ideas and initiatives: You can always join a squad, tribe, or committee, start new ones. Bring your hobbies and passions and transform them into projects!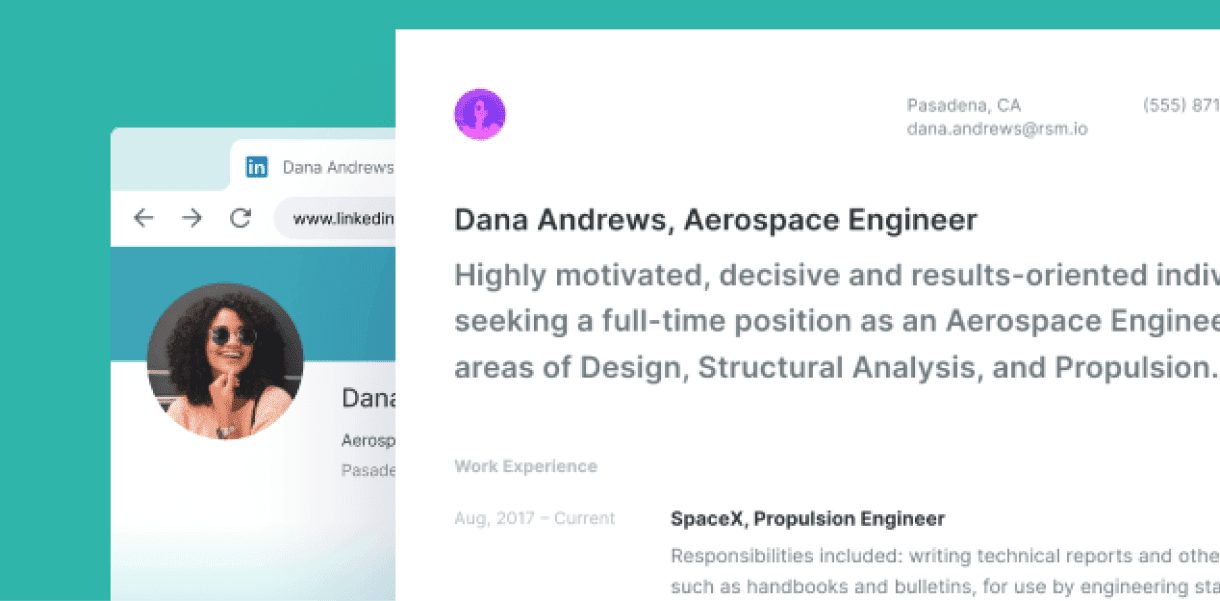 The Wireframe for an Intuitive UX Designer Resume
In this guide, we're going to help you highlight your UX design skills and write a resume that converts.

UX Designer Resume Examples
A showcase of the best resumes built with Standard Resume. Use these diverse, real-world resume examples for inspiration and to help you write a great resume.