Social Media Content Creator at PETA - People for the Ethical Treatment of Animals
This job posting is over 30 days old, but the application is still open.
Social Media Content Creator
Fully Remote • PETA
Full-time
This position cannot be performed in Colorado.
Description
Your Mission:
Use your marketing skills to change the world for animals. PETA is seeking a social media content producer to contribute to our growing social media presence across a variety of platforms, including but not limited to Twitter, Facebook, Instagram, and TikTok. PETA is the most engaged-with charity on social media and reaches nearly 150 million people each month with hard-hitting emotional animal rights content.
Who is PETA's social team?
Our social media team is comprised of producers and managers who strategize and create engaging content that helps spread awareness for animals in need, as well as correspondents who communicate with hundreds of curious people online every single day. In 2018, we were named PR News' Best Social Media Team, in 2019 we won Audience Honor in the Shorty Awards meme category and Honorable Mentions in PR News' Social Shake Up Show's Crisis Management and Best Tweet content categories. Our work has been featured in countless media outlets from Late Night with Seth Meyers to CNN to BuzzFeed to the Late Show with Stephen Colbert. One single post on one of our accounts can often reach over one million people, so there is no question that if you join our team you will be making an impact.
Primary Responsibilities and Duties:
You will collaborate and brainstorm with other social media team to create compelling content—both words and imagery—for PETA's Instagram, Twitter, Facebook, and TikTok accounts. Content must be emotionally evocative and tell a story with minimal words and well-designed imagery.
Helping save animals is PETA's biggest priority. You will work on priorities from other departments to ensure that the social team is pushing PETA's biggest issues and thus getting the public to take animals into their consideration. You'll also communicate with these departments to guarantee that everything you are posting is engaging, factually accurate, and emotionally compelling.
It takes a lot of skill to learn how to best present information to an online audience, so a major part of your job will be analyzing your work and its online response, then finding ways to both improve and replicate prior success AND grow our following!
You will get to know our online audience and see what they respond to and share, which will help you create content tailored for them to share. If we want to win animal rights, we need to get our content in front of our audience and their followers!
A portion of your everyday will be researching current trends in social media, staying on top of things like the latest meme, and creatively applying that knowledge to PETA's efforts.
Since social-media success depends on acting in real time, we post when the moment strikes (and on some occasions, the moment is 9 p.m. on Saturday night). You'll also need to be available on some holidays and weekends to post urgent breaking news.
You'll also be expected to perform any other duties assigned by the supervisor.
Requirements
You must have experience creating content for social media brand pages with proven success in fostering engagement and analysis.
Not only do you know what Instagram, Twitter, TikTok, and Facebook are, but you know who is the biggest demographic on each platform and how to write captivating content for each audience.
Photoshop and Premiere skills are a plus since social media relies so heavily on visual impact. Candidates should at least be familiar with some of the Adobe Creative Cloud.
Excellent writing and organizational skills: on social media, you have less than three seconds to grab someone's attention, so every detail counts!
The content on our social-media pages often reaches more people than any of our other online channels. Creating content for these pages is a HUGE responsibility, and you must be confident and ready to take it on while being open to feedback on how to improve.
You'll be working quickly and navigating a large organization with many goals. We need a go-getter with a passion to work both independently and as part of a team.
You must have the proven ability to prioritize work, handle multiple tasks, work well under pressure, and meet deadlines.
Social media moves at the speed of light, so you must really be able to crank out high-quality work within short timeframes.
You'll be responsible for getting our message out to the mainstream audience, so you must know PETA campaigns and animal rights issues inside and out.
You must support PETA's philosophy and have the ability to advocate our positions on issues professionally.
Naturally, you should be committed to the objectives of the organization, and following a vegan lifestyle would be a part of this.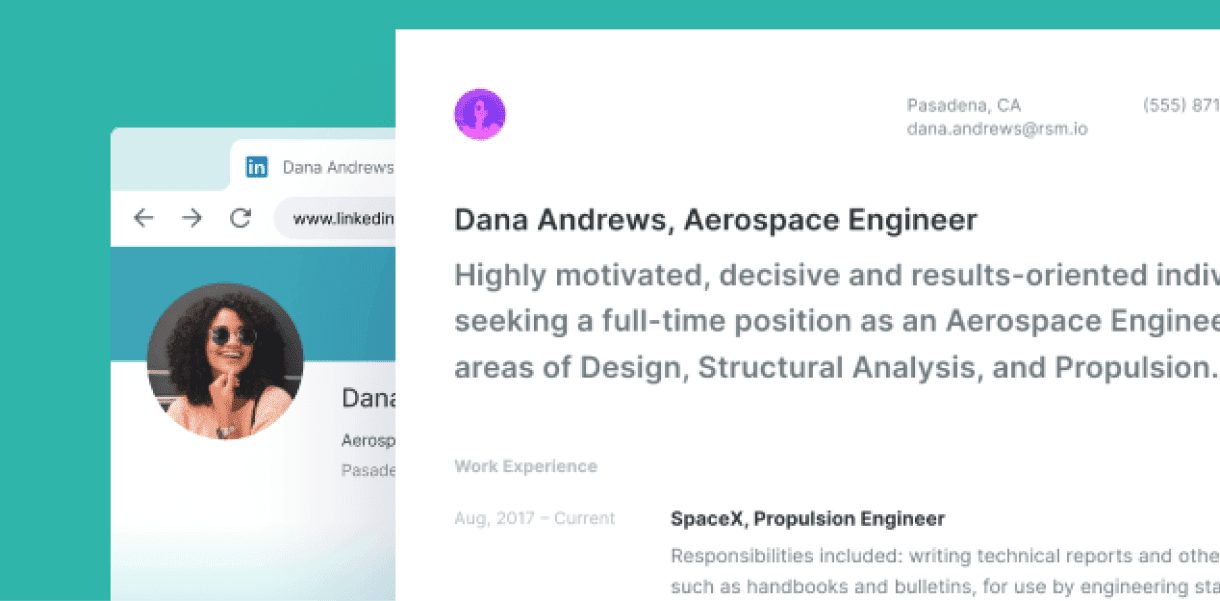 Content Strategist Resume Examples
A showcase of the best resumes built with Standard Resume. Use these diverse, real-world resume examples for inspiration and to help you write a great resume.