UX Designer at Knock - Knockaway, Inc.
This job posting is over 30 days old, but the application is still open.
UX Designer
at Knock
United States – Remote
Knock is on a mission to make homeownership simple and certain. Whether you are a homeowner looking to buy a new home before selling your current home or a first-time buyer, Knock offers fully digital end-to-end solutions that bring certainty, convenience and cost-savings to the often stressful and complicated process of homeownership. The Knock Home Swap™ empowers a customer to buy their new dream home before selling their old one. Knock GO™ (Guaranteed Offer) provides homebuyers with the best features of a cash offer in a competitive home loan to win the home they want without paying more.
Launched in 2015 by founding team members of Trulia.com, Knock has raised more than $600 million in debt and equity from top-tier investors, including RRE Ventures, Foundry Group, Redpoint, Greycroft, Corazon Capital, Correlation Ventures, Great Oaks Venture Capital and FJ Labs. The National Association of Realtors®, through its investment arm Second Century Ventures, is a strategic investor in Knock, giving its 1.5 million members the ability to market Knock's homeownership solutions to their clients. Knock currently operates in 72 markets nationwide and plans to be in over 100 markets by 2023.
Enjoying Life & Making an Impact
Knock offers a 100% remote work culture
100% employee covered medical, dental, & vision premiums for full time employees
Unlimited PTO (2 week min. is highly encouraged) for full time employees
$1,000 annually for professional development
At least 6 weeks paid parental leave for full time employees
Life, AD&D and Disability insurance for full time employees
401K (noncontributory by Knock) for all employees
$75 monthly allowance for health & wellness
Up to $400 monthly for a co-working space for eligible employees
$75 cell phone reimbursement for eligible employees
$50 monthly home internet allowance
$2,500 referral bonus for eligible employees
As a UX Designer, you will:
Collaborate with, and take direction from, the lead UX designer to understand and define goals for UX features on large projects. You are able to independently design solutions by creating process flows, concepts, wireframes, prototypes, and high-fidelity designs while iterating based on feedback from the lead designer, team, users, and research.
You will use your UX/UI expertise to create and elevate our experiences to help make our users' lives better. We hope you bring a proactive UX mindset to ensure the team is building the right experiences based on qualitative and quantitative data, as well as, company and team objectives. This role will bring enthusiasm and passion for visual design, UX experimentation, testing, and innovation.
You will share new ideas, tools, and ways to better our user experience that will result in impactful user and business outcomes. This role will be an integral component of our Growth team which focuses on user engagement and adoption.
You will participate and help in discovery sessions to understand the context of your work and use that context as your foundation. You have a desire to run design workshops, create workshop artifacts, user flows, wireframes, mid-to-high fidelity static mockups, and prototypes. UX rationale behind proposals will be effortlessly communicated to your teams, leadership, and the company as a whole.
Qualifications – You'll Bring:
Experience with UI design, as well as balancing user needs with business needs to ensure we deliver the best experiences for our customers while doing the right thing for the business
4+ years of User Experience Design experience
Experience leveraging, and extending, design systems
Passion for advocating for what users want, need and expect from the products and experiences we create
An innovative, quick-thinking, eager spirit, with an innate ability to problem-solve and collaborate
Knowledge of the latest UI/UX standards, design trends, design best practices, and technologies
A strategic mindset to planning sessions, making sure your team's work ties back to company and team objectives
Strong desire to quickly externalize and test your designs—you enjoy regular design feedback
Willingness to run usability testing
A desire to learn, grow and expand your UX and UI knowledge
Excellent written and verbal communication skills
Belief in creating diverse, equitable, and inclusive practices and programs that will further Knock's commitment to making an impact, learning, putting people first, being open, and courageous
Have proven success working 100% remote in prior positions & are experienced working with a distributed, national team
Education: High school or equivalent experience
We encourage you to apply even if you don't have every listed requirement
We are proud to be a remote, distributed company with employees across 40 states and counting. This is an amazing opportunity to be an integral part of building a multi-billion dollar consumer brand in an industry that is long overdue for a new way of doing things. You will be working with a passionate team that is disrupting the status quo.
Knock, and its subsidiaries, are committed to creating a diverse, inclusive, and equitable environment and are proud to be an equal opportunity employer. All qualified applicants will receive consideration for employment without regard to race, color, religion, gender, gender identity or expression, sexual orientation, national origin, genetics, disability, age, or veteran status.
This position is in the continental United States.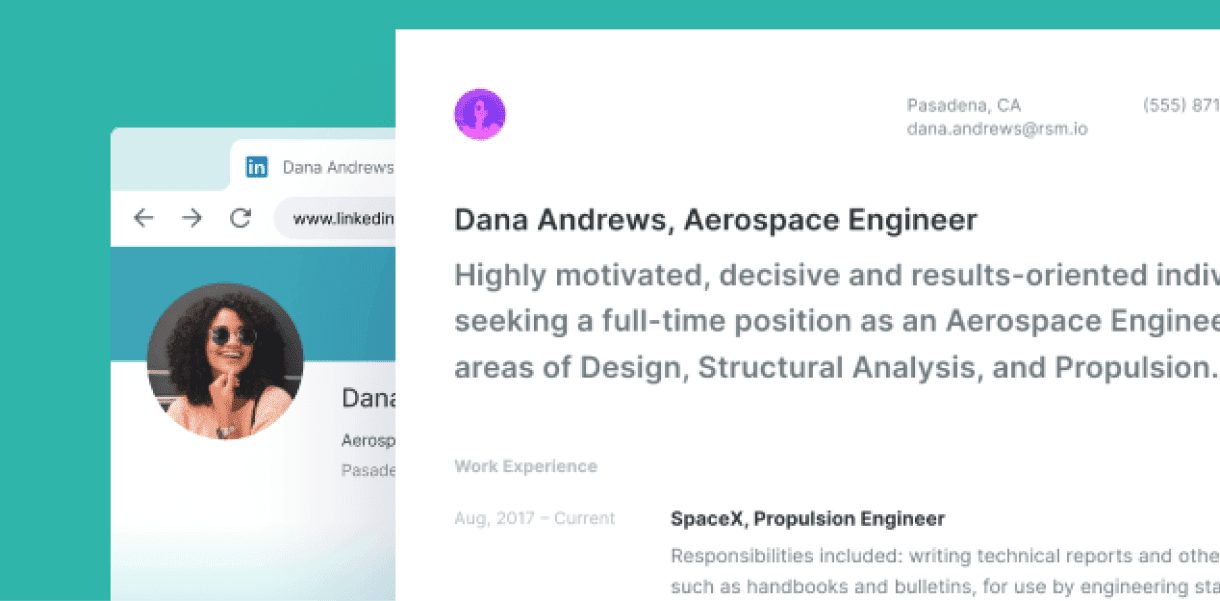 The Wireframe for an Intuitive UX Designer Resume
In this guide, we're going to help you highlight your UX design skills and write a resume that converts.

UX Designer Resume Examples
A showcase of the best resumes built with Standard Resume. Use these diverse, real-world resume examples for inspiration and to help you write a great resume.