UX/UI Designer (Contract) at Camber Creative
This job posting is over 30 days old, but the application is still open.
About the Role
At Camber Creative, we're seeking to expand our team to include a senior-level UX/UI Designer on contract, with the opportunity to advance to a full-time employee position if it's a good mutual fit. In this role, you will set a world-class standard in design for Camber's and our client's digital products.
The ideal candidate brings with them professional experience as the directly responsible individual for UX and UI deliverables across a variety of native mobile app, responsive web app, and website experiences, including B2C, B2B, and internal digital products.
The right person for this role is a perpetual student of the design craft, capable of context switching between 3-5 unique projects at a time, an excellent written and verbal communicator, an empathetic listener and collaborator who is adaptable and biased towards action and maximizing user- and business-value through sound design practice.
Responsibilities
UX/UI Designers are expected to be the primary individual contributors to design deliverables on the projects they are assigned. At minimum, they should have a demonstrated ability to collaborate with our internal cross-functional team as well as client stakeholders to:
conduct UX research and tests, gather and synthesize data, present findings and justification for design recommendations
formulate data-driven and goal-oriented design approaches and tasks
produce and defend UX and IA deliverables such as roles/personas, site/screen maps, user flows, and wireframes
create new user interface style guides, components, and/or design systems OR leverage and customize existing ones, and know when each approach is most prudent for any given product, stage of the product life cycle, and level of investment
design and defend high-fidelity user interface design mockups and clickable prototypes
champion and follow accessibility standards such as a11y and WCAG in digital product designs
ensure high-quality front-end implementation of designs with specifications, annotations, and handoff/q&a with engineers
Special consideration will be given to candidates who can also code their designs (visual front-end development and interactions), with the possibility of this becoming a Design Engineer role, but this isn't a firm requirement for this position. Other nice-to-haves for this role include deeper UX research experience, UX copywriting skills, motion design, illustration skills, experience with visual development platforms like Webflow, and/or significant CMS knowledge with Drupal or WordPress.
Minimum Qualifications
This is not your first rodeo. You've been the Directly Responsible Individual for the responsibilities listed in this description before in your professional career.
You work well in a self-directed environment. You're used to creating your own path based on objectives, and pitching and defending your ideas tactfully.
You are comfortable working in an all-remote and asynchronous-first environment with a heavy focus on written and other asynchronous communication.
You are an excellent collaborator that your teammates and project stakeholders love to work with.
You are familiar with a range of user experience best practices, patterns, and guidelines as well as UI styles and frameworks, and can call upon them to solve for most any design case. For example, familiarity with Apple's Human Interface Guidelines from Apple, Google's Material Design framework, Nielsen's 10 Usability Heuristics for User Interface Design, various psychological principles of design, as well as inclusive and accessible design guidelines such as A11y, WCAG, and ADA compliance criteria.
It helps if you are a digital product junkie, on top of the movements in the industry, and know when to tastefully lean into vs away from trends depending on the product, users, and desired outcomes.
About Camber
Camber is a people-first, principles-driven digital product agency. We're a remote, US-based team with an asynchronous-first approach. We design, build, and grow digital products that not only delight and enrich the lives of their users, but also produce meaningful business results for our clients.
Our clients range from startups to multi-billion dollar enterprises, and our typical projects are native iOS and Android apps, responsive web apps, and CMS-driven websites with WordPress or Drupal. Whether it's a B2B SaaS, B2C app, or internal enterprise tool, the digital products we design and build are typically high-visibility, mission-critical products requiring a deep understanding of our clients' users and business, and a deep collaboration to achieve successful outcomes.
A Principles-First Company
While what we do changes as technology evolves over time, what we believe in serves as the guardrails for everything we do. Our principles are:
Treat People Right
Work with Autonomy, Mastery, Purpose, and Accountability
Be an Excellent Collaborator
Assume Positive Intent
Strive for Simplicity
Show > Tell
Deliver, and Then Some
Don't Take Yourself Too Seriously
Always Be Improving
Camber was recently honored by being named to the Inc. 5000, which recognizes the top growing companies in the U.S.
Why Should I Join Camber?
We are people serving people. Relationships are everything to us. We start by hiring a team of not just skilled technicians, but deeply good human beings–because you can't pour from an empty cup. Then we treat every client, team, and collaborator relationship with humility, respect, and transparency, and look out for their best interests. We treat every project with no less care than if it were our own.
We are a team of highly-experienced professionals, and we act like it. We want our subject matter experts to flex their skill mastery in their own way every day. We align every task to an intended outcome, and favor accountability over process obedience to maximize positive outcomes. After all, we will only succeed or fail together in our goal to make products that matter to our clients, their users, and our team.
We have only three company objectives, which are to operate an unparalleled workplace, to create an unparalleled client experience, and to make unparalleled user experiences. Everything we do is in service of these three human-centered objectives.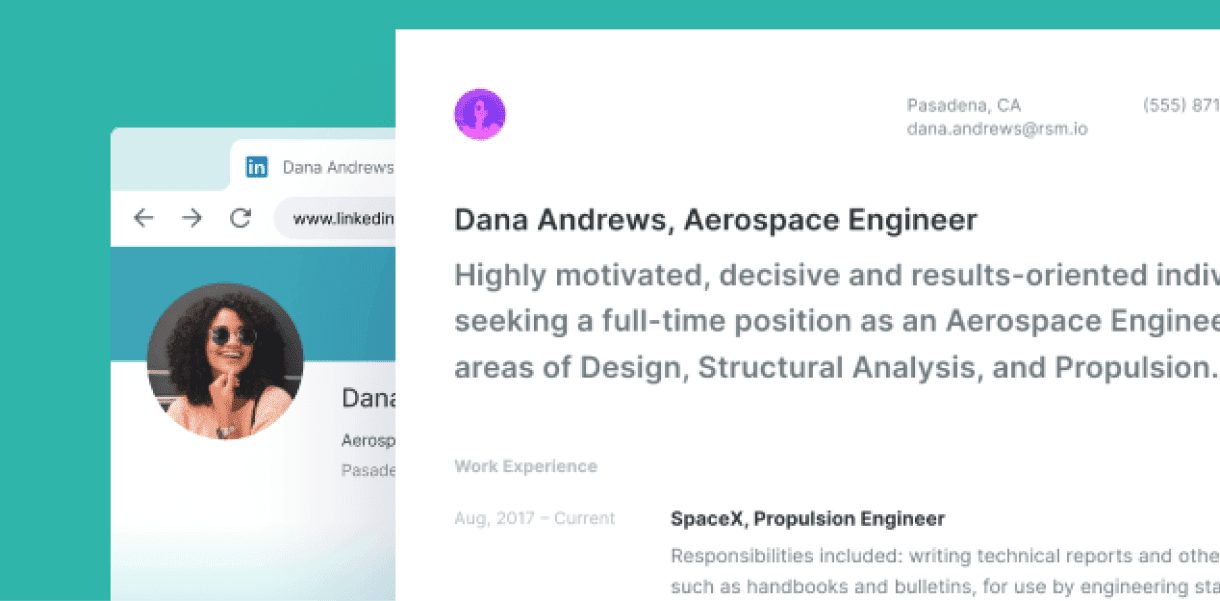 The Wireframe for an Intuitive UX Designer Resume
In this guide, we're going to help you highlight your UX design skills and write a resume that converts.

UX Designer Resume Examples
A showcase of the best resumes built with Standard Resume. Use these diverse, real-world resume examples for inspiration and to help you write a great resume.