3D Animator at InfiniteWorld
Title: 3D Animator
About InfiniteWorld
InfiniteWorld navigates brands, creators, and their products into the digital revolution known as the Metaverse, providing a full 360 degree solution, anchored by content creation, digital distribution, and consumer engagement.
Our fully-remote Production Studio is always looking for skilled 3D Animators to join us on a project basis, with the potential for continual work after a few months. The ideal candidate is a master of high-volume, high-quality digital animation generation with a sharpened tool set using Maya, Max, and/or MotionBuilder. As a 3D Animator with InfiniteWorld, you must have the ability to successfully manage and produce high-quality character and object-driven animations in sync with tight project deadlines.
**Applications must contain a reel/portfolio to be considered. US-based candidates preferred.
Role and Responsibilities
Work with directors, leads, and other animators to completely understand and implement the needs of a scene in the layout process.
Utilizing our in-house tools; create a scene with exceptional pace and performance.
Take the vision of the Director and block the existing boards to create a 3D version of the story reel with a unique layout of shots.
Work with the Director(s) and CG Supervisor on the iterations of each shot/sequence. Your sequences must be captivating with a focus on the final dramatic performance.
Responsible for being knowledgeable about the software used on production, as it relates to the Animation department.
Attend Layout Reviews, Launches, and Approvals with Production, as well as balance equality with efficiency under tight deadlines.
Adhere to the complexity of different projects as well as the production schedule.
Professional Qualifications
At least three years of experience in video game, film, TV or episodic animation or equivalent (will consider less experience if you are just truly a rockstar that hasn't been discovered yet)
Proficiency to communicate with all disciplines and to support and elevate the team in terms of visuals
Experience with animation software such as Motion Builder, 3ds Max or Maya
You love pushing the envelope and understand a collaborative environment
Create high-quality 3D animations for humans, animals, creatures, objects as well as soft/hard bodies
R&D relevant technologies and best practices to support the animation pipelines
Collaborate with Technical Artists to design custom rigs and skeletons
Work with Art Director, Animation Director, and Lead Artists to understand the high-quality objectives and ensure animation style consistency across projects.
Provide accurate time estimates for tasks and meet production deadlines
Personal Characteristics
Ability to prioritize and deal with heavy workload/multiple simultaneous projects
Ability to record information accurately and detect/report issues before they compromise delivery
Ability to analyze and problem solve/keen attention to detail
Ability to learn new software quickly or on the job if necessary
Ability to take instruction, but also work independently when needed
Please note that while we would like to respond to every application, due to the high volume of applications for this position, it may not always be possible. We will keep your application on file for any suitable openings in the future.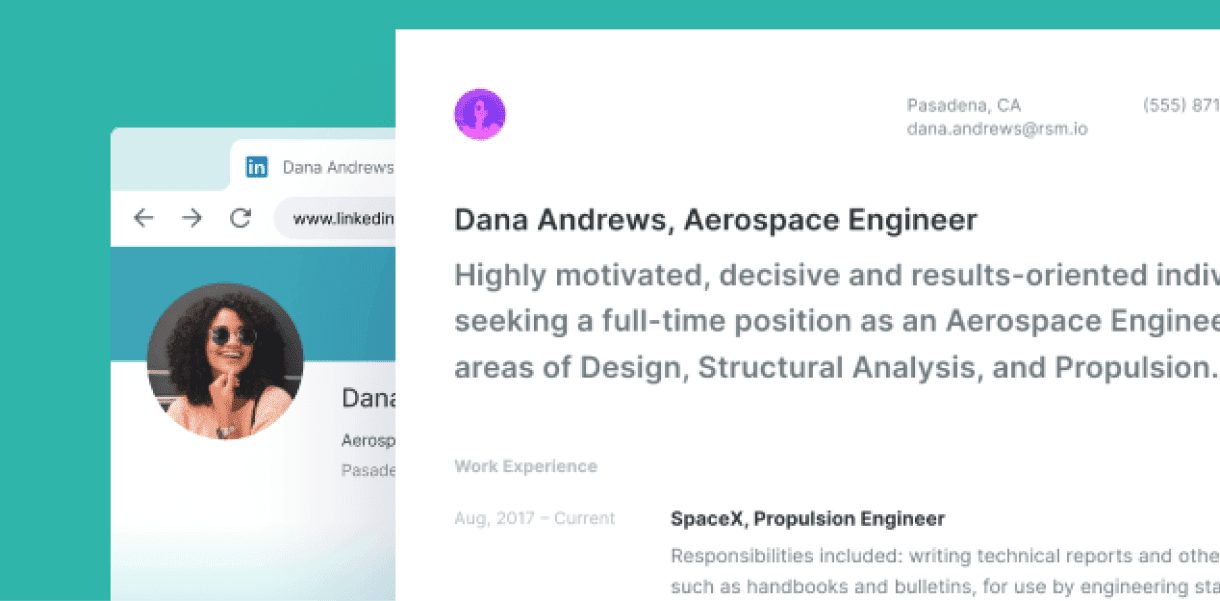 The Wireframe for an Intuitive UX Designer Resume
In this guide, we're going to help you highlight your UX design skills and write a resume that converts.

UX Designer Resume Examples
A showcase of the best resumes built with Standard Resume. Use these diverse, real-world resume examples for inspiration and to help you write a great resume.