Resume resources
Stand Out in a Saturated Stack: Drafting a Digital Marketing Resume

Most companies use digital marketing to sell their services. And as online marketing becomes increasingly saturated, so does the pool of candidates working in the field.
Having a polished, modern digital marketing resume is one of the few ways to stand out in a saturated market. To show you are the best person to develop an enticing email marketing campaign, move your company to the top of Google, or create a social media presence your customers will become obsessed with, you need to show that in your resume.
Below, we share how to do just that. 
What a Hiring Manager Looks for in a Digital Marketing Resume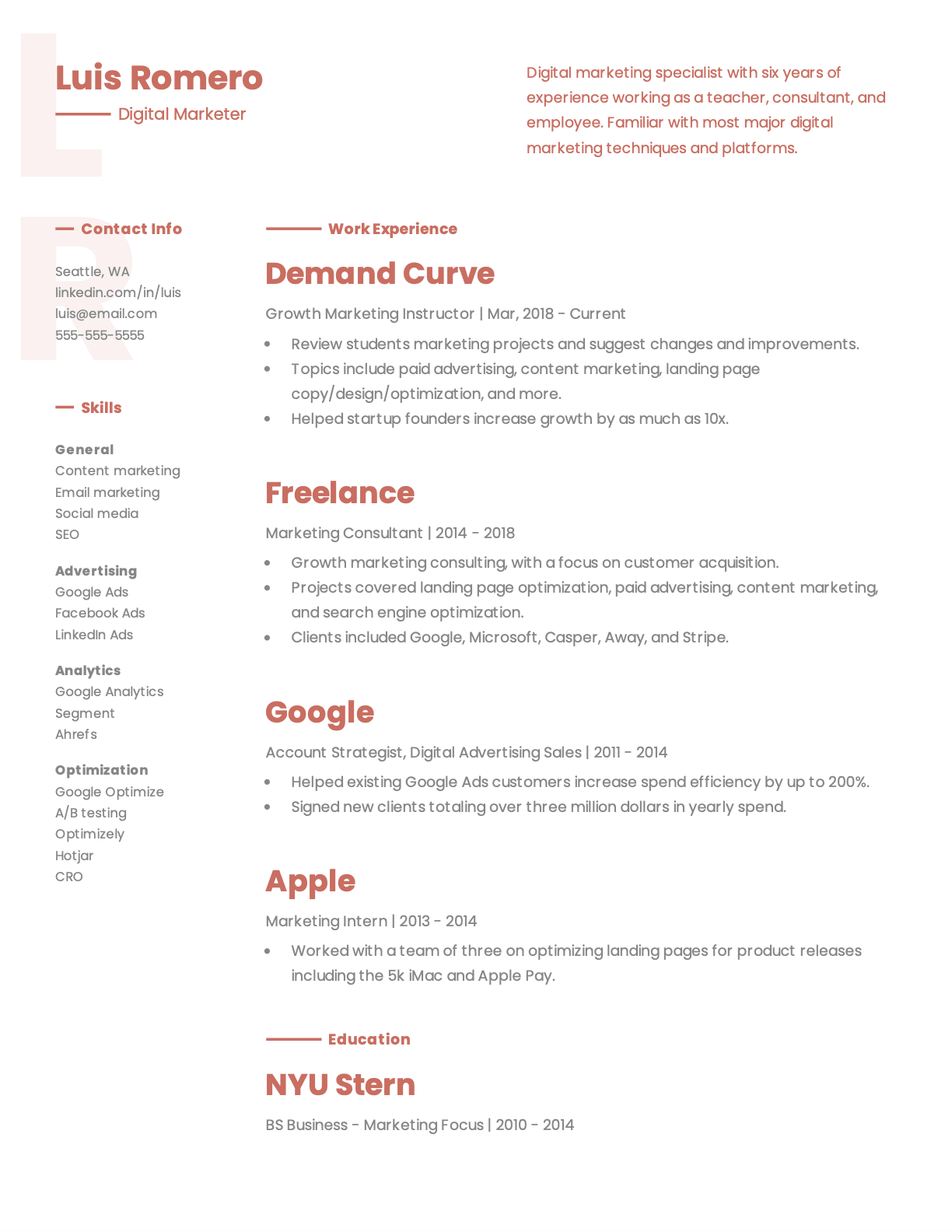 There are over 4.2 billion internet users worldwide. The sheer volume of internet users and online information creates a lot of noise. Your digital marketing resume needs to let hiring managers know that you can cut through it. 
To stand out from your competition, keep the following objectives in mind when drafting your resume.
1. Show Conversions, Not Just Audience Growth  
Many marketing professionals brag about the "following" they garnered online, made by capitalizing on rapidly changing algorithms. But while "Went from 0 to 100,000 users in a single year" might look impressive on paper, a social media feed plagued by cat memes will not. 
Companies want engagement, not just followers and certainly not bots. A recruiter will be far more impressed with a small, tight-knit following that leads to sales, than a six-digit following that does not.
Reporting a high growth audience growth rate might get your resume a second look, but it won't guarantee you an interview. Instead, focus on conversion rates and engagement like this: 
If you work in content creation: Wrote three brand email campaigns and increased the open rate from 15% to 27%.
If you manage a social media account: Increased Instagram engagement by 37% and website clicks by 54%.
If you work in SEO (search engine optimization): Optimized three blog posts that landed on the first page of Google, and decreased the website bounce rate by over 22% 
2. Narrow in On Your Niche 
Most recruiters want to hire digital marketing specialists — not generalists. On your resume, make it known that you are an expert in the niche they're hiring for. (Pro tip: Most hiring managers spell out what speciality they're hiring for directly in the job description. Use this exact verbiage in your resume.). 
Note: There are two exceptions to highlighting your niche. One is if you're applying for a senior digital marketing job, and two is if you're the first marketing hire at a company. In these cases, make it known that your knowledge extends to a variety of areas. However, being a "generalist" doesn't mean using generic words or phrases. Show specific, earned results across a wide breadth of channels, including content, SEM (search engine marketing), brand awareness, and social media marketing.
Here's how you might position your niche in the summary section if you're someone who specializes in content management:
"Digital marketing professional specializing in content management and copywriting with over 10 years of experience. Wrote copy for email marketing campaigns, AdWords, and social media posts for Fortune 500 companies, which led to a collective 2.3M in revenue across all channels."
3. Write Tactical Skills, Not Just Strategies 
Here's one pitfall of working in a creative field: There's a lot of visionaries and "idea guys," but when the deadline comes, someone needs to execute on those ideas. 
Leave the grandiose visions and marketing strategy sessions for the interview. In resume writing, stick to tangible, tactical skills. (Besides, "has great ideas" seems a little flimsy on paper.) 
Speak to the software, platforms, and skills you understand. List them within the skills and work experience sections of your resume. For example: 
If you're a workflow wizard: Integrated HubSpot CRM with Mailchimp email marketing via Zapier, saving an estimated 8+ hours for the marketing team per week
If you understand the user experience: Built eight product landing pages in WordPress, generating $125,000 in revenue through AdWords campaigns
If you understand Google Analytics better than most: Created a five-part email series off our top three blog posts, leading to an increase of 10,000 page views per month
Digital Marketing Resume Format 
When working in digital marketing, it's easy to think that a resume inundated with designs, colors, and headers will help you stand out from the stack.
Don't make this mistake.
Design your resume the same way you would design a website. What's more important: readability and user experience, or looking different only for the sake of looking different? (Hint: It's the former.) 
Use a clean, modern digital marketing resume template with a reverse chronological layout. If you have years of experience, you can use two pages. Recent grads and junior positions should stick to one page resumes.
With your template decided upon, fill it in with these sections. 
1. Contact information
At the top of your resume, list your basic contact information. If you have an online portfolio, professional social media account, or website, include them as well.
First and last name
Most recent job title
City and state 
Phone number
Email
Portfolio, website, or business social media handles
2. Resume Summary
A resume summary should be no more than two sentences. In this section, you will position yourself as a digital marketer with the exact skills and experience the hiring manager is searching for. If the job description lists specific digital marketing skills and qualifications, weave them into your summary. 
For example, if the job description is specifically looking for a strategist who understands SEO and analytics, your digital marketing manager summary might read: 
"Highly creative digital marketing manager with proven experience combining keyword research, SEO, and Google analytics to convert inbound marketing leads. Managed campaigns across PPC campaigns that lead to a half a million dollars in individual giving for a national nonprofit."
3. Work Experience 
Your work experience is your personal marketing case study, showing your proven results.
Your work experience section tells the hiring manager how you earned results at prior roles. Within every bullet point, weave in a tool you utilized, a result or statistic you earned, or a campaign/project you executed. A work experience section might include:
If you work in content marketing: Executed an influencer campaign that generated 125 blog posts, 6,000 tweets, and a combined 40,000 clicks for a new product launch.
If you work in e-commerce: Launched an online subscription service on Shopify, creating the first ever recurring revenue stream for the company.
If you're applying for the most senior position: Managed a team of 12 marketing team members that launched five content campaigns and earned $1.1M inbound sales 
4. Education
Keep your education brief and to the point. List the school(s) you attended and the degree(s) you received. For example:
Stanford University, Bachelor of Business, Marketing and Statistics | Sep, 2011 - June, 2015
5. Skills 
List any key skills you have, specifically related to platforms, coding languages, or software you use. Again, keep things tactical and specific here, skipping over soft skills like team building, communication, and punctuality. 
Skills found on a digital marketing resume might include: 
Adobe Creative Suite, HTML and CSS, WordPress, Shopify, Trello, Zapier, ConvertKit, Salesforce CRM, Pardot
Your Digital Marketing Resume Should Sell Your Skills and Experience
You built a career marketing products and services. Now, it's time to market yourself — and oh hey, you're doing it online.
Approach your digital marketing resume as the channel that will lead to a conversion: landing you an interview. To sell your skills and experience, use a polished and modern digital marketing resume template from Standard Resume. Our easy resume builder has helped 100,000 people land interviews, and will help you stand out to the hiring manager.