A showcase of some of the best account executive resume samples and examples on Standard Resume. Use these diverse, real-world resume examples for inspiration and to help you write a great resume that highlights your experience and qualifications.
Start with this template
Christopher Crockett
Senior Account Executive
New York, NY
Driven individual with a proven track record of closing, maintaining, and growing business through strong relationship management, solution based selling, and data driven conversation. Seeking a full-time digital advertising sales position.
Work Experience
Senior Account Executive
|
Jan, 2016 - Oct, 2017
Attended to and maintained a client base of 200 companies on a non-contractual model
Managed a book of business of more than $300,000 of quarterly revenue - Q1'17: 111%, Q2'17: 103%, Q1'16: 107%, Q2'16, 113%
Collaborated with the product teams and client service specialists to maintain and upsell current client base using industry and campaign analytics.
Manually forecasted anticipated quarterly spend for all 200 accounts
Responsible for training new hires and interns on all aspects of the Indeed sales cycle and product.
Created and presented training materials to Account Executives and Directors locally and nationwide.
Event Director for an office wide diversity inclusion group.
Account Executive
|
Jun, 2013 - Dec, 2015
Responsible for the full sales cycle from prospecting, qualifying and quantifying leads, cold calling, conducting demos, closing, account management and up-selling clients.
Prospected and sold over $1.27 million in revenue from scratch
Conduct over the phone and in person meetings to demonstrate product knowledge and solutions for potential clients.
Top 10 in 2014 end of year company-wide sales contest for Q3 + Q4 - highest percentage to quota (430 participants)
Expert in paid search, search engine optimization, and cost-per-click advertising model.
Sales Strategy Consultant
|
Dec, 2017 - Jun, 2018
Worked directly with CEO of new music streaming platform for undiscovered artists, built on the blockchain.
Actively participated in fundraising negotiations, securing over $50,000
Refined the company's brand messaging and end-to-end revenue strategy
Implemented sales infrastructure with added crypto benefits for customers
Developed roll-out strategy to acquire 10,000+ warm users in 14 days
Sales increased 75% during 6 months
KidNation
Sales Strategy Consultant
|
Mar, 2018 - Jul, 2018
A platform for children and their families to enjoy kid-centric, educational, curated entertainment.
Delivered a clear model for how to monetize the product
Worked directly with Creative Director to create brand messaging
Created investment collateral for vc, angel & brand sponsorship fundraising
Implemented recruitment infrastructure for for steady or high growth stages
Reddera
Co-Founder
|
May, 2015 - Jul, 2018
Reddera provides a seamless experience for clients to easily book top beauty and wellness services to the comfort and convenience of their home, office, or hotel.
Managed small team of mobile beauty and wellness professionals
Negotiated and closed over $200,000 in funding
Implemented a sales strategy and incentive plans for professionals
Derived a complete sales strategy by refining the company's core niche market
Implemented recruitment process for internal employees and independent contractors
Education
Columbia University in the City of New York
B.A. Psychology and Business Management
|
Aug, 2008 - May, 2012
Skills
solution based selling
digital advertising sales
digital campaign management
pay-per-click advertising
negotiations
crm
relationship management
strategy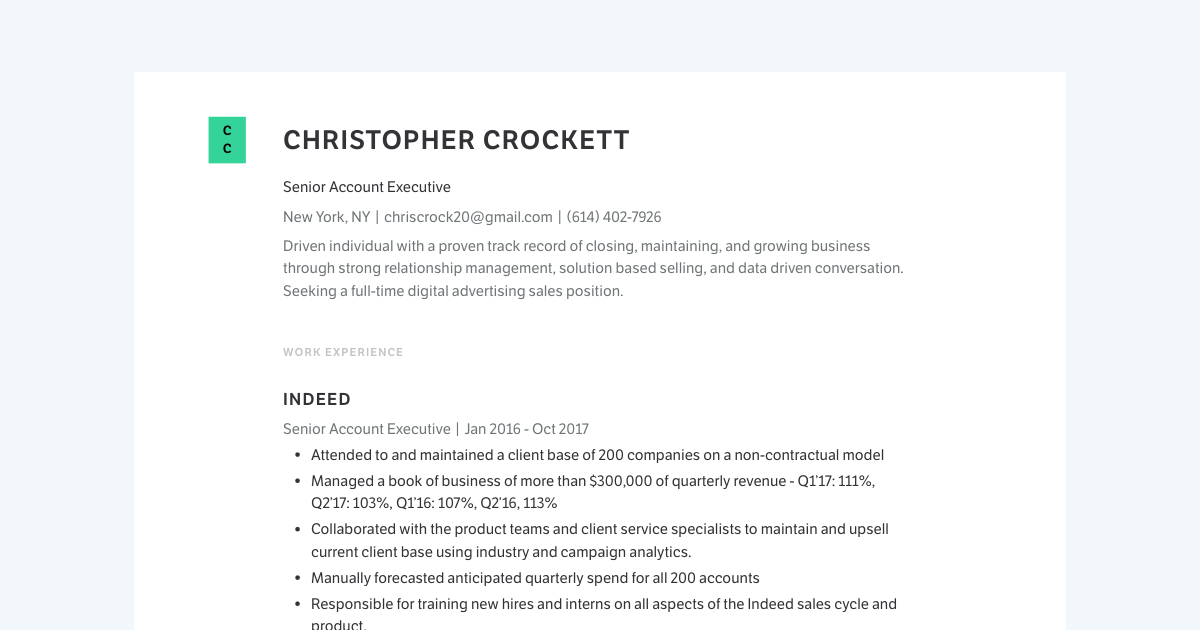 Start with this template
Brianah Lampkin
Account Executive
Atlanta, GA
Accomplished client-centric professional with a demonstrated history of 5+ years of experience specializing in the sales and consultation of telecommunication products and the management of auto and bodily injury claims. Intensity for cultivating new relationships, evaluating customers' needs and developing strategic action plans ​to​ surpass ​customer​ ​expectations while structuring solutions to amplify revenue.
Work Experience
Account Executive II
|
Jul, 2014 - Mar, 2017
Comprehensive role as a saleswoman, consultant, retention specialist, and provider of fundamental to intermediate technical support in a B2C telesales environment.
Demonstrated brand ambassador/SME with expanded industry knowledge who collaborated with marketing and senior executives to develop strategies at vertical market level, which expanded the customer base in East and Mid- West territories and introduced products into specialty markets.
Transformed interpersonal relationships, maximized consultative sales, and delivered technical solutions.
2017 NA Conversion Rate 10.7%.
2016 Exceeded NPS goal by 31%.
2016 Renewal rate 86%; Close rate growth 40%.
2016 - 2017 NA YTD 28.4% growth, including Add Ons 38% growth.
Claims Generalist
|
Apr, 2017 - Jun, 2018
Trained Florida certified All-Lines adjuster that streamlined insurance best practices to independently manage and resolve a high volume of non-complex and complex auto and BI claims.
Meticulously researched, detailed and substantiated each aspect of the claim including personal property damage(s), tenable out of pocket expense(s) etc., resulting in fair mitigation, indemnification, subrogation and documentation.
Strategized a skillful work flow to accomplish claim resolutions, respond to correspondences, exceed deadline expectations, meet time commitments, and spearhead internal coordination efforts while working on multiple claims/projects(10-30 daily).
2018 Achieved 97% satisfaction NPS YTD.
2018 Resolved claims/assignments 30% quicker than goal YTD while attaining 0.1% Claim Error Rate due to fastidious critical analyses proficiency.
Negotiated settlements for auto and BI claims by modernizing use of estimation software and exercising medical knowledge/contexts.
Triaged claims accurately.
Education
Stranahan High School
Highschool Diploma Medical Science
|
Aug, 2007 - Jun, 2011
Florida International University
Bachelor
|
Aug, 2011 - May, 2012
Skills
Interpersonal Skills
Sales Development
CRM
Time-Management
Relationship Building
Analytical
Microsoft Office Suite
Microsoft Dynamic/SFDC/Oracle
SQL/HTML/HTML5/Java
Trend and Competitive Analysis
Contract Management & Negotiations
Cold Calling
Conflict Resolutions
Adaptability
Risk Management
Problem Diagnosis
Telephony Services and Troubleshooting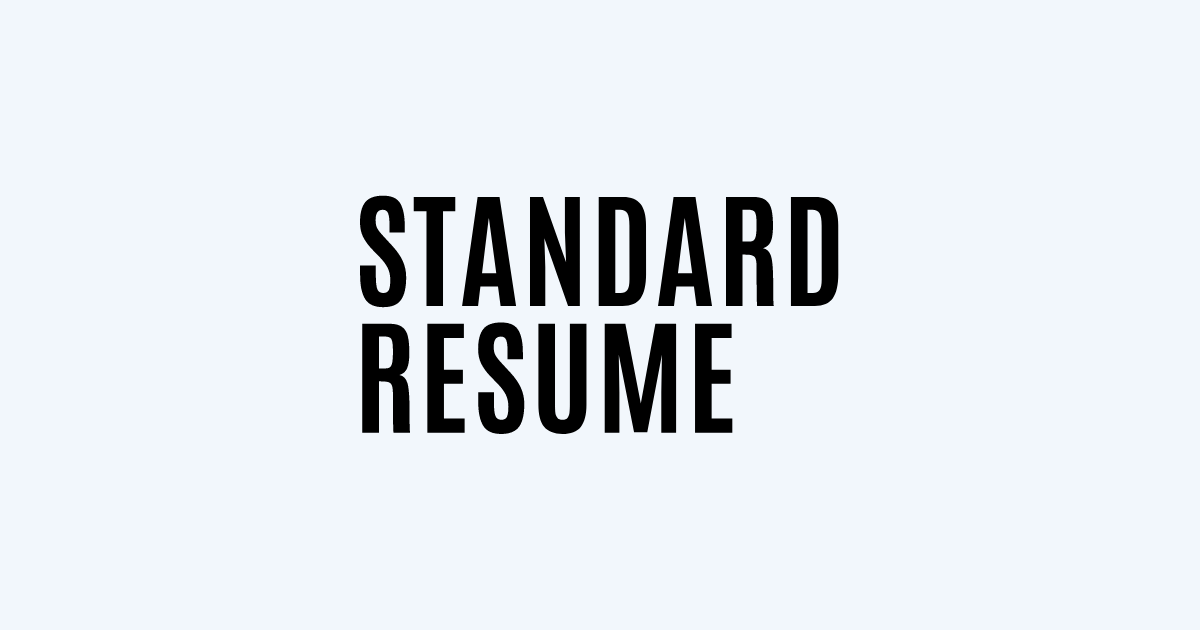 Start with this template
John Paul Capulong
Greater Los Angeles Area
Work Experience
Account Executive and RFP Manager
|
Jun, 2016 - Current
Developed, maintained, and owned the SMB and MidMarket sales pipeline, outbound campaigns, and RFP processes for Tuition.io - a benefits focused technology company, enabling employers to offer Student Loan Repayment and Financial Wellness for their employees.
Developed, Maintained, and Responsible for the Tuition.io RFP Process
Answered 50+ RFPs and RFIs from Enterprise clients
Co-created and maintained the outbound process for the Tuition.io team
Consistently exceeds (averaging 140%) quota goals
Owns sales cycle for SMB and Mid-Market prospects
Manages Event PR team, identifying and strategizing speaking engagements, panels, exhibits & sponsorships.
Maintains and develops partnerships with benefits brokers and agents.
Sales QA Team lead, interfacing with Dev and Engineering regarding any sales related QA issues.
Head of Partnerships / Accounts
|
Mar, 2014 - Jun, 2016
NextDayBetter is a storytelling platform for diaspora communities. I facilitated partnerships on both the local and national level for NextDayBetter's events and media pieces.
Oversaw management of account and client relationships and implemented numerous events for NextDayBetter - a growing events & media company, focused on the growing footprint of migrant communities.
Produced and pitched content consisting of video and social media campaigns.
Expanded 300% each year, from 1 to 10 cities.
Lead Global Business Development Team consisting of members from Los Angeles, Toronto, San Francisco, New York, Washington DC and London.
Peak / Eastern Addition
Director Of Marketing And Business Development
|
May, 2012 - May, 2013
Spotlighted mom and pop restauranteurs through marketing and operational support, pop-ups, and showcases.
Created and implemented marketing and public relation plans.
Launched and managed the successfully funded Eastern Addition Kickstarter campaign.
Co-produced 6 unique video segments, spotlighting Eastern Addition chefs.
The Summit
Partner/Business Development
|
May, 2010 - Feb, 2012
Partner of co-working space, art bar, and cafe; located in Mission district of San Francisco.
Organized and executed in-house Summit events, ranging from tech meet-ups, pop-up dinners, to nightlife events.
Negotiated contracts with talent, vendors, and customers.
Produced event press releases and marketing materials.
Asian Law Alliance
Fordham Law Public Interest Legal Fellow
|
Feb, 2011 - Oct, 2011
Fielded intake calls and walk-ins, providing legal assistance on immigration, housing, and benefits law. Drafted and filed USCIS applications. Planned legal clinics, fundraisers, and special events. Performed community outreach information legal sessions.
Lincoln Square Legal Services Inc
Intern
|
Jan, 2010 - May, 2010
Represented artists, non-profits, and small businesses interested in protecting their creative property through litigation, negotiation, and contract drafting. Drafted agreements and answers, 12(c) motions, and initial disclosures. Filed trademarks with the USPTO.
Poleng Lounge
Partner
|
Jun, 2005 - Feb, 2010
Co-created business plan and marketing systems for award winning lounge and restaurant. Managed nightlife and negotiated contract with talent, vendors, and agents. Developed public relations plans resulting in positive press.
EMI Music
Business Affairs Intern
|
May, 2009 - Aug, 2009
Drafted demand letters to digital distributors in breach of contract. Edited, reviewed, and summarized contracts between EMI Music and distributors. Reviewed, edited, and drafted amendments to contracts between EMI Music and distributors.
IODA
Legal and Business Affairs Intern
|
May, 2008 - Apr, 2009
Edited, reviewed, and summarized contracts between IODA, rights holders, and distributors. Conducted research on international publishing rates, publishing societies, and the state of digital distribution in Korean markets.
Google
Trademarks Assistant
|
Aug, 2005 - Feb, 2006
Processed trademark complaints by identifying legal issues. Performed time sensitive background research and provided prompt responses to trademark owners and advertisers.
Americorps*VISTA Fellow - Search to Involve Pilipino Americans
Development & Communications Coordinator
|
Apr, 2003 - May, 2004
Cultivated over $400,000 in funding from the government, corporations, and foundations. Produced Annual Awards Benefit Dinner, resulting in $140,000 worth of sponsorships, silent auction items, advertisements, and ticket sales. Produced SIPA's first public service announcement and annual report in addition to newsletters, press releases, press kits, and websites.
Education
Fordham University School of Law
Doctor of Law (J.D.)
|
2007 - 2010
University of San Francisco
Bachelor of Arts (B.A.) Politics
|
2000 - 2002
General Assembly