A showcase of some of the best product manager resume samples and examples on Standard Resume. Use these diverse, real-world resume examples for inspiration and to help you write a great resume that highlights your experience and qualifications.
Start with this template
Katelyn Friedson
Senior Product Manager
Work Experience
Product Manager
|
Nov, 2018 - Current
Manage roadmap and digital product strategy for Clare, a connected food allergen sensor that enables users to test food for the presence of allergens and receive results on their mobile device
Design mobile prototypes to facilitate early market feedback during focus groups & usability tests
Created concept for automating food density calculation, reducing cognitive load and eliminating nearly 90% of all testing errors
Led design and execution for food allergy restaurant guide, a POC that leverages Clare community test results to rate food allergy-safety
Doubled 1st-test completion rate by automating food density calculation, eliminating manual errors and reducing cognitive fatigue
Jibo (ROBOTICS) - Boston
Product Manager
|
Aug, 2017 - Jul, 2018
Managed Mobile, Multimedia and Partnership roadmap initiatives for Jibo, the world's first social robot for the home
Redesigned Jibo's Photo Skill to be more fluid, efficient and less error-prone, resulting in a 68% lift in skill 'completion rate'
Launched bluetooth-enabled mobile app, Jibo Commander, allowing users to control what Jibo says and does, re-engaging over 1/3 of our beta participants
Product Manager
|
May, 2014 - Jul, 2017
Managed product roadmap for Paint Nite, a marketplace platform that offers locally-hosted in-person events and virtual experiences
Spearheaded relaunch and technical rebuild of e-commerce site, increasing CTR by 70% and reducing bounce rate by 40%
Led checkout optimization project, resulting in a $2 lift in ROAS and a 50% decrease in customer refund requests
Introduced and implemented agile ideation plan, collecting and testing 40% more concepts, to determine the effectiveness and cost/benefit of each proposal
Mobile Product Manager
|
Apr, 2011 - Apr, 2014
Led the launch of Care.com's iOS and Android applications to market from concept through development to launch, reaching over 300M users on both sides of the market, doubling DAUs and tripling views/ session
Launched and evolved "Care Gigs," to become Care's fastest growing care vertical, resulting in increased usage and engagement
Created tools and services that made it easier for care providers to create credible-looking profiles and effectively represent their experience
Optimized mobile-web "Post a Job" conversion rate by automating laborious, text-heavy tasks, resulting in a PAJ completion rate of close to 85%
Mobile Product Manager
|
Jan, 2011 - Jan, 2007
Launched music streaming service & "Spotify rival," across Blackberry, Android, iPhone and web, generating 500k downloads in its first-round release
Leveraged subject matter expertise in recommender systems to spearhead Thumbplay's partnership with Echo Nest
Managed all digital marketing efforts and identified multi-platform use as a key indicator of reduced churn
Launched new music streaming service, available across mobile app and web, generating 500k downloads in its first-round release
Leveraged subject matter expertise in recommender systems to spearhead Thumbplay's partnership and integration efforts with The Echo Nest, who was later acquired by Spotify for $100M in 2014
Led development of multi-variant tests that identified multi-platform usage as a key indicator of reduced churn among paying subscribers
Led music recommendation and discovery features on mobile and desktop, including "Playlist Genie" "Artist Radio" and "Artist Tags"
Education
B.A English & Communication
|
Sep, 2002 - May, 2006
Skills & Interests
Programs
Jira Sketch Adobe CC Google Analytics Full Story Invision/ Omnigraffle Product Planner
Skills
DTC Mobile UX / UI / IA design Conversion optimization User research / focus groups Prototypes Agile / Lean prod dev Rapid experimentation / testing Third party integration Strategic partnerships
Hobbies
Dance Design Music Travel Ski Trips
Start with this template
Ed Sarkissian
CRM Administrator/Applications Manager
Salesforce Certified Administrator making the shift to UX Design. Previously print and web design. UX portfolio: https://esark.me
Work Experience
Huson International Media
CRM Administrator/Applications Manager
|
2011 - Current
CRM Administration.
Administration of Office 365, Box, QuickBooks Online, Adobe Creative Cloud, Adobe Document Cloud, Slack, Zoho Campaigns.
Utilize profiles, role hierarchies, and sharing rules to manage permissions, sharing, and security
Design and deploy custom objects, fields, layout rules, record types, and dependency fields
Create and configure custom reports and dashboards for executives and sales team
Continually review business processes to identify inefficiencies and implement time-saving workflow rules and actions
Gamification of sales KPI's using Zoho Gamescope
Research and integrate apps to add functionality and automation
Huson International Media
Technology and Design Manager
|
2004 - 2011
IT and telecoms management for California and New York locations. Creative project management for print, digital, and events.
Managed multiple corporate websites using Wordpress and Joomla CMS platforms
Managed development of marketing collateral for sales team across several portfolios including: IT, Electronics, Industrial, Energy, Business, News, Consumer, Fashion, Inflights, and Travel.
Coordinated and produced print/digital ad campaigns, both domestic and international
Provided help desk support for offices in California and New York
Education
San Jose State University
BA Film/Television
|
2004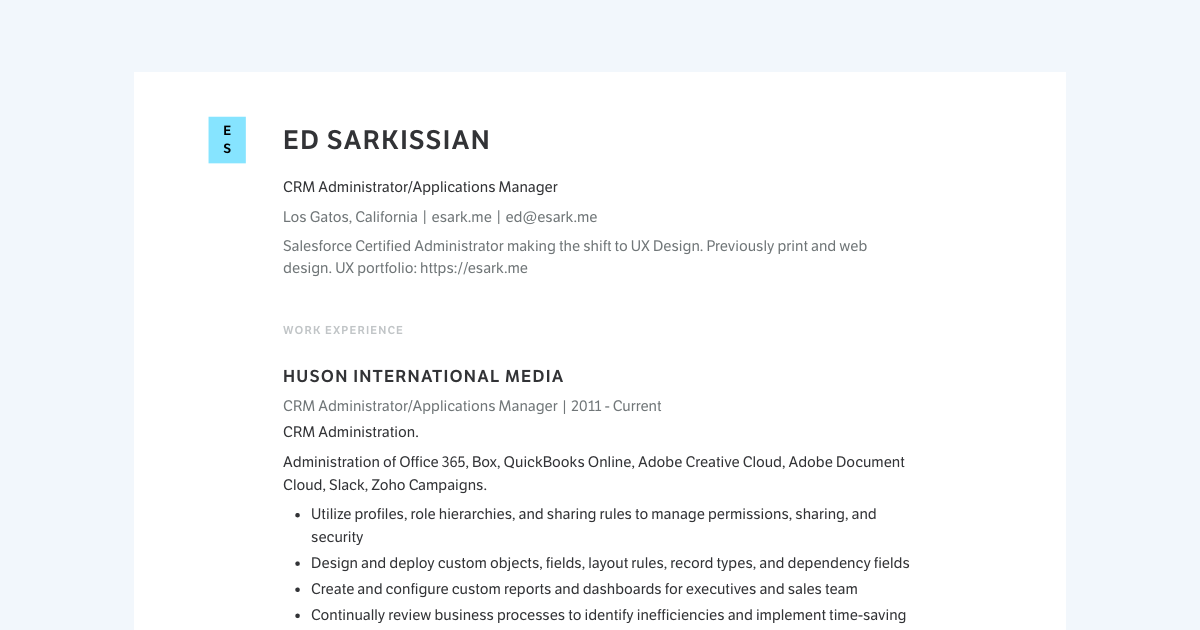 Start with this template
Russel Hempel
Sr. Project manager
West Covina, CA
Certified Scrum Master with extensive experience in product development, marketing, and project management, currently in search of a new role that will draw upon expertise in leadership, planning, creative design, agile principles, budget administration, and negotiations, which will also provide opportunities for further professional contributions and growth. Also posseses skills as a graphic designer with over 16 years of experience in web, print and UI design. experience working with companies from start-ups to fortune 1000 corporations on various design projects and software.
Education
Citrus Community College
Communications
|
1995 - 1997
Projects
Marketing Director
|
Mar, 2014 - Current
Marketing and design for non-profit organization fighting sex trafficking in California and the USA
Skills
Entrepreneurial visionary, highly skilled in product development, design, and marketing.
Proven record of successfully initiating, building, managing, and operating two business ventures, one of which was sold to a Fortune 1000 company.
Full command of all processes involved in negotiations, regulatory compliance, and risk mitigation efforts.
Demonstrated success in outlining product specifications, business requirements, and project scope.
A strategic thinker with an innate understanding of how to package and present a product in order to win commitment and support conducive to scalable, repeatable, and profitable opportunities.
Adobe InDesign
Adobe Illustrator
Adobe Photoshop
Microsoft Office
Agile/Scrum
Business Development
Supplier Relations
Product Planning