A showcase of some of the best web designer resume samples and examples on Standard Resume. Use these diverse, real-world resume examples for inspiration and to help you write a great resume that highlights your experience and qualifications.
Senior Web Designer & Developer
Start with this template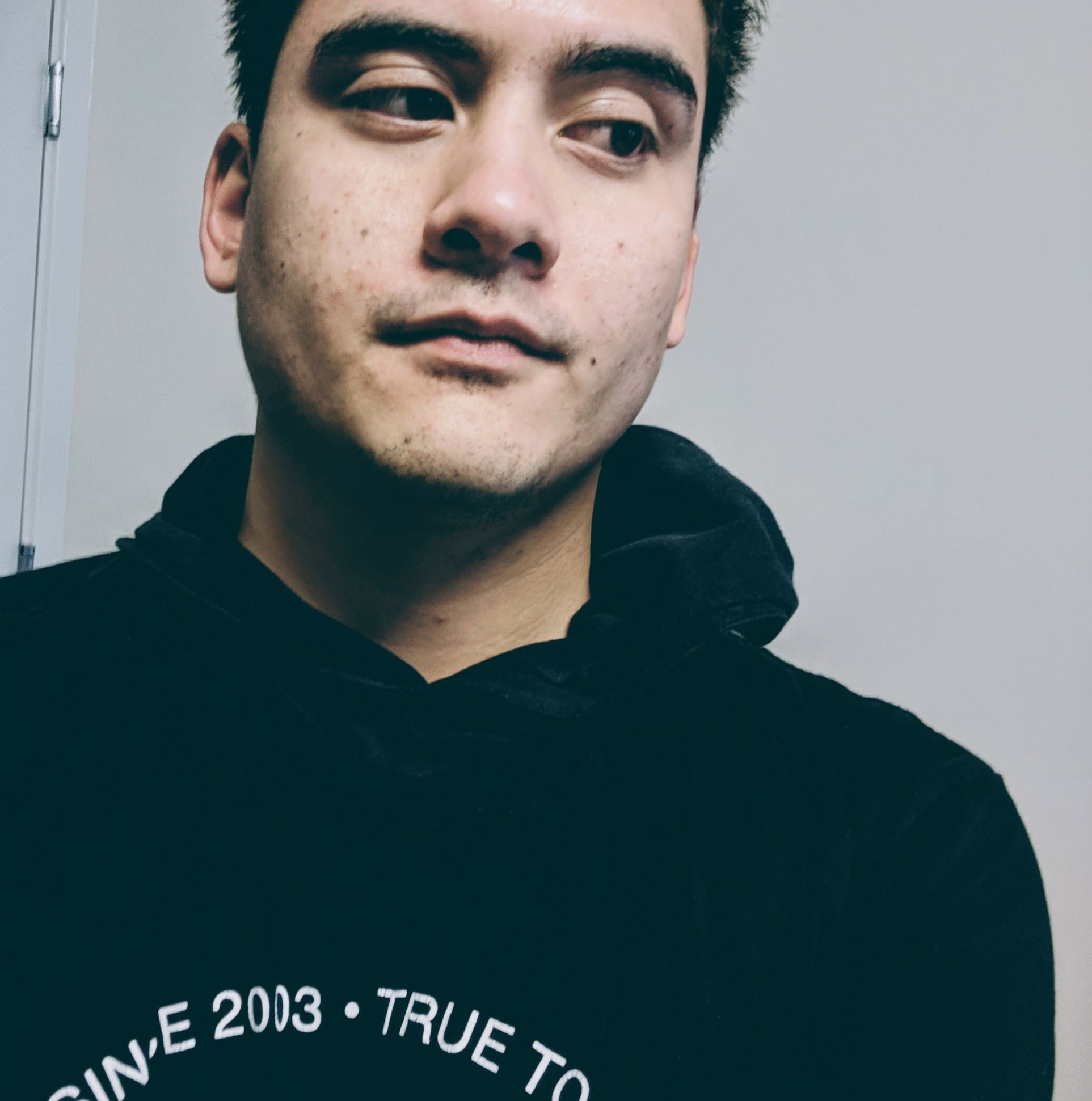 Alec Dionisio, Web Design & Development
I'm Alec, a Maryland based designer with a knack for code and a passion for solving problems. With over 10 years of experience, I make interfaces, design interactions, and build digital products. I love working with inspiring people and companies on challenging projects.
Work Experience
At LaMotte, we build products and applications for professional water testing and analysis. I work in the Research and Development department, with a small team of 3 engineers. My role is to design and code the interfaces and user experiences for our various water testing applications.
Duties:
UI & UX Design
Angular Front-End Development
WaterLink Solutions Web Application
WaterLink Solutions Mobile App Design
Solutions Home App Design
Web Developer at ThreatQuotient. Duties:
Web UI/UX & Interaction Design
Web Development (HTML/CSS/SCSS/PHP/JS/Git/Gulp/Node/NPM/Bower/Atlassian)
Wordpress Design & Development
Information Architecture
Graphic Support (Print, Branding, Identity & Design Direction)
Marketing Initiatives (Email Designs, Landing Pages, Analytics/SEO, Salesforce Integrations)
Internal Projects (API Docs, Help Centers, Style Guides, Etc)
My role at Avesis started as a web designer and junior programmer, tasked with supporting marketing's digital project initiatives.
As my capabilities and working relationships with different teams grew stronger, I was soon the lead digital designer and front-end developer. Working closely between two departments, and with an extraordinary group of engineers, we were able to create meaningful, thought-driven experiences for a number of projects and products — both new and old.
Notable works include the Avesis mobile app, various landing pages and emails, full site redesign, dashboards/product portals, intranets, and more.
Duties:
Web Design & Development (HTML/CSS/SASS/JS/ASP.NET/C#/SQL/Microsoft Dev Stack)
Mobile App UI/UX Design (The Avesis E-ssentials App)
Research, Insight, Strategy, & Design Direction
Information Architecture, Prototyping & Wireframing
Corporate Site Redesign & Development, Product Redesigns, Landing Pages, Emails, Government Applications, Dashboard Designs
Spearheaded Workflows Improvements for Department Comms
My role at Benchworks started as a Graphic Design intern. Shortly after, as my skills developed, I was soon brought on board as the lead Web Designer/Developer.
As digital projects started to flood in, we formed a new "digital" department. I got to work closely with a seasoned project manager and copywriter. Based on functional design principles, a collaborative mindset and passion for quality - together, we were able to meet every deadline, however unlikely it seemed. I had the privilege of working for some amazing big-name clients, like Coca-Cola, Shire, Noramco, Pfizer, and more.
Duties:
Web UI/UX Design & Development
Digital Design Direction
Information Architecture (Sketching, Wireframing, and live Prototyping)
Research, Insight & Strategy
Wordpress Development
Email Campaigns
Interactive Banner Ads
Interactive Development
Print (Branding, Banners, Exhibitions, Products, Stationary, Posters, Shirts, Flyers)
Rebranding
Monofox, Design & Code
A network of freelancers. We are a multidisciplinary design and programming practice building distinct and purposeful solutions across multiple channels.
Based on functional design principles and a passion for technology, we build brands, bring ideas to life, and a craft for the www, continuously iterating between concept and execution.
Education
Art Institute of Washington, Bachelor of Fine Arts Web Design & Interactive Media
Skills
HTML5
CSS
SASS
Prepros
Git
Gulp
Node
Angular/Typescript
JS
PHP
ASP.NET
Adobe XD
Sketch
Figma
Adobe CC
User Interface & User Experience Design
Art Direction
Research, Insight & Strategy
Typography & Layout
Interaction Design
Information Architecture
Mobile & Responsive Design
Mobile Application Design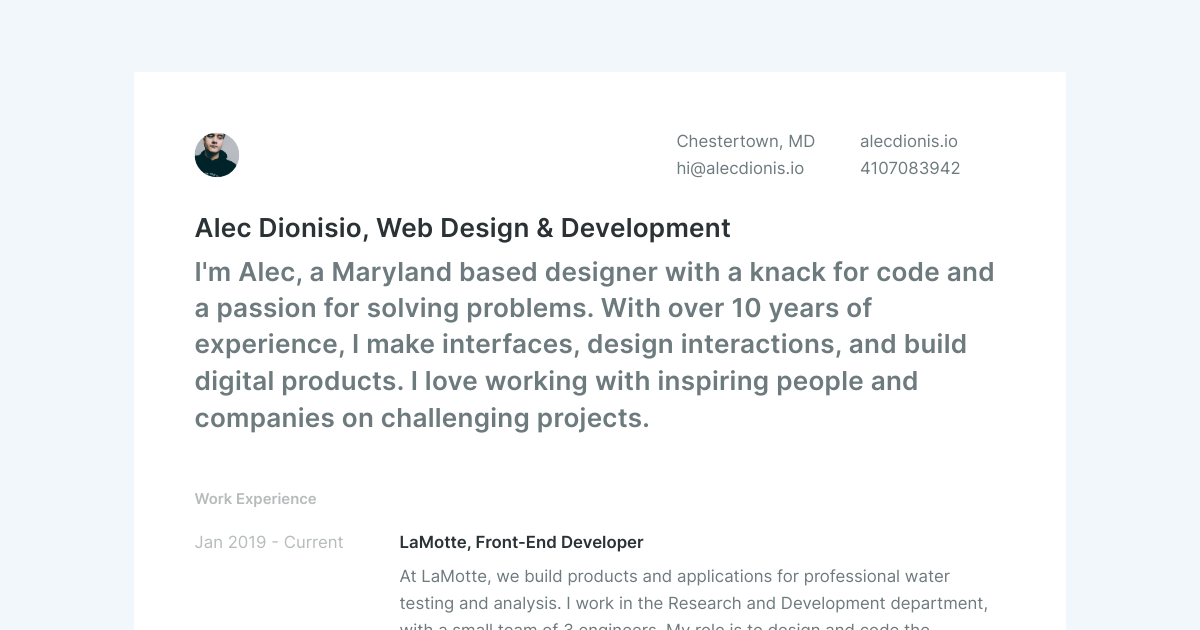 Start with this template
Patrick Gabriel
Web Developer/Designer
Dancing on the line between functional and beautiful, I aim to develop and design websites that convey professionalism and style. Three years of professional freelance Web Design/Development, 12 hour days, tight deadlines, countless cups of coffee and numerous phone calls with clients have shaped me into the designer I am today. I aim for beauty, professionalism, and business impact. I strive to always work on challenging, meaningful and impactful problems that ultimately will hone my skills to better myself in whatever it is I do. I enjoy taking the time; Web Design is something that I am passionate in. It is that passion that allows me to strive to try to always put out my best work.
Work Experience
Freelance Web Developer/Designer
Web Designer
|
Mar, 2013 - Current
Web Development/Design for a variety freelance projects, using software such as Photoshop, Illustrator, InDesign, Experience Design & Sketch for design while using HTML, CSS, Javascript, and React for development.
Web Designer
|
Jan, 2017 - Jul, 2017
I was tasked with designing a website for Sam Grinberg, a local comic artist. My responsibilities included general overall design of the website as well as some html/css. My aim with this particular client was to create a blog that accentuates his art through a very simple medium. I believed that a lot of white space was key to meld with his black and white only comic book style.
Technologies Utilized: HTML, CSS, Javascript, Photoshop, Sketch
Vocate Academy
Web Designer
|
Dec, 2016 - Mar, 2016
This project was crafted for an education startup in New Jersey called Vocate Academy. This company specializes in a tutoring service that allows you to preview a future career before majoring for it in college. For this website, I was in charge of Graphic Design work for the actual site itself, promotional videos, and some social media flyers/graphics. I was challenged to create a website that would grab the attention of the visitor with bright colors, while still keeping a professional feel, and making sure the message of the company was accurately portrayed.
Technologies Utilized: HTML, CSS, Photoshop, Illustrator, Sketch
Espresso Joe's
Web Designer
|
Apr, 2016 - Jun, 2016
Tasked with designing/developing a new revamped website for Espresso Joe's Cafe in Keyport, NJ. I was challenged to design a website for them that fit their overall corner cafe aesthetic, which houses a host of independent artists that perform at the cafe every week. I'm currently trying to capture that aesthetic while also making the website extremely functional to allow visitors to quickly view menu items, current events, and schedules.
Technologies Utilized: HTML, CSS, Javascript, Wordpress, Photoshop, Illustrator
Zravia
Web Designer
|
Apr, 2014 - May, 2014
I was challenged to make a portfolio website for a local New Jersey DJ going by the name Zravia. Upon meeting with the client, I was told to create his portfolio website in a monochrome style while allowing his visitors to stay
up to date with everything from blog posts to new music releases. I decided to design an infinitely scrolling timeline page, where everything flows chronologically, top post being his newest work.
Technologies Utilized: Photoshop, Illustrator
DKPV - Photography Portfolio
Web Designer
|
Aug, 2013 - Sep, 2013
Doug Keenan is a photographer originally from Monroe, New Jersey. I was tasked to create a portfolio as well as logo for him that was minimal, but still looked great. For him, the most important thing was the photos - and he
didn't want a website filled with too many animations, bells, and whistles that would eventually detract from the true reason he had created his website in the first place - as a photography showcase.
Technologies Utilized: HTML, CSS, Javascript, Photoshop, Illustrator
Verizon Wireless
Sales
|
Mar, 2014 - Jun, 2015
Commission based sales at Verizon Wireless, specifically in the cell phone division. Daily duties included talking to numerous clients on a daily basis, tending to their needs and finding a solution, certain managerial tasks such as bank deposits, scheduling, and light IT work.
Target/Radioshack/Brightstar/Marketsource Mobile
Sales
|
Jan, 2011 - Feb, 2013
Commission based cell phone sales associate within several Target stores under the companies Target, Radioshack, then when under new management Brightstar in conjunction with Marketsource. Exhibited social skills on a daily basis to Target Customers to sell wireless cell-phones for the companies Verizon, AT&T, T-Mobile, as well as a myriad of prepaid cell-phone providers such as Tracfone, Net10, Virgin Mobile, Verizon Prepaid and AT&T Prepaid. Performed management-like duties such as opening and closing the store, performing inventory, and submitting bank deposits. Worked with Verizon, AT&T, and T-Mobile's respective authorized retailer POS systems.
Education
Rutgers University - Coding Bootcamp
Full Stack Web Development Certification
|
2018 - 2018
Projects
Klips - Twitch Extension
React Developer/Designer
|
Sep, 2018 - Current
Klips is a Twitch Extension that utilizes React to dynamically display the top rated clips for any given streamer that installs it.
Technologies Utilized: Photoshop, Sketch, Invision, React
Web Designer/Developer
|
Jul, 2016 - Current
Encore is an IOS app dedicated to finding setlists for concerts. I am tasked with designing the application itself as well as sign up/landing pages.
Technologies Utilized: Photoshop, Sketch, Invision, Swift
Web Designer/Developer
|
Aug, 2015 - Current
AMPS is a way to share specifically Apple Music Playlists amongst other people. With this project I had designed/developed the sign up and beta website as well as any logos/graphics.
Technologies Utilized: HTML, CSS, Javascript, Swift
UTRADE - A Student Marketplace
Web Developer/Designer
|
Dec, 2014 - Current
UTRADE is a student marketplace, a safe way for students to buy/sell anything for college as opposed to other outlets such as CraigsList. It allows students to sell their books, furniture upon moving out/in of apartments/dorms, and other general items. I'm tasked at developing as well as designing the website. Being that I am a college student myself, I find it enjoyable to craft a website that is catered toward my demographic. The design as well as the functionality is being geared toward the 18-24 year old college student demographic, and the website should perform optimally for that purpose.
Technologies Utilized: HTML, CSS, Javascript, Ruby
Skills
React
Javascript
HTML
CSS
Sketch
Adobe Photoshop
Website Design
UI/UX Design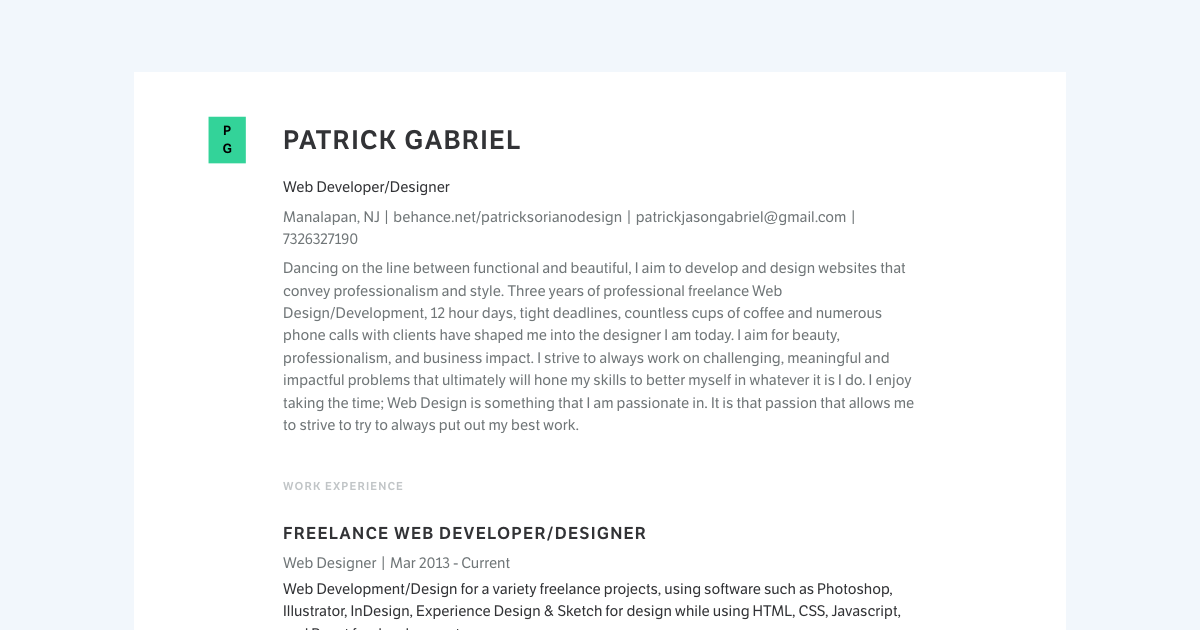 Start with this template
Brennon Denny
Web Developer & Designer
Web developer and designer seeking opportunities requiring a driven and reliable team player with experience in front and back-end development.
Work Experience
Web Developer
|
Aug, 2018 - Current
Denny Development
CEO
|
Jul, 2018 - Current
Worked with clients to develop various web and mobile solutions from static and e-commerce websites to mobile applications. I handled and foresaw all project tasks including prototyping, client interaction, and development through the full project's lifecycle.
Tim's Computers
Junior Technician
|
2015 - 2016
Ensured that anti-virus software was install, kept up to date and working properly on customer's machines and provided troubleshooting for technical problems with both hardware and software issues.
Education
Full Sail University
Bachelor's of Science Salutatorian - Web Development & Design
|
2016 - Jun, 2018
Learned the focused knowledge and understanding needed to integrate and deploy modern websites and web applications through the use of Industry-standard tools, including modern client-side and server-side languages, relational and non-relational database structures, and frameworks used in modern web stacks.