A showcase of some of the best sales manager resume samples and examples on Standard Resume. Use these diverse, real-world resume examples for inspiration and to help you write a great resume that highlights your experience and qualifications.
Global Enterprise Sales Leader
Start with this template
Mike Clapson
Global Enterprise Sales Leader
Vancouver, Canada Area
I am an internationally experienced SaaS Sales Leader with an established track record of performance building teams and scaling revenue. By education, I'm an engineer which allows me to connect with technical customers and develop comprehensive solutions. People and culture are what makes a Sales Org thrive and will be critical to our success in any organization that I'm a part of! I also bring an operational and analytical view to Sales which differentiates me from other sales leaders.
Work Experience
Slack
Head of Enterprise Sales, Canada + PNW
|
2020 - Current
Following my success in previous roles and markets, taking on a new challenge focused on developing a market which we believe had great growth potential.
Starting with a team of 6 AEs in Vancouver and Toronto
Maintaining responsibility for Slack's Higher Education team and vertical
Slack
Sales Director, Enterprise
|
2017 - 2020
Grew and lead an amazing team of up to 13 Enterprise Account Executives
Scaled Enterprise West ARR and ACV by 100%+ YoY in FY18 and FY19
Over 10 Quarters, delivered an average performance of 113% of aggressive quotas.
Established and grew the Slack for Higher Education & Nonprofits program bringing on customers like MIT, Harvard, ASU and Oregon State.
Slack
Head of Growth, APAC
|
2016 - 2017
Founding member of Slack's APAC go-to-market team
Built and lead our Sales, Customer Success & Solutions Engineering team of 8 based in Australia and Japan
In 18 months, supported regional revenue growth of 273% to over $25M in ARR
Slack
Sales & Sales Operations
|
2014 - 2016
One of Slack's first three sales people
Helped define team processes, tooling, and product positioning
Lead the initial configuration and customizations of our Salesforce instance
Mobify
Manager, Global Alliances & Channel Sales
|
2014 - 2014
Built and lead a four person team responsible for the strategic development and growth of Mobify's partnerships, alliances and channel revenue globally.
Governed all partner related activities, enablement, and co-sell processes.
Recruited and on-boarded new services partners, including IBM and OSF Global Services.
Managed Mobify's strategic alliances with technology partners, including Demandware and Jive.
Mobify
Sr. Account Executive
|
2013 - 2014
SAP
Account Executive
|
2011 - 2013
Education
Harvard University
Certificate in Strategic ManagementManagement Studies
The University of British Columbia
BAScEngineering Minor in Commerce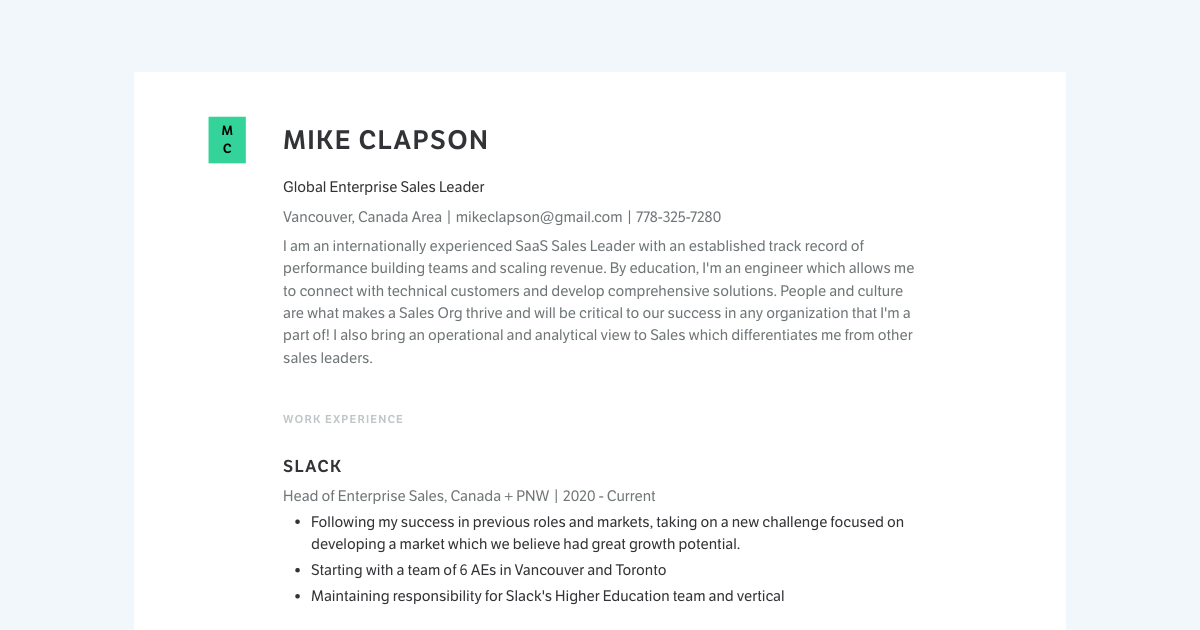 Start with this template
Andrew Lee
Regional Manager at Vanguard World
Experienced sales manager in photography, cinema and outdoors/sporting goods.
Work Experience
Vanguard World
Regional Sales Manager
|
2016 - Current
Regional sales and key account manager for global photo and sporting goods accessories company
Responsible for managing and growing $3m western U.S. region, 150+ accounts
Manage key accounts including Cabela's, Fry's Electronics, Sportsman's Warehouse, Academy
Manage photo specialty, sporting goods and buy group accounts
Manage team of outside sales reps
Manage customer events, trade shows
Sales Manager
|
2014 - 2016
Sales manager for photo specialty accounts at industry leading photo and video accessories company
Responsible for managing and growing $2m territory for Manfrotto (SoCal, Arizona, Nevada)
Managed photo specialty and key accounts (Samy's Camera)
Managed customer events, trade shows (photo specialty and cinema/broadcast)
Coordinated with other Vitec Group companies in the region to deepen partnerships
Coordinated with other vendors to create joint events and programs for accounts
Grew territory sales 40% year over year
Global Key Account Manager
|
2010 - 2013
Global manager of reseller channel for disruptive cinema accessories startup
Responsible for managing and growing $7m global partner channel
Managed key accounts including B&H Photo Video, Adorama, Samy's Camera, Vistek, Teltec
Managed trade shows, training, and customer events
Co-created onboarding process for new partners
Customer Service Manager
|
2008 - 2010
Customer service manager for disruptive cinema accessories startup
Managed service department, including troubleshooting, service communications, case management, documentation
Designed scalable support processes during a period of dramatic growth
Supervised the launch window of 15+ professional products, including the microMattebox and the first professional filmmaking equipment for DSLR cinema cameras
Produced support website, videos and documentation
Managed company support online presence
Customer Service Specialist
|
2007 - 2008
Call center specialist for online calendars website
Completed sales calls for Calendars.com and San Francisco Music Box Company during holiday season
Resolved customer support calls
Responded to customer sales and support emails
Freelance
Grip and Set Electrician
|
Apr, 2005 - Sep, 2007
Crewed feature, short, spec and student projects in Texas and Louisiana
Managed grip/electric teams up to 7
Crewed productions up to $2m
Managed equipment purchase and setup for productions
Education
Full Sail University
Associate of Science Film and Television
|
2004 - 2005
Graduated from accelerated production-focused film and TV program with 99% attendance and 3.44 GPA.
University of Houston
Creative Writing
|
2002 - 2003
Skills
Adobe Creative Suite (Photoshop, After Effects, Indesign, Premiere)
Final Cut Studio
Trade Shows
Wordpress
Film and Television Production
Netsuite CRM and Customer Service
Microsoft Office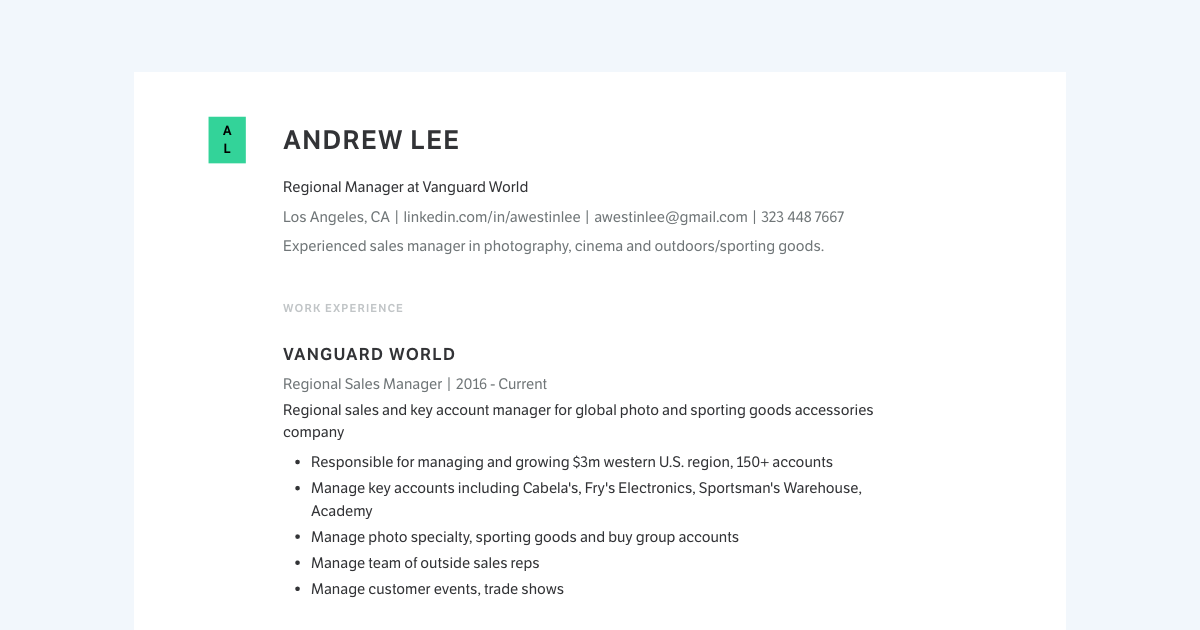 Start with this template
Matt Jordan
Technology Sales Person specialising in education and safeguarding
Leeds, United Kingdom
Work Experience
Co-Founder
|
Jan, 2017 - Current
Eduvault is an independent community where schools can compare and review technology solutions. The aim of the site is to help schools make better procurement decisions by having free access to the unbiased product information. I identified a need for this type of platform, created the concept, found developers to build the site, raised capital, signed up vendors and marketed to end users.
Mobile Guardian
Consultant
|
Jun, 2016 - Current
Mobile Guardian is an MDM solution which helps schools, and parents manage and monitor mobile devices. Originally an App for parents, I worked with Mobile Guardian as a consultant to help them target the education market. 6 months later I joined the company in a formal capacity and am responsible for selling in to UK LEA's, MSP's and US Districts.
Top performing sales person by sales, value and ROI
Designed and implemented sales strategy for Local Government
Trained sales staff
Self-Generated Opportunities
Worked with Distributers and Partners both in the US and the UK
Extrados Ltd
Senior Consultant
|
Nov, 2015 - Dec, 2016
Extrados is a company which I set up in order to provide sales services from anywhere as I traveled across the world. The primary goal of the company was to provide 'feet on the ground' sales to companies who wanted target new markets where they didn't already have a presence.
Worked with companies in four different countries
Trained sales staff
developed channel models
provided direct sales
Cold-Calling
Government Sales Manager
|
Jul, 2011 - Nov, 2015
Smoothwall are a UK based web filtering vendor who specialise on solutions for the Public Sector. I started at the company as a cold caller targeted with helping them breaking into the Local Authority Market and left as Government Sales Manager running a team of six people including entry level staff and senior sales professionals.
Consistantly top 3 sales person
Grew company to become Local Government market leaders
90%+ customer retention rate
Managed multi-million pound tenders
Worked with some of the UK's largest public sector ISP's
Created companies most profitable sales team
Hired and trained sales staff
New Business Executive
|
Nov, 2010 - Jul, 2011
Webroot is a cloud based security provider, who at the time focussed on web and email filtering for businesses. I was selected by Webroot following a Pareto Law assessment day. I worked in a lead generation role arranging meetings and webinars for senior sales staff.
Generated over $1.2 million in closed won opportunities for account managers
Promoted to manage large-scale opportunities
Developed marketing campaigns
Education
University of Leeds
Bsc Psychology
|
2007 - 2010
Skills
Direct and Channel Sales
Presenting
Sales Strategy
Sales Training
Web Filtering
Safeguarding
MDM
UK Public Sector Market
US Education Market
Education Technology